Why The Ferrari 288 GTO Evoluzione Is One Of The World's Most Coveted Supercars
This utterly pristine Prancing Horse is a car collector's dream.
Ferrari celebrated its 75th birthday in 2022, an occasion Maxim memorialized via an exclusive interview with Enzo Ferrari's son and a chronological roundup of the marque's greatest roadgoing rides. That list of preeminent Prancing Horses featured both the 288 GTO and the F40 back-to-back, and this exceptionally rare 'Rari slots perfectly in between.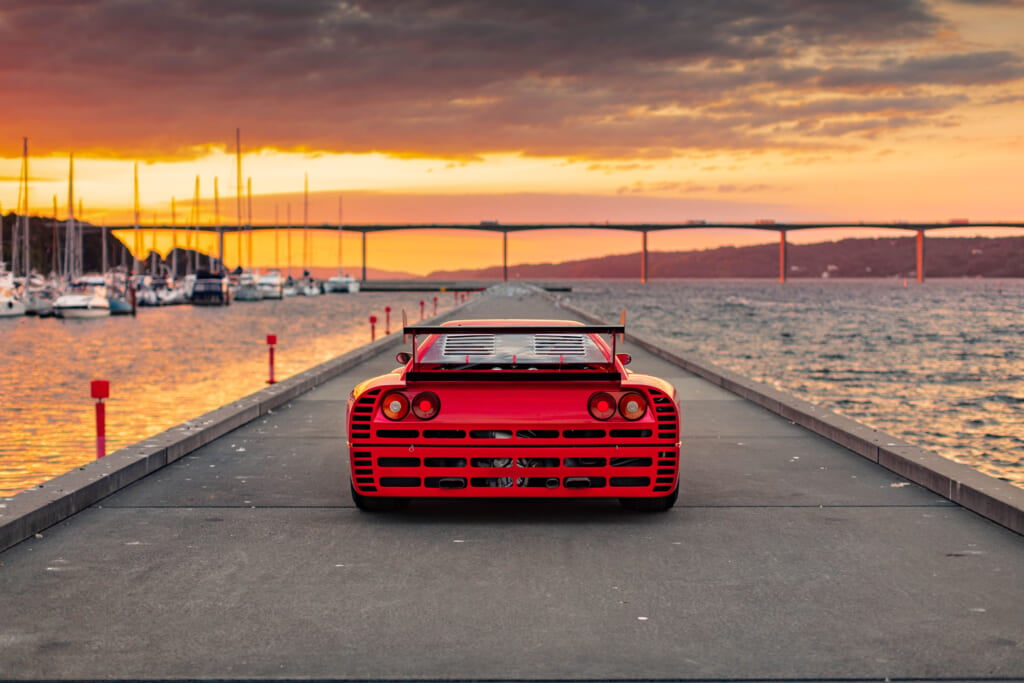 In the mid 1980s, Ferrari sought to give the dominant BMW M1 some competition in the FIA's buzzy Group B sports car racing division, acceptance into which required Ferrari to produce a minimum of 200 production versions of the subject vehicle. An annex of this homologation stipulation also allowed for a minimum number of 20 "Evolution" models to be made with performance-centric aerodynamic and engine displacement upgrades.
Enter the 288 GTO Evoluzione. Pininfarina reworked the body to take weight-saving Kevlar and fiberglass, as well as a carbon fiber rear wing. The twin-turbocharged 2.9-liter V8—already heavily modified from its application in the 70s-era Ferrari 398 GTS—received larger turbos and more refined tuning to achieve a then-ludicrous 640 horsepower, a 60 percent increase over the stock engine's output. Top speed was billed at an equally berserk 229.4 mph.
The 288 GTO Evoluzione never made it to Group B competition, as the series was shut down following multiple brutal accidents just after Ferrari was accepted. Only five 288 GTO Evoluziones were built before production ceased, and this is one of only three that survives outside of Ferrari or state-owned collections.
Find select highlights from RM Sotheby's Provenance on the vehicle below:
Chassis number 79888 is the fourth of five remaining 288 GTO Evoluzione's built. Production on the car took place in Maranello with assistance from Michelotto in Padova, and the car was officially completed in 1988. In December of 1988 the car was sold through Jacques Swaters' legendary Garage Francorchamps of Belgium to the renowned Belgian racing driver and businessman Jean Blaton.

By day a wealthy Belgian industrialist who often raced under the pseudonym "Beurlys", Blaton quickly stuck up a friendship with Jacques Swaters and drove with the Belgian national team Ecurie Francorchamps through the 1950s, 60s and 70s. He raced at the 24 Hours of Le Mans a whopping fifteen different times, eleven of which were behind the wheel of a Ferrari. He finished on the podium in nearly every outing and raced a magnificent array of Ferraris from that era, including a 250 Testa Rossa, 250 LM, 250 GTO, and a 330 P4.
The car was sold to Rick White of California in April of 2013. The following year, the car was sold to David SK Lee of Los Angeles before being acquired by David Raisbeck in late 2014, and the car titled for road use in his name in the state of Minnesota. In his ownership, the car was shown at the 2015 Cavallino Classic where it won a Platinum award and the Supercar Cup. The next year, the car was shown at the Ferrari Club of America Annual Meet in Columbus, Ohio, as well as at the special U.S. edition of the Finali Mondiali at Daytona. This special car passed to its current European custodian in 2019 where it has been carefully cared for since his acquisition.

Most recently, chassis number 79888 was sent to Michelotto in Padova for a variety of cosmetic and mechanical work, including a full service. Numerous perishable parts were replaced including the fuel lines, oil lines, brake fuel lines, and driveshaft boots. The suspension dampers and brake calipers were overhauled, along with the water pump and both turbos. New tires were fitted and all four wheels were overhauled. The original gearbox was also overhauled so all internal seals and the clutch shaft could be replaced.
Cosmetically, the car was fully repainted in the original Rosso Corsa, and the dashboard covers, seat covers, seat belts, door windows, and rear-view mirror glass was all replaced. In the engine bay, the intake system and heat exchanger were polished, whilst the cylinder head covers were repainted. All work carried out on the car by Michelotto totaled to over €133,000, leaving the car in excellent mechanical condition both inside and out. This work was begun with an open checkbook in mind and no stone to be left unturned and the car proved to be in outstanding overall condition to begin with.
This pristine 1987 Ferrari 288 GTO Evoluzione's price will be determined at a German auction scheduled for October 19-21, but Hagerty points out that its price will surely exceed the $4.4 million sale of a non-Evoluzione 288 GTO that recently sold at Monterey Car Week.