Ride The Lightning: Ford F-150 Lightning Platinum EV First Drive Review
Ford's first all-electric truck aims to change the EV game.
I recently spent some time with a Ford F-150 Lightning Platinum, driving it from Boston to Rockport, Massachusetts and back. Whether I was jetting through lane changes with stunning torque or using the overhead camera to silently maneuver the narrow cobblestone streets of a coastal New England village, I couldn't shake the sensation that I was getting a front-row view of a watershed moment in American automotive history.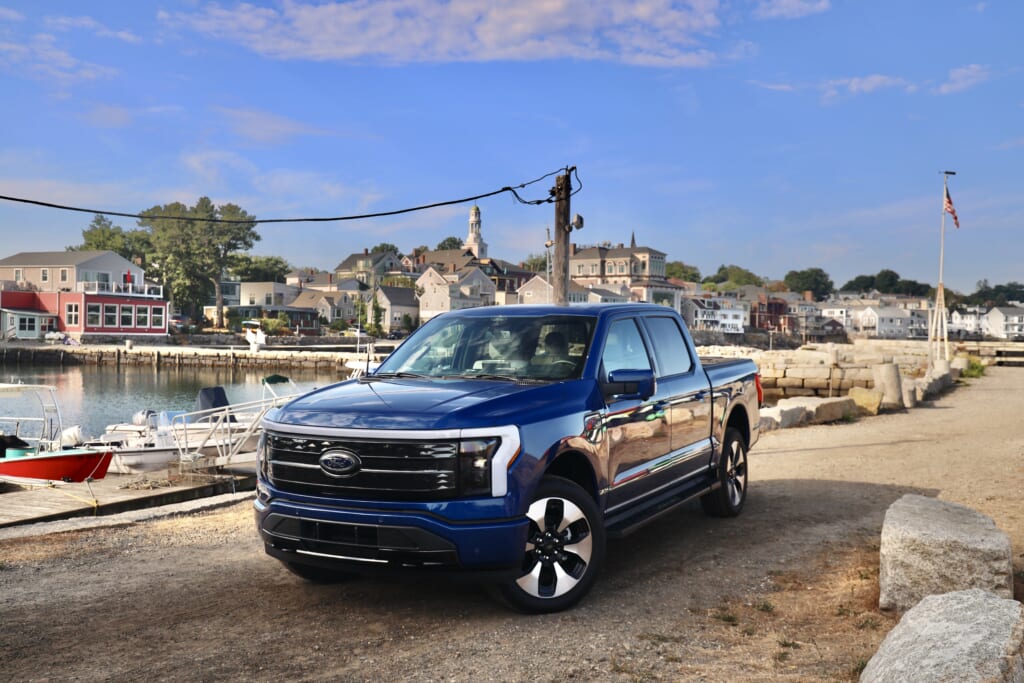 I felt this shift when a grizzled Rockport fisherman came up to tell me that he owned an F-450 Super Duty, and that seeing the Lightning was the first time he'd ever taken electric vehicles seriously. He said the battery range would be perfect for his daily commute to his chrome plating company and for hauling, one assumes, plated chrome.
And I felt it when I walked out of our vacation rental to find the owner of a brand-new F-150 Raptor standing in front of the Lightning, just staring at it. He pointed at his own truck parked down the street and said, "That Raptah costs me over two-hundred bucks to fill these days—now I'm thinking maybe I shoulda bought one of these."
Ford F-150 Lightning Platinum Driving Experience
The Platinum Lightning I tested had 580 horsepower, 775 pound-feet of torque, and a zero-to-60 time of about 4 seconds. Having this kind of performance in a vehicle this large is a strange sensation. To me, it was even more dramatic than pushing the boost button in an EV sedan. You expect a small sedan to be quick, but driving a full-sized truck, your body is used to feeling and hearing the effort involved to move it.
With the Lightning, it translates pedal input to torque and speed instantaneously and without any discernible strain, which just feels like black magic. You know this thing weights a lot, but the powertrain sure doesn't act like it. The Platinum has Ford's upgraded battery, and the 300-mile range matched the physical scale of the truck.
I didn't get to test it for towing, but it can tow up to 8,600 pounds and has Ford's trailer assist feature, which lets users maneuver with a trailer automatically. In terms of standout tech features, the 360-degree camera is fantastic for maneuvering safely. I threaded it through the tiny village of Bearskin neck to get a morning shot of the marina, and it kept me safe on the tiny lanes. Another great tech-related feature I loved was the lane assist mode that allows you to relax at the wheel so long as you keep both hands on it.
In terms of design elements unique to the Lightning, the star for me was the frunk, or front trunk. It's massive, it has a drain plug so you can use it as an ice chest, and it's the perfect height for loading luggage or groceries. Something about popping the automatic hood leaving a grocery store made me feel like this was a feature I'd enjoy using every day. On the way back to the airport, I fit four wheeled suitcases in side-by-side. Pretty frunking great.
Staying In Charge
I didn't have to charge the Lightning during my time with it, other than using a regular 15-amp plug overnight on my last night to add an extra bit of juice. So, I can't speak first-hand about an experience at a fast-charging station.
If you buy a model with the extended battery, it comes with a Ford Charge Station Pro—Ford's at-home 80-amp charger that can be installed at your home and used to fully charge the battery in 8 hours. Based on my experience driving other EVs, this is a must-have amenity to get the full benefits of owning an electric vehicle.
What is particularly cool about Ford's home charger is that it offers bi-directional power, meaning that in the event of a power outage, you can use your truck as a generator to power your home. The bi-directional power feature can also be programmed to charge your truck during off-peak times if your area's power costs fluctuate based on the time of day.
I live in coastal South Carolina, where storms often knock out power. And whether you need a contingency plan for a storm in South Carolina or a power grid problem in Texas, knowing that your home can be powered for multiple days by your vehicle is a nice bit of insurance. Not to mention, a great justification if you're on the fence about buying one.
Final Thoughts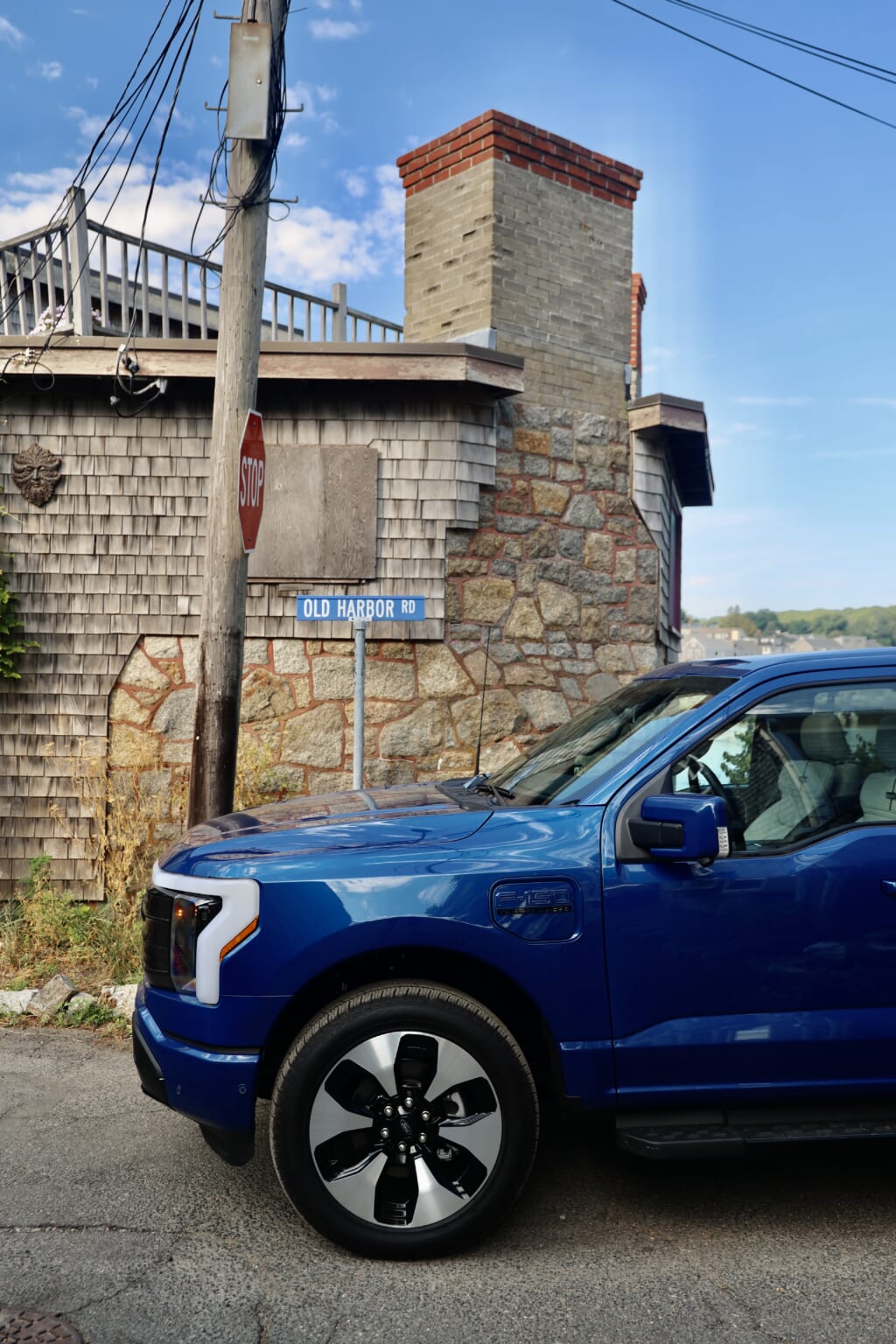 Starting at just under $91,000, the Lightning in the Platinum trim is clearly a premium truck. But, with tax credits and the 'it's-also-a-generator' excuse on top of never buying gas again, you can lower the price and make a compelling argument about emergency readiness.
The base model starts at just under $40,000, but I would want the extended battery for road trips. Last year, I fell in love with the Ford F-150 Hybrid towing an Airstream to Key West, but the Lightning has seriously turned my head.
No one knows how long it will take for new infrastructure initiatives to install chargers on all major interstates. I've reviewed several EVs lately on road trips and have experienced the growing pains of early adopters. But driving the Lightning made me realize that we've passed the point of no return.
What do you get when you make an all-electric version of the best-selling vehicle in America? The future of American vehicles.