The Zero SR Is A Stealthy Electric Superbike
They'll never hear it coming when you pass them.
Electric four wheelers from Tesla, and more recently Jaguar, have dominated the news, while lightweight electric scooters are causing disruptions in cities. But what about real two-wheelers, motorcycles that ride in traffic and not on sidewalks?
Zero Motorcycles is building and selling real electric motorcycles now, and bikes that aren't impractical toys or disposable shared transportation appliances. Our time with the Zero SR electric sport bike has shown it to be an amazing ride.
The experience riding an electric motorcycle for the first time is a bit disconcerting at first impression and effortlessly familiar very soon.
The first shock comes when your left hand reaches to squeeze the clutch lever so you can start the bike, and there isn't one. Look down and there's also no shifter to nudge through the gears. You turn the key as, as normal, and switch the 'ignition' on with the rocker switch on the right handgrip, same as normal.
But now there's no need to hit a starter button because the bike will glide silently away with a twist of the right grip. One thing to mention here is that there is a green light on the instrument panel that indicates that the bike is actually on and is ready to go.
For this light to turn on, the Zero has to be stationary. So when you swing a leg over and simultaneous roll the bike back out of a parking space while switching it on, it will not turn on. Instead, it will wait until you've stopped, puzzled as to why it isn't responding to a twist of the grip.
If it engages while that grip is twisted from your efforts to get underway, it will launch at whatever power level the twist grip was requesting, which can cause problems when this happens unexpectedly. So, first be sure the bike is stationary, switch it on and ride away. Don't attempt to do all of these actions at once.
Rolling away noiselessly, the SR seems otherworldly. Riding silently through parking lots turns the heads of startled bystanders accustomed to loud motorcycles, seemingly unable to comprehend an inaudible one.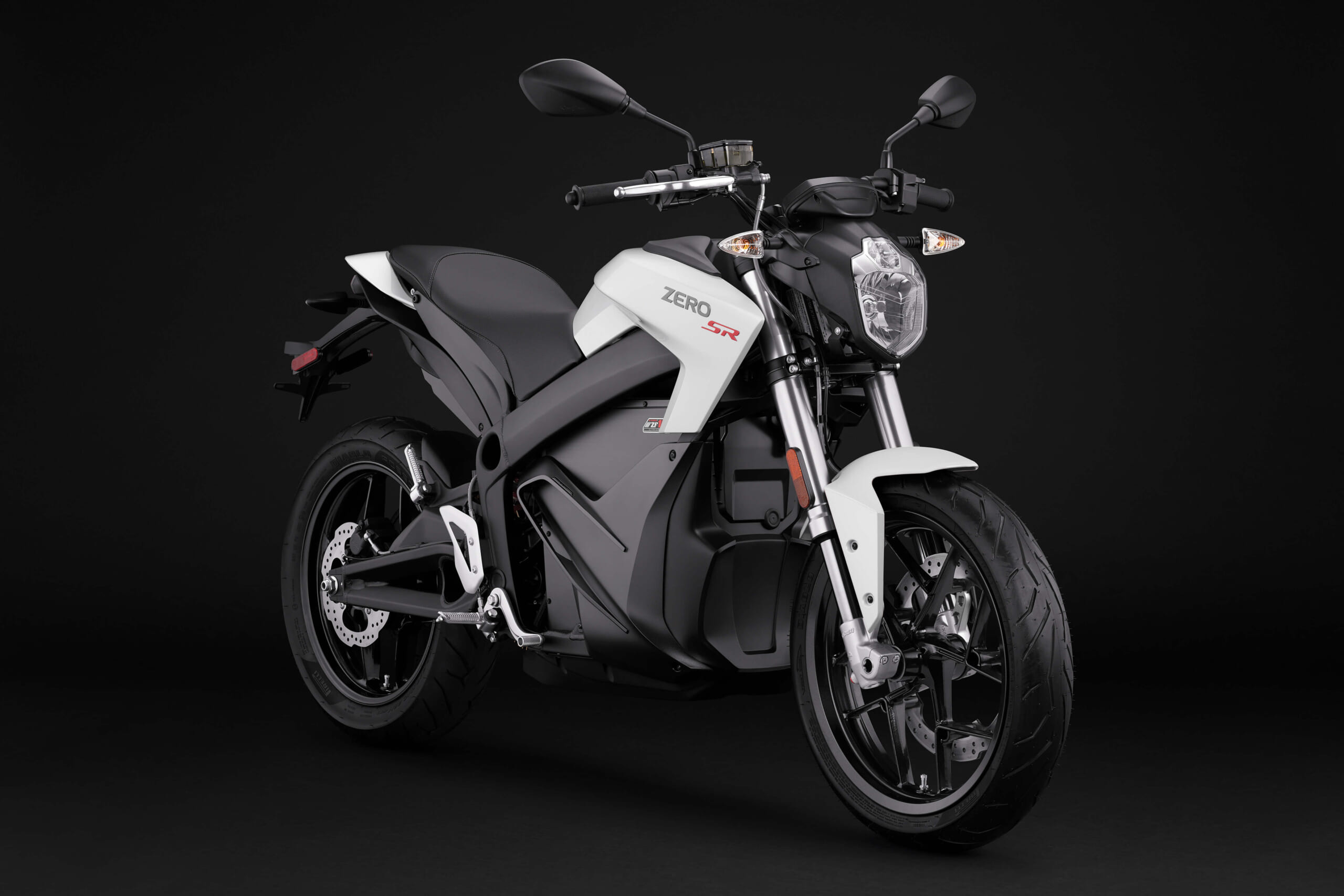 Pulling out onto the highway, the SR accelerates, well, like an EV, with immense torque and traction that vaults the bike up to speed. But it accomplishes this with none of the usual sound and fury. You're just going very quickly, very soon. It makes you want to slow down and try it again.
But there's really no need to slow down to experience the SR's shocking acceleration, because it will also stretch your arms during highway-speed passing moves. On a gas bike you'd need a big engine and you'd need to downshift a couple gears to match the SR's passing acceleration.
The SR's passively air-cooled, high efficiency, radial flux, interior permanent hi-temperature magnet, brushless motor is rated at 70 horsepower, which puts it on par with a lightweight machine like a Suzuki SV 650 twin. But its torque rating is a towering 116 lb.-ft., which crushes that of the fire-breathing BMW S1000RR, which is rated at 83 lb.-ft.
The Zero's 414-lb. weight comes in below the 435 lbs. of the SV650 (and 459 lbs. for the S1000RR) and it rolls on a wheelbase (the distance between the axles) that is about an inch shorter than the Suzuki which combine to make the SR easy to flick through corners.
The strong power-to-weight ratio might suggest that the takeoff could be abrupt or intimidating, but rolling into the throttle on the SR is very smooth and progress, with no unexpected response.
Invariably, your left toe will search for the shift lever, in anticipation of an upshift, after a blast of acceleration. But the SR is a single speed, like your old high-rise bicycle as a kid, so there are no gears. All the speed comes from the right twistgrip.
What doesn't come from that grip is much deceleration. Without pistons compressing air, the electric motor offers little engine braking when you roll off the throttle, and Zero doesn't program it for a lot of regeneration, so the SR coasts when you let off. It is a bit like riding an old two-stroke motorcycle from that standpoint.
Rolling along at highway speed, the unique electric drive is less apparent, as the wind noise overcomes what would otherwise be exhaust noise, so the SR seems more conventional. The upright riding position with the mostly flat handlebar and comfortable seat makes putting on the miles an easy proposition.

As ever with an EV, the question is of how many miles. My test bike had the standard 14.4 kilowatt-hour lithium-ion battery rather than the optional 18 kWh battery pack and the onboard computer projected most of my riding range at between 90 and 100 miles. 
By comparison, the original Nissan Leaf electric car's battery pack was 24 kWh, so this is a decent amount of power for a motorcycle, giving the SR the range of a Harley-Davidson Sportster. However, Sportsters can add another 100 miles of range in about five minutes at a gas station.
Stop at a high-powered commercial charger and it will take an hour to do the same with the Zero. Plug into a 110-volt wall outlet and the bike will need to charge overnight. The instrument panel display shows the battery's level of charge and the time when recharging will be complete, so there's no guessing.
Fully juiced up again, you can head out to appreciate the SR's nimble handling and confident braking (with anti-lock brakes for added safety). A braided steel hydraulic line on the single-rotor front brakes provides better braking feel than a more typical brake hose and is one of the premium components on a bike that is otherwise middle-range braking and suspension hardware.
Batteries have displaced internal combustion in a wide variety of machines, such as weed whackers and drills and Zero suggests motorcycles will be next. Combustion bikes will always have appeal to riders, but there is certainly good reason to consider a Zero SR for weekend recreation or weekday commuting.
The SR is a real bike with real capabilities and enough special benefits to be very appealing. Our test bike's base price of $16,495 (as-tested is $18,790 with the built-in quick charger) does limit that appeal to riders willing to spend a decent chunk of change on a motorcycle, but Zero does deliver a true motorcycle for that price and not an experiment or a glorified rental scooter.