The All-Electric Rolls-Royce Spectre Ushers In Bold New Era
"I believe Spectre is the most perfect product that Rolls-Royce has ever produced," says CEO Torsten Müller-Ötvös.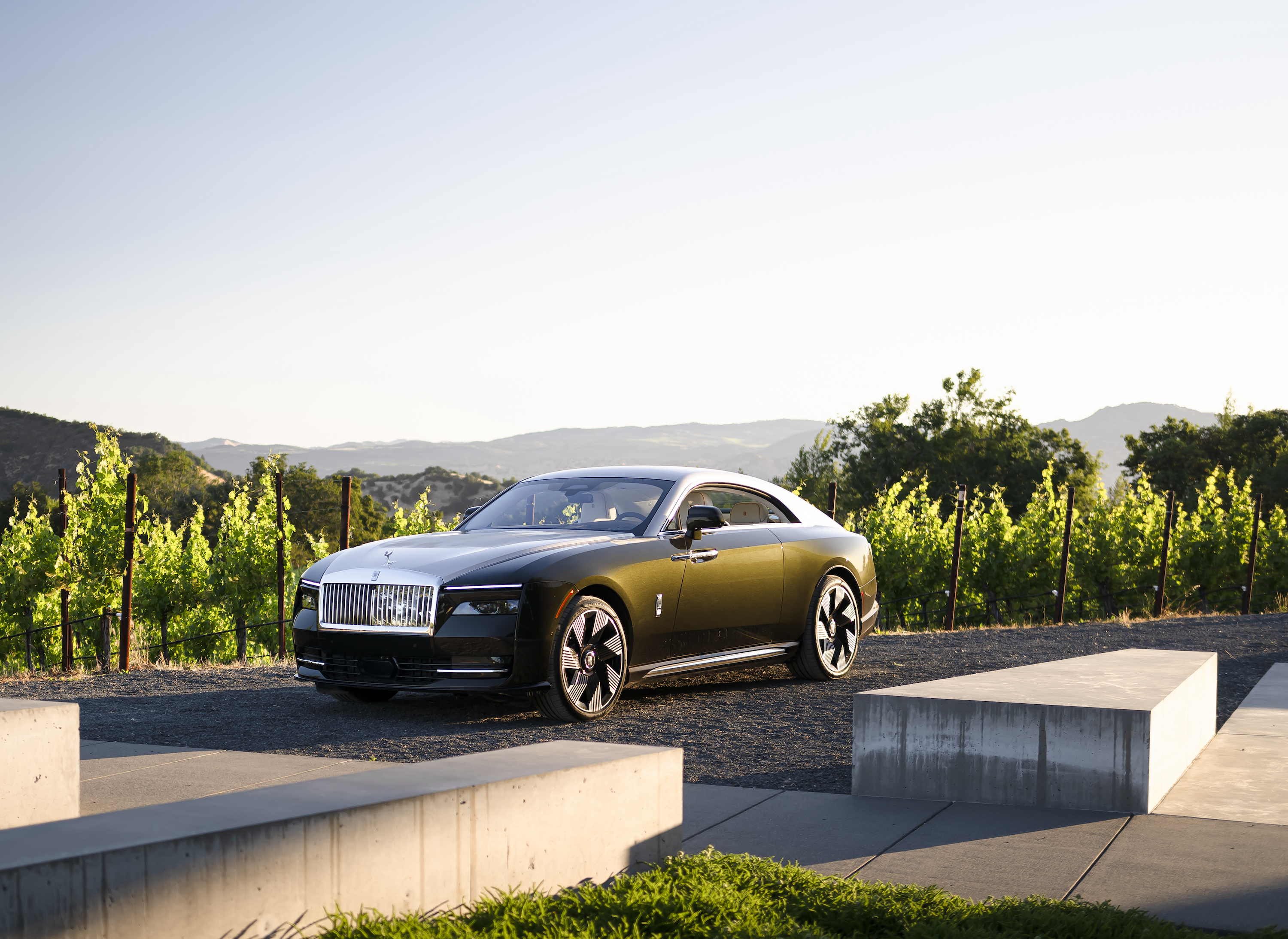 At one time it might have seemed unthinkable— an all-electric Rolls-Royce? Abandoning the iconic, handcrafted V12 engine—one of the very last in the industry—to rely on a bunch of batteries and a brace of electric motors? Borrowed from the Germans? Sacrilege, sir. Scandalous even.
Indeed, such was the initial reaction in some quarters to the announcement of Spectre, the first-ever all-electric Rolls-Royce, a two door "super-coupé" designed as the spiritual successor to the Phantom Coupé, ushering in a brand new era of electrification at the legendary marque—some years earlier than expected.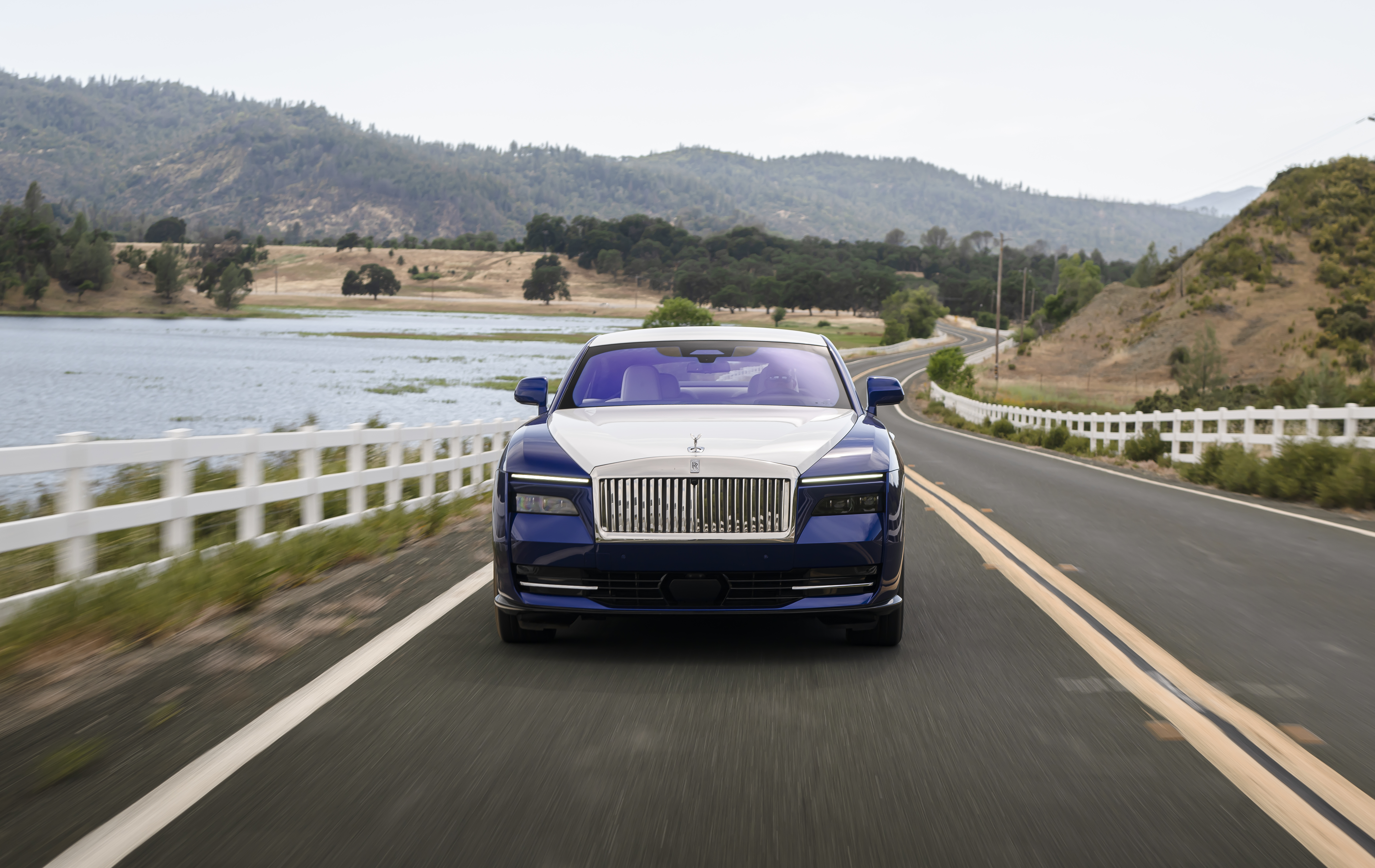 How could an electric car possibly have the same presence, puissance, and pedigree of a proper Rolls-Royce? Wouldn't a compromise on the order of Lamborghini's Revuelto, a "V12 hybrid plug-in" or some such, have made more sense? Hedge your bets, old boy. Don't throw the baby out with the Penhaligon's-scented bathwater.
When these selfsame critics finally got their hands on one, however, these objections melted away like so much Arctic ice. Rolls-Royce, always a trendsetter in the rarified sphere of ultra-luxury, has ushered in a new era, the next chapter in its century-plus of history; and it's no accident that Spectre makes its debut for the 120th anniversary of the fortuitous meeting of the Hon. Charles Rolls and Henry Royce. A hundred and twenty years from now, we may well look back on it as the beginning of an epoch termed "The Power of Pure Silence."
Of course, those who are truly au courant with the storied marque's history know that Mr. Rolls first espoused the virtues of electric cars back in 1900. In a sense, the advent of the 577-horsepower Spectre (courtesy of BMW-sourced twin electric motors) means the marque has come full circle, and all Rolls-Royces will be fully electric by 2031.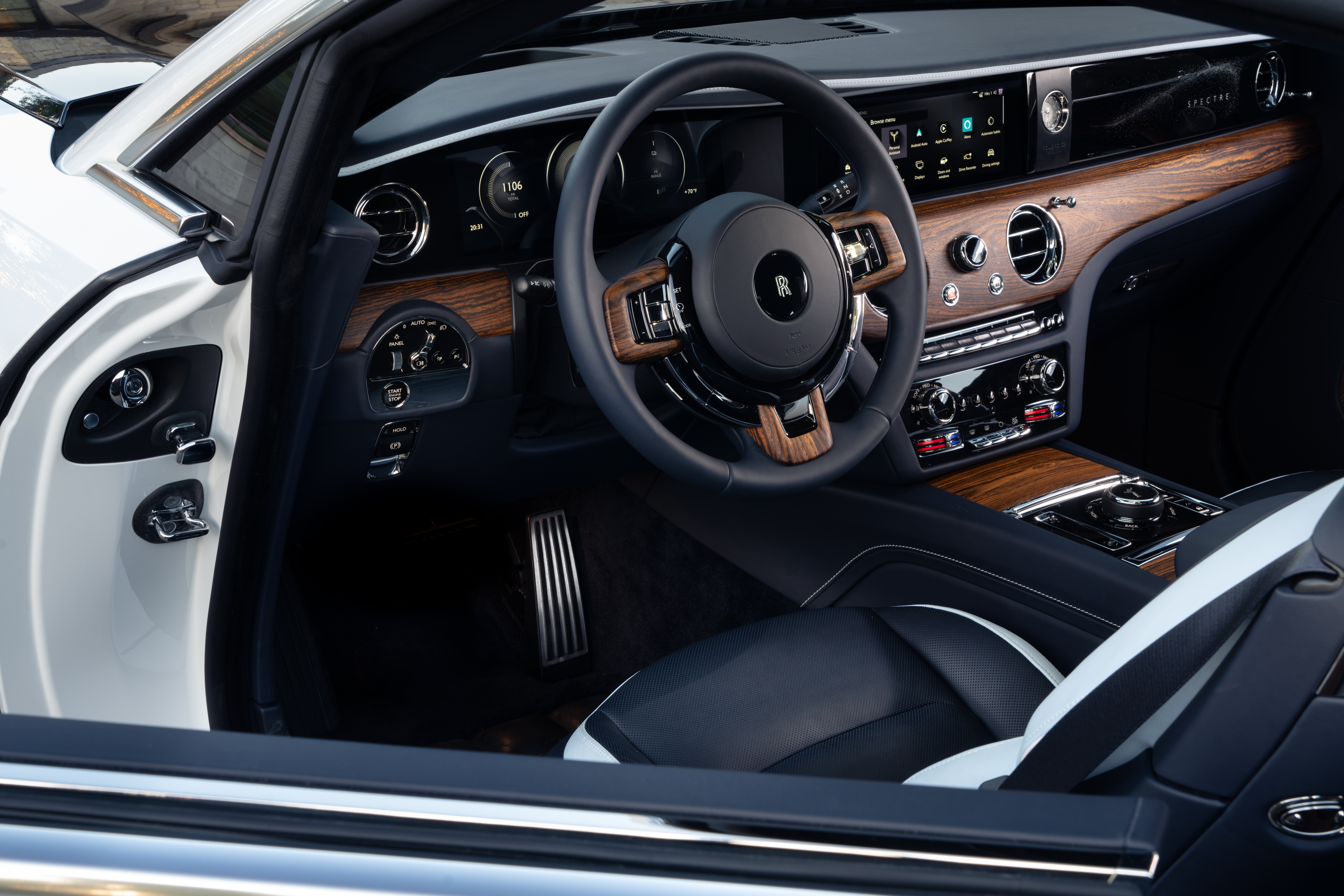 Spectre's 102.0-kWh battery might be a beefed up version from parent company BMW's new i7, but everything else on the torqued-out car—which can do 0 to 60 in 4.4 seconds and tops out at 155 mph, all without raising its voice an octave—is as British and bespoke as any that has ever sported the iconic Spirit of Ecstasy.
"Spectre possesses all the qualities that have secured the Rolls-Royce legend," is how the marque's charismatic chief executive, Torsten Müller-Ötvös, puts it. "This incredible motor car, conceived from the very beginning as our first fully-electric model, is silent, powerful and demonstrates how perfectly Rolls-Royce is suited to electrification. Spectre's all-electric powertrain will assure the marque's sustained success and relevance while dramatically increasing the definition of each characteristic that makes a Rolls-Royce a Rolls-Royce."
At Rolls-Royce, Müller-Ötvös notes, "perfection is about more than making the very best products. It is a culture, an attitude and our guiding philosophy. Indeed, it is our founding father Sir Henry Royce who said, 'strive for perfection in everything you do'. Spectre has been conceived within this culture. It is perfectly in tune with the sensibilities of our time."
He adds, "It states the direction for the future of our marque and perfectly answers a call from the most discerning individuals in the world to elevate the electric motorcar experience—because Spectre is a Rolls-Royce first and an electric car second…. This is the start of a bold new chapter for our marque, our extraordinary clients and the luxury industry. For this reason, I believe Spectre is the most perfect product that Rolls-Royce has ever produced."
Anders Warming, Rolls-Royce Motor Cars' Director of Design, points out Spectre's "strikingly modern yet timeless aesthetic, which brings our marque's design language and bespoke capabilities into a new, electric era. Working closely with our engineering colleagues and drawing inspiration from many spheres, including haute couture, modernist sculpture and nautical design, we have succeeded in creating a dramatic, highly emotional super coupé. In particular, the design takes cues from the clarity and precision of line and intelligent use of reflection in modern sailing yacht styling."
Spectre announces its pedigree with the iconic Pantheon grille, the widest ever fitted to a Rolls-Royce. The polished stainless-steel vanes are smooth and flush-fitting, and softly illuminated with 22 LEDs, "lighting up the sandblasted rear surface, creating a subtle three-dimensional signature at night."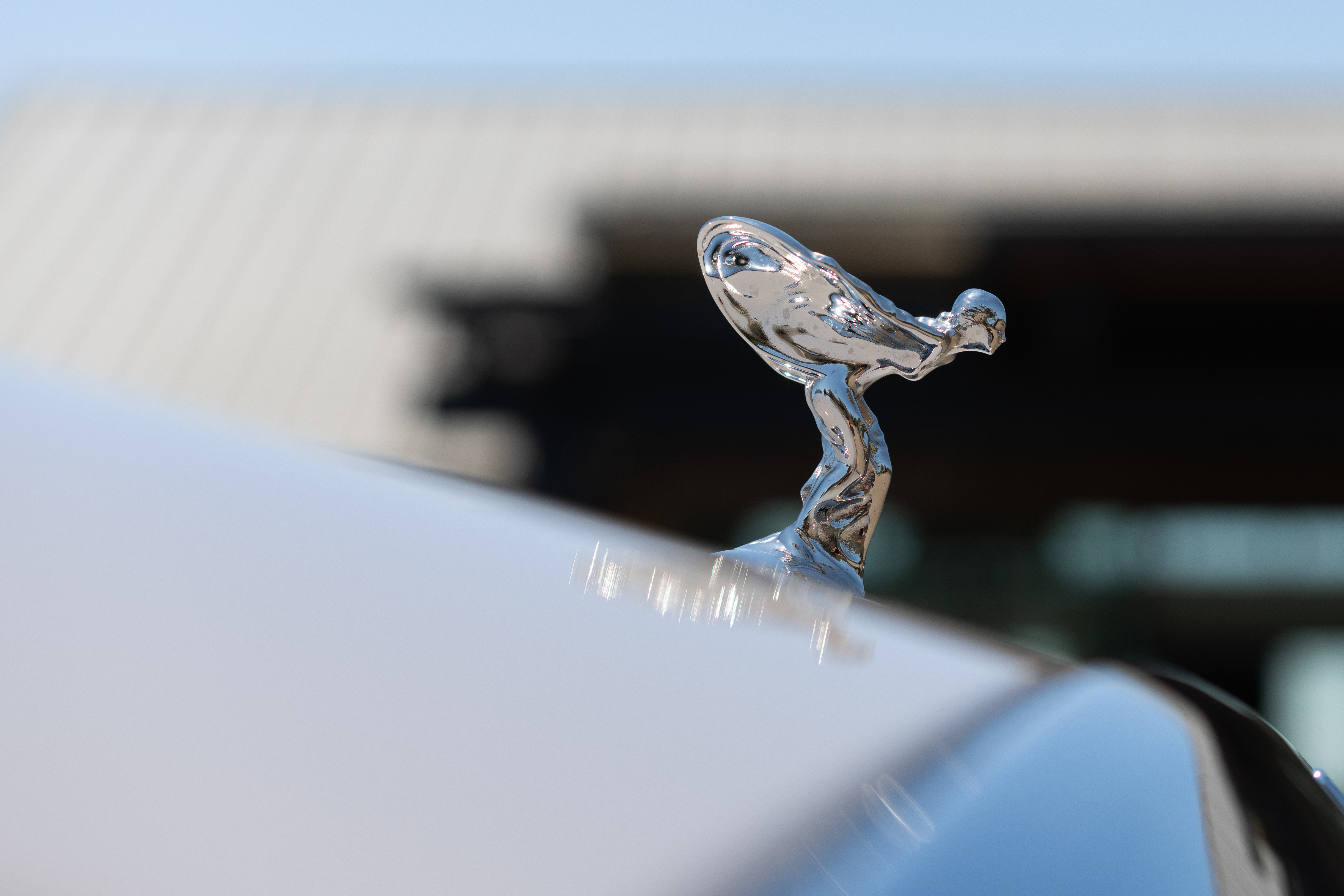 A new Spirit of Ecstasy figurine was specially created for Spectre as well, with a lower stance and more aerodynamic profile, contributing to the motor car's drag coefficient of just 0.25cd, making Spectre "the most aerodynamic RollsRoyce ever built," the marque notes.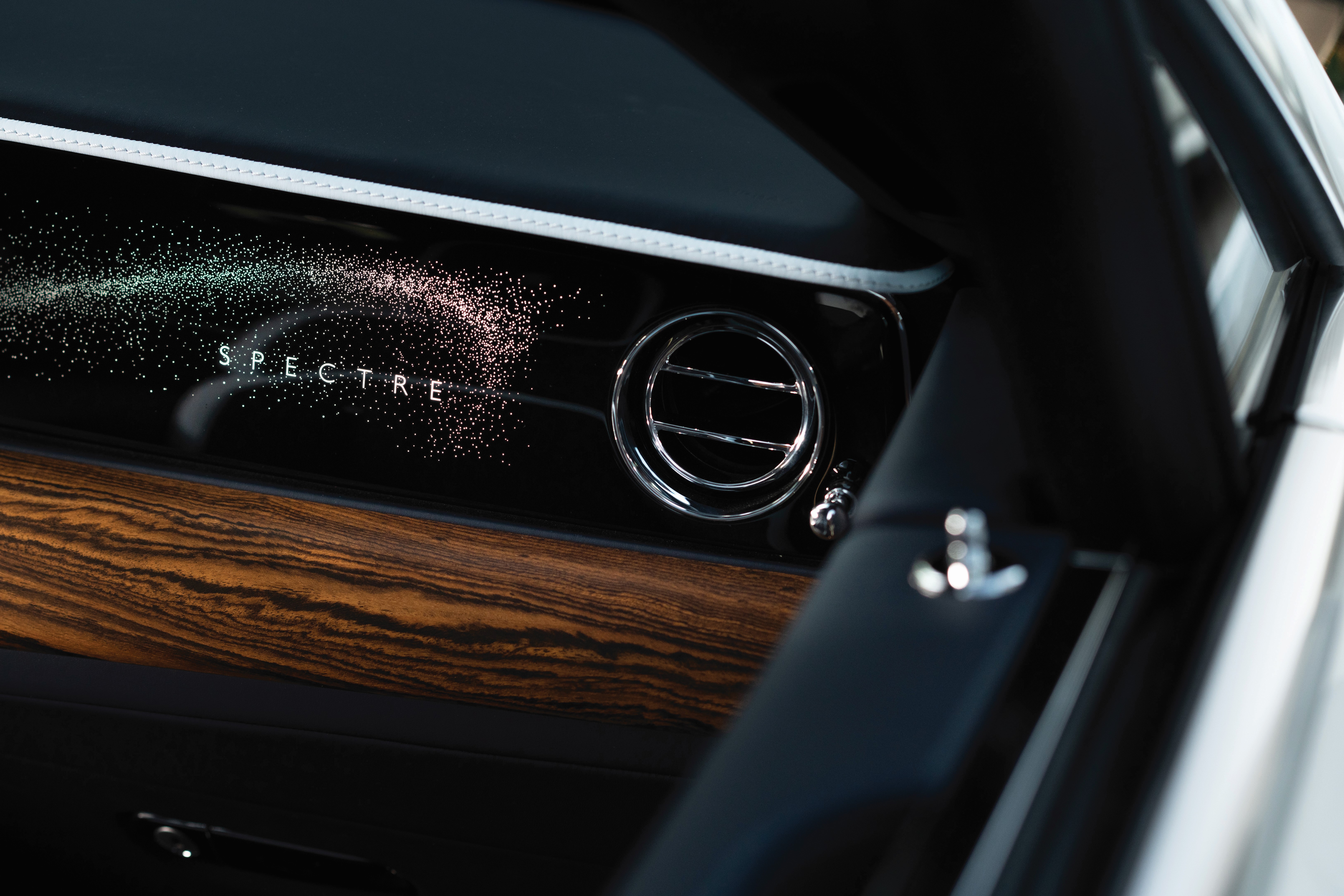 Within the "luxurious and welcoming cabin," Warming notes, "Spectre's cosseting interior wraps itself around those inside the car, whilst enchanting bespoke features surprise and delight, showcasing the very outstanding skill and artistry of our world-renowned designers and craftspeople."
Most notably, a version of Rolls' iconic Starlight Headliner LED display on the door panels; while the all-new front seat design has "lapel" sections that can be rendered in contrasting or matching colors to the main base, inspired by British tailoring.
And with SPIRIT, a "completely redesigned digital architecture that connects the Spectre owner with their car more closely than ever before," clients can now extend their commission from Rolls' Bespoke division into the digital realm, "for example, by selecting the color of the instrument dials to complement the car's interior palette or exterior finish."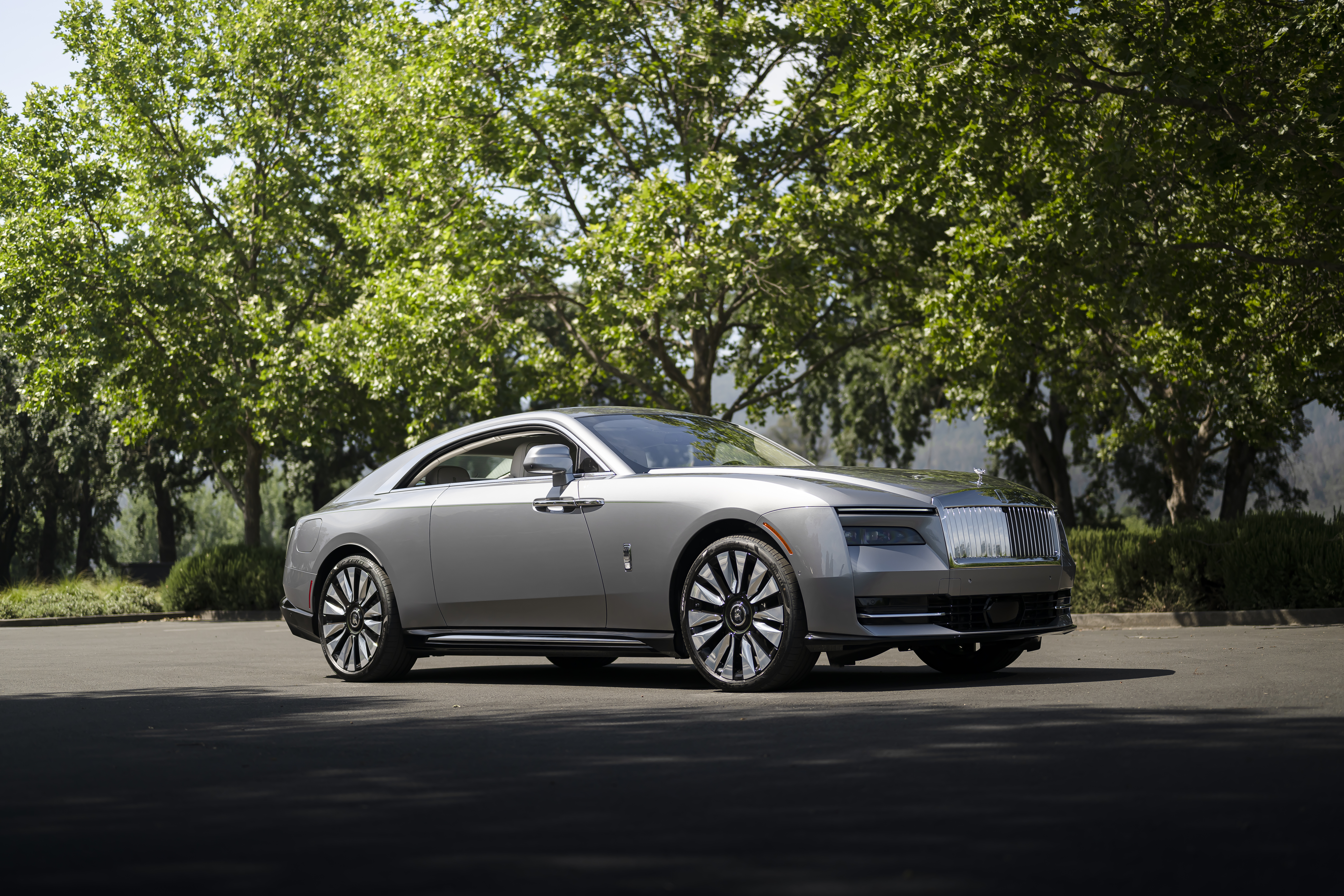 One needn't have the usual qualms about a brand new, designed-from-scratch car when it comes to Rolls-Royce. The marque carried out a punishing pre-launch program with Spectre, which rides on massive 23-inch wheels, extending to more than 1.5 million miles "in every extreme of terrain and temperature"—simulating over 400 years of normal use.
Nor did it fail to pass every test with flying colors. "As the first fully-electric Rolls-Royce ever made, Spectre proves that battery-electric technology has entirely come of age," Rolls notes, "and can be successfully deployed at the very apex of automotive excellence, luxury and performance."
With a WLTP range of 320 miles and an estimated EPA range of 260 miles, Rolls can claim to have put paid to any doubts about Spectre's suitability for grand touring—a feat of which Mr. Rolls would be suitably proud. With, as yet, no all-electric Bentley on the road (slated for 2025), Rolls has also got a serious leg up on the closest competition. A leg clad in Savile Row's finest, of course.
Rolls-Royce chose to present Spectre to the global press in Napa Valley, California, at the impeccable Four Seasons resort, with a fleet of eye-popping examples including several in the marque's iconic two-tone paint scheme. What impressed most perhaps was how little Rolls sacrificed in the way of its core values of opulence, bespoke craftsmanship, power and presence, in order to surge to the fore of sustainable luxury. All of a sudden $420,000 is starting to look like a bargain—and not just to us, as the first year's Spectre production is already sold out.
This article originally appeared in the Nov/Dec 2023 issue of Maxim magazine.