Test Driving The Wicked New Ferrari 296 GTS Through The Foothills Of Tuscany
Piloting Ferrari's 819-horsepower track car near the marque's Maranello factory was an unforgettable experience.
There's something nearly out-of-body driving a Ferrari in these hills. Sublime even. Any time spent behind the wheel of one of their finest mid-engine supercars is a momentous occasion of course, but now, here—this feels even more transcendent.
It's almost as if this Ferrari 296 GTS (Gran Turismo Spider) was engineered and designed…no, imagined to live in these specific winding roads carved above Maranello, famously home to the Ferrari factory. It's like experiencing Jiro Ono slicing you fatty tuna fresh from a stall in the Tsukiji Fish Market. Or Gieves & Hawkes tailoring a bespoke Savile Row suit for you, and wearing it to London's Animal Ball. It's all about purpose and place.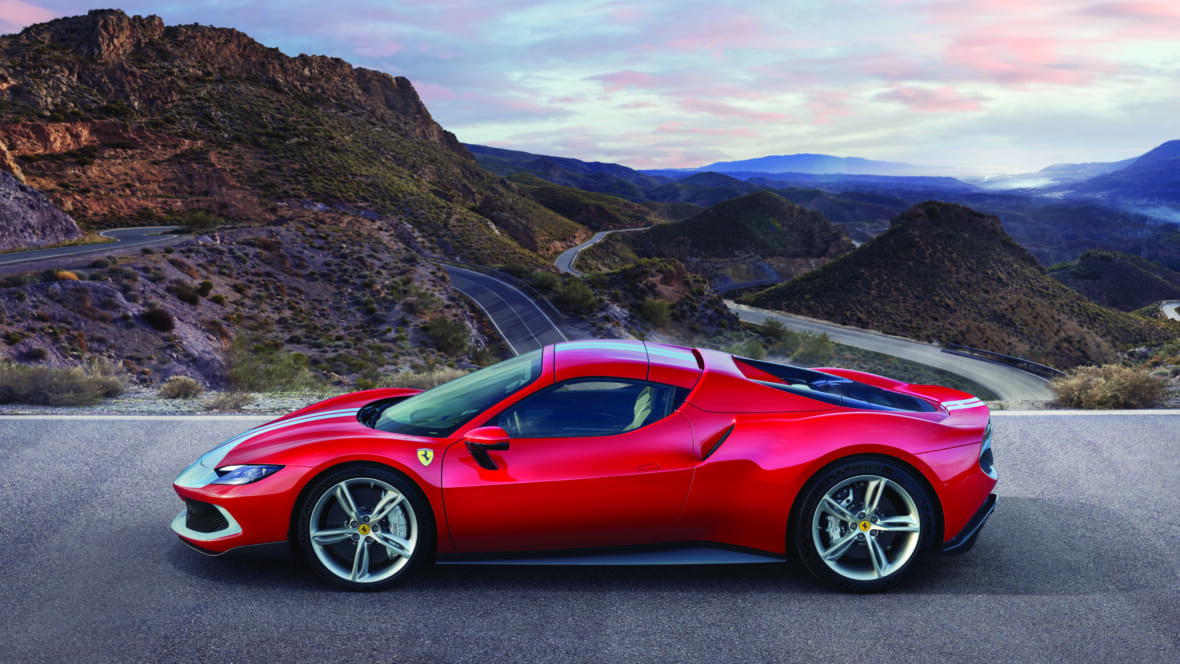 Usually when epicures speak of terroir in these parts they're waxing poetic about the local Lambrusco wines—but let us tell you there's no greater sense of Italian terroir than driving a 8,500-rpm, redline-revving, gloriously nimble mid-engine Ferrari over the undulating foothills of Tuscany. Purpose and Place.
Oh the wail, that glorious high-pitched signature of the Prancing Horse—in the 296 GTS, for the first time ever, this banshee call is summoned from a V6 (the only previous Enzo-touched V6 vehicles being the 1960/70s Dinos, not technically a Ferrari).
Clumps of hair were pulled and teeth gnashed among global gearheads when Ferrari announced they were shifting from their beloved V8s to a plug-in hybrid V6, as is found here in this 296. Consternation that Ferrari would be sacrificing its unique, beloved full-throated timbre for CAFE law appeasement and downsizing.
Let us ease your troubles cherished Ferraristi, your fears—so far, anyway—are unrealized. The wail, amplified off these ancient Roman hills especially, remains as proud and defiant as ever. It's a bit of a stretch when execs refer to it as the Piccolo V12, but it's not an insane claim either. Meanwhile the 7.5-kWh battery provides the 296 with 16 miles of EV zero-emission range, so you can drive around town in near silence should you prefer a more meditative state.
But what that electrification adds is multiples of greatness compared to what you may lose, as the 165-hp motor—slotted between the V6 and its eight-speed dual-clutch transmission—provides torque-fill in ways turbos simply cannot. Since electric motors provide full instant torque, Ferrari's system catalyzes takeoff the moment the throttle is pushed, slingshotting the 296 GTS until the twin-turbos wind up and kick in, sending the droptop screaming into ever higher revs and speeds.
It's not just total horses that the electric motors add to the 654 hp coming from combustion, it's how that shove drops instantly as soon as you toe the throttle. The 296 GTS explodes out of corners, jumping from switchback to switchback with relatively light balance, precise handling and delicious gusts of acceleration.
Its 205-mph top speed, 819 total horsepower, 546 lb-ft of torque and 0-62 mph sprint in under three seconds are all impressive on paper, but feeling the 296 GTS' burst in the flesh thrills on another level. And because it lacks all-wheel drive, the short wheelbase supercar is more than happy to let the rear axle swing out just enough to tingle the hairs on your upper spine.
All of this performance should be expected, of course. Few if any bloodlines in the automotive world have proven themselves more consistently than the proud mid-engine supercars (i.e. 'sports cars' in Ferrari parlance) born from Maranello. The genealogy began in 1975 with the 308 Berlinetta, and evolved to include such greatest hits as the 430 Scuderia, 458 Italia and most recently the F8 Tributo.
This latest scion continues the evolution not only with innovative electrification but also heart-squeezing exterior lines courtesy of Flavio Manzoni and his Centro Stile Ferrari team. Its curves so supple and character lines so polished the GTS looks like a gem smoothed out by the tumbling waters of God.
Often times when you slice the roof off of any car the profile can suffer. Not so with the GTS, the 296 GTB's open-air brethren. It remains as handsome as ever with the roof excised, the folding hardtop deployed in only 14 seconds at speeds up to 28 mph. The hydraulics and reinforcement add just over 150 lbs, but the access to your surroundings—never mind the previously mentioned 'piccolo V12' howl—more than makes the roadster's weight gain worthwhile.
Sure we could nitpick Ferrari's decision to put every single command you can think of, from blinkers to windshield wipers to sat nav and radio controls to the eManettino, on the steering wheel. Maybe it works for Formula One but it's not so convenient for consumer usage—it feels unnecessarily complicated and cluttered. In the end this setup represents the brand's core F1 DNA, however, so who are we to argue.
As Ferrari further shapes its stable each vehicle in the Scuderia grows more defined. This is not a happy accident. At Enzo's favorite restaurant just outside the legendary Maranello HQ, we spoke to a long-invested Ferrari spokesperson over plates of tortellini bathing in rich Parmigiano Reggiano cream. She explained that over the last five years the company has been developing a "different Ferrari for every Ferraristi" philosophy, where for every owner there's a different car/ category you can buy for different activities.
The pure track car being this 296 GTS (or GTB), a Roma or Portofino for daily driving, the 812 Superfast for GT jaunts, and now the recently unveiled V12 Purosangue SUV for "traveling with the family." "So there's literally a different car and segments of market for different uses, and different types of clients," she underscored.
A couple of issues back we celebrated Ferrari's Diamond Anniversary with 20-odd pages of glory, interviewing Enzo's son Piero and highlighting the new SF90 Stradale on the "Best Ferraris Ever" list. What's remarkable driving the new GTS is just how closely it parallels its flagship brethren.
While we never experienced the SF90 truly unleashed on the track, we enjoyed both electrified supercars on open roads—the 296 here on the hills cresting Maranello, the Stradale in the canyons of Malibu—and they are surprisingly similar. When considering the SF90 represents the current halo Ferrari, the 986-hp hypercar existing on an entirely different echelon of Prancing Horse, this equality feels especially noteworthy.
Add the fact that the 296 lapped Ferrari's Fiorano test track seconds faster than its F8 Tributo predecessor; and one could even argue that despite a price tag north of $300,000—still $200,000 less than the SF90—the 296 GTS offers quite a bit of value.