The 2,000-HP Drako Dragon Could Become King Of Luxury Super-SUVs
A sub-two-second electric SUV with gullwing doors will be Drako Motors' second act.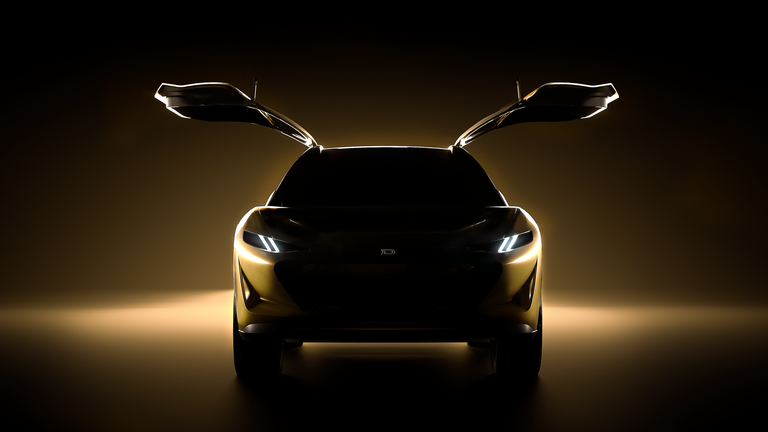 Upscale EV upstart Drako Motors has revealed its own entry into the booming super-SUV segment, and it could ride a lightning bolt straight to the top past the Lamborghini Urus, Bentley Bentayga, and other luxe bruisers.
Recall that the Drako GTE made ripples upon reveal in 2019 as an all-electric, 1200-hp super-sedan limited to 25 examples priced at $1.3 million each. The GTE subsequently received a rave review by Motor Trend, dramatically saying, "its engineering approach gives the most important of gifts to automotive and driving enthusiasts who fear a coming, soulless, all-electric world of commodity cars: hope."
As the GTEs are being produced and delivered, in steps the Drako Dragon. Car and Driver cites some insane performance claims from a 2,000-hp quad-motor powertrain: a 200-mph-plus top speed and a hypercar-beating zero-to-60-mph time of 1.9 seconds.
While these early images are dimly lit, the beauty of ex-Pininfarina Design Director and GTE stylist Lowie Vermeersch's lines still shine through. Apparent elements include gullwing doors, retro flying buttresses, a sizable hood scoop. The headlights and taillights are formed with two stylish diagonal lines, and there appears to be a panoramic transparent roof.
Even with all that power, beauty and performance, Drako promises that the Dragon will be "priced competitively to the existing super-SUV segment," so in the $200,000-and-up range. We'll know more when the Drako Dragon is fully revealed in late 2022.