The 2019 Ducati Panigale V4 R Is the Most Powerful Production Bike Ever
These sexy superbikes are totally extreme.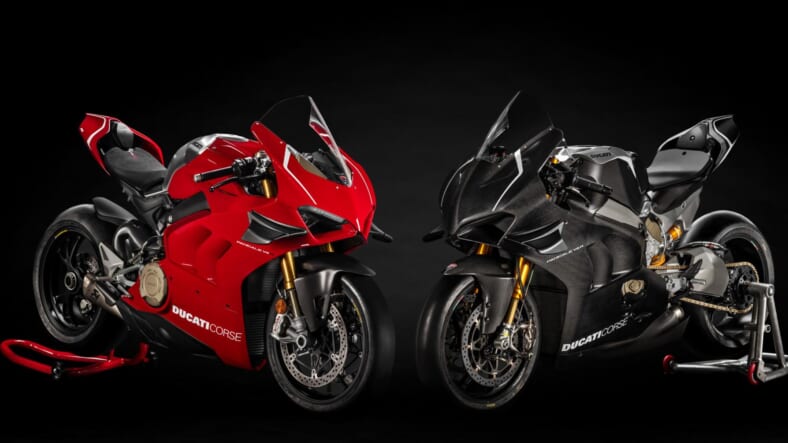 Credit: Ducati
In Ducati's own words, the just-unveiled 2019 Panigale V4 R embodies the maximum expression of Ducati's values; style, sophistication and performance. 
Truly, no bike from the Italian brand has captured that sentiment better. Not least of which their latest bike, which is already being billed as the most powerful production bike ever. 
The 2019 Panigale is the culmination of everything Ducati does well. Through and through a racing bike, packing the 998cc Desmosedici Stradale R engine, the Panigale is rocking 221 horsepower straight from the dealer with an optional upgrade to pump that number up to a truly insane 234 if equipped with the optional Akrapovic racing exhaust system. 
That unequaled performance pairs nicely with the Panigale's superior looks. Carbon fiber and brushed steel come together here to create a style that is indicative of Ducati's signature looks through and through. It's a sexy and aggressive look for a bike that's sure to turn heads when it finally hits roads across the globe, whether you see it or hear it. 
The 2019 Panigale will also have plenty of tech options available, pushing Ducati's latest suspension, balancing, safety and media capabilities further than ever before. 
No word on pricing yet but, considering this is the tippy top of their lineup, expect an appropriately lofty list price, even for the base model when they become available in a few months.