The 2023 Dodge Challenger SRT Demon 170 Is 'World's Fastest, Most Powerful Muscle Car'
The 1,025-horsepower, HEMI V8-powered hellion is being billed as the "quickest, fastest and most powerful muscle car in the world."
(Dodge)
Dodge is pulling out all of the stops—and governors—for the last of its famed Hellcat HEMI V8-powered muscle cars, the 2023 Dodge Challenger SRT Demon 170.
The final edition of Dodge's "Last Call" series of muscle cars that are propelled by pure combustion engines was unveiled at a special event on the Las Vegas Motor Speedway's dragstrip. The locale lets us know what this car is concerned with: high horsepower and low sprint times.
This is a street-legal drag racer, what Dodge calls the "quickest, fastest and most powerful muscle car in the world." With 1,025 horsepower and 945 pound-feet of torque, it's technically capable of a 1.66-second zero-to-60-mph time and an 8.91-second quarter-mile. That ranks it among the world's quickest production cars, including electrified sub-two-second rockets like the Tesla Model S Plaid and Rimac Nevera.
But the performance comes with a caveat. MotorTrend points out that the Challenger SRT Demon 170's times were recorded on a dragstrip prepped with a grip-increasing sticky coating, under perfect conditions, and at the helm of an expert driver. And to achieve the 8.9-second quarter-mile at a track, you'll need to install a roll cage and a parachute in accordance with National Hot Rod Association rules.
Nevertheless, it's possible thanks to the work of engineers, who swapped pistons, connecting rods, the crankshaft and other components to ensure nothing blows up. A 3.0-liter supercharger gulps air through an enlarged throttle body, and the fuel injectors spit out so much fuel that the gas tank drains after seven-minutes of hard driving, MotorTrend adds.
Speaking of fuel, "170" is a reference to 170-proof E85 ethanol-fortified gas that the 6.2-liter V8 requires to achieve peak output. Dodge actually added a system that turns the gauge cluster from white to blue when an ethanol content greater than 65 percent is detected, informing the driver that maximum horsepower is on-tap.
Dodge also reportedly pushed production back when the tire manufacturer, Mickey Thompson, ran into supply chain issues, as the automaker insisted on equipping the Challenger SRT Demon 170 with the brand's ET Street tires. It comes from the factory with a single seat, although one for a passenger can be added for $2,500.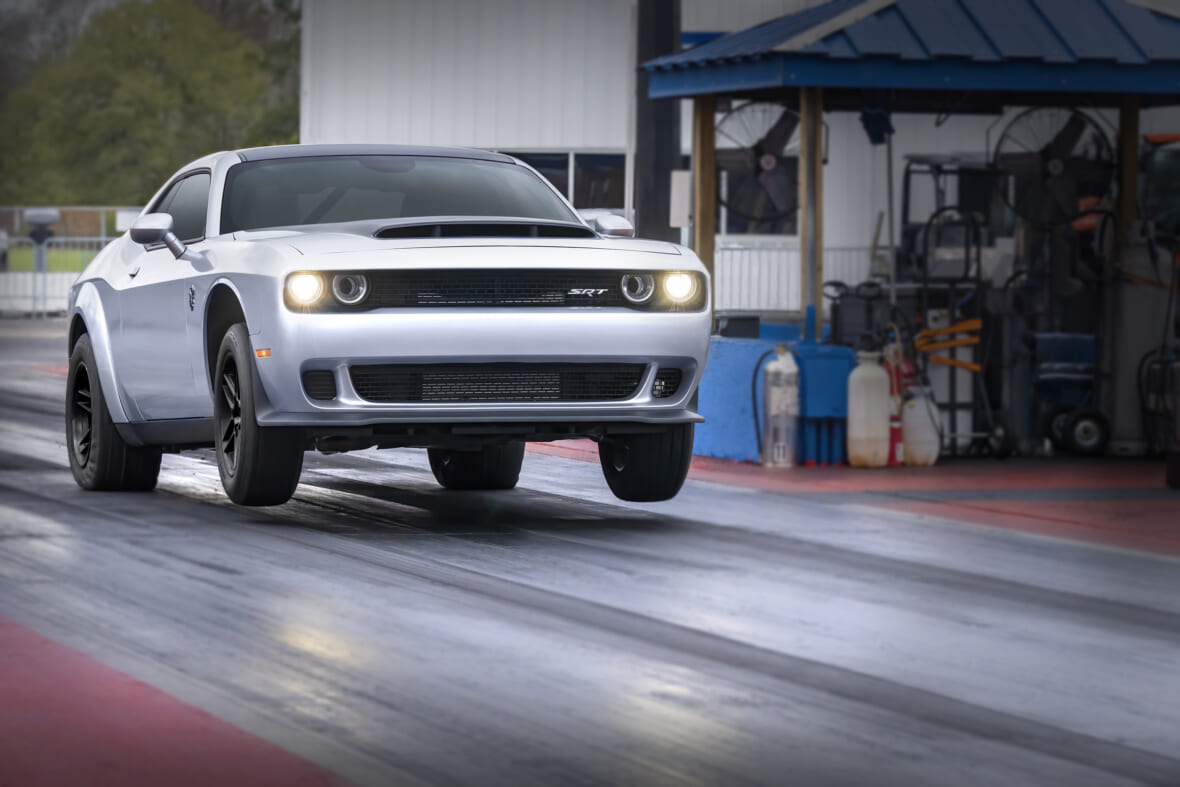 Dodge has tentatively said that 3,000 examples will be produced for U.S. customers with a base price of $100,361 including the destination and gas guzzler tax. Orders open on March 27.