The 2024 BMW XM 'Label Red' Is Most Powerful M-Model Yet
This hellacious hybrid is seeing red.
(BMW)
The BMW XM has moved from a striking concept presented at Art Basel Miami Beach to the legendary M1's only "M-Original" successor. Now it's the most powerful vehicle in BMW's stable, thanks to a new Label Red variant.
BMW's twin-turbocharged 4.4-liter V8 makes joins forces with an electric motor integrated into the eight-speed automatic transmission to create a total of 738 horsepower, up from the regular 644 horsepower offered by the same M-Hybrid system the standard BMW XM.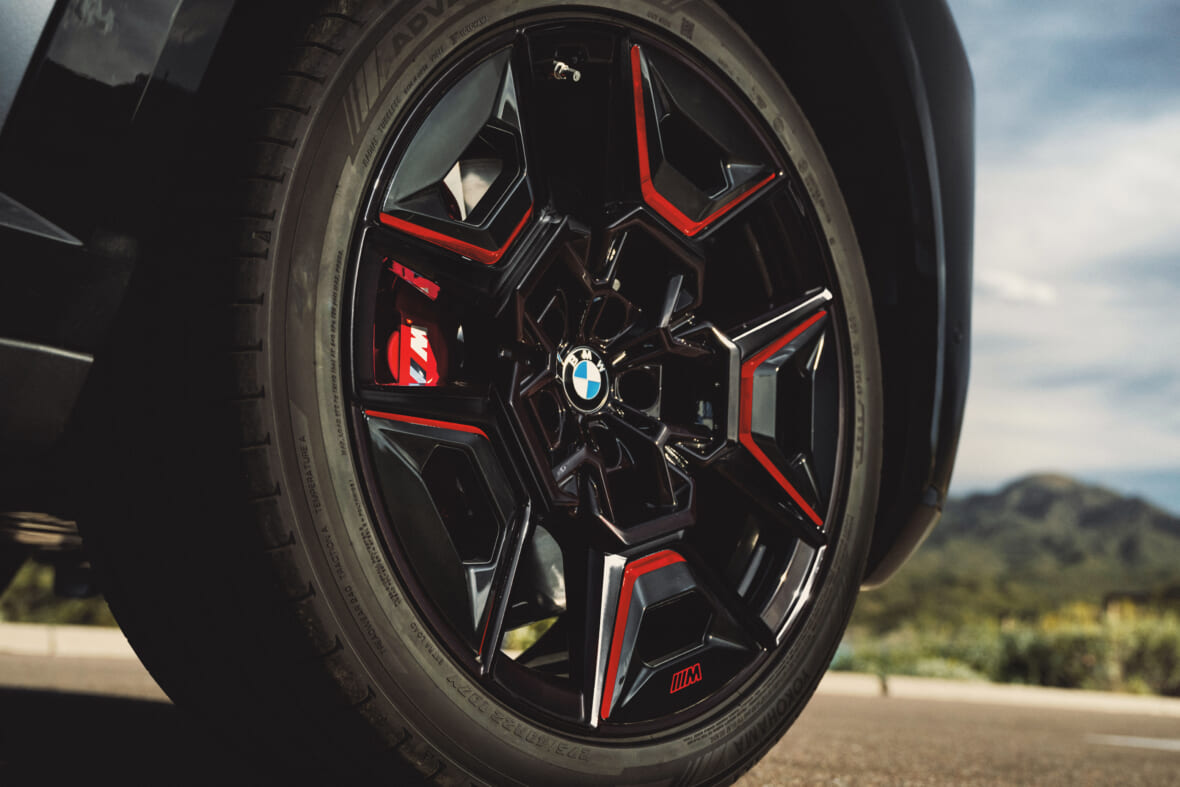 As Car and Driver notes, the resulting 3.7-second sprint to 60 mph is four-tenths of a second quicker than the standard XM. Top speed is limited to 155 mph, but an optional M Driver's Package pumps up the top end to 180 mph.
The M-Hybrid's increased power and acceleration in the Label Red appointment are impressive and attention-grabbing. But what's most interesting, at least from a practical perspective, is the increase in electric-only range from around 30 to 52 miles.
That uptick, combined with an electric-only top speed of 87 mph, makes the BMW XM Label Red perfectly suited to use as a purely electric daily driver for even lengthy commutes.
That's if the responsible owner can resist the urge to hear the high-revving V8 snarl through BMW's dual-piped sports exhaust, but BMW has attempted to quell the temptation by commissioning lauded movie score composer Hans Zimmer to create a soundtrack for the electric motor—you can hear Zimmer's swelling, distorted horns in the video below.
Stylistically, the BMW XM is divisive—C&D describes its face "one only a mother could love." It's certainly not subtle, especially compared to BMW's other X-class SUVs.

That's partially because the XM stands alongside the M1 as the only other M model built from the ground up. It's broader all around, and the XM Label Red highlights this figure with Toronto Red accents around the side window cluster, 21-inch rims and beefy kidney grille.
Red also brings out the interior on the diamond-shaped upper backrests, the stitching on otherwise black seats, the air vents and more, while a 3D headliner formed by peaking 3D prisms adds further drama to the cabin.
Prices haven't been announced, but expect the BMW XM Label Red to start at around $186,000.