The Apocalypse Juggernaut Is A Menacing 6-Wheeled Beast
This nearly $300,000 hypertruck is a modern-day Lambo Rambo.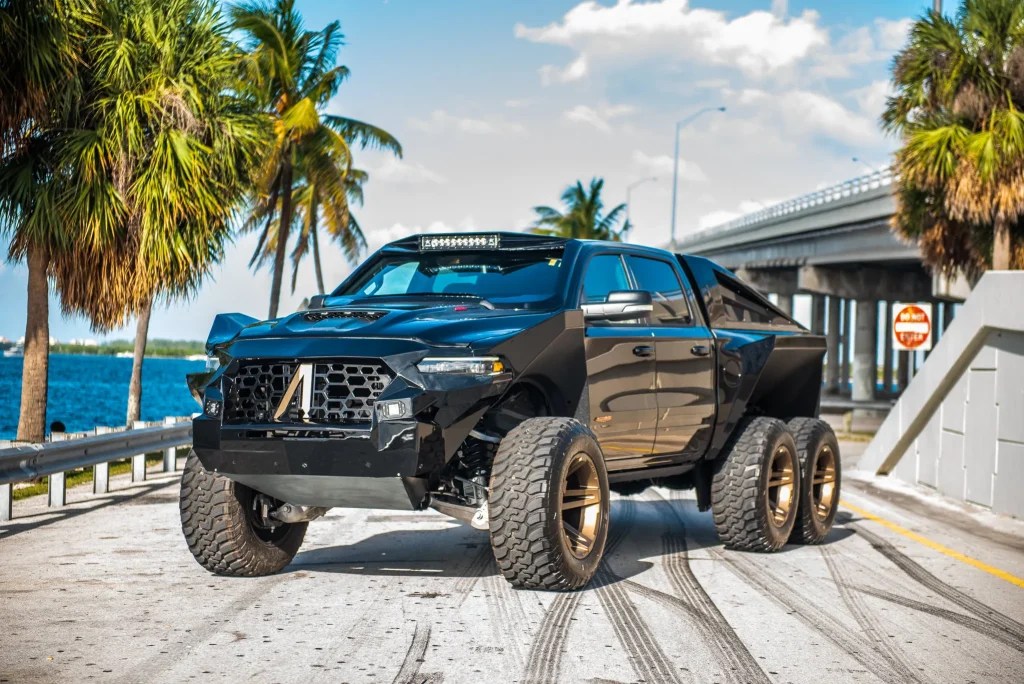 Warlord. Hellfire. Doomsday. Words that inspire terror singularly, but signify utter badassery when paired with one of Apocalypse Manufacturing's 6×6 custom trucks. And the Juggernaut is no exception.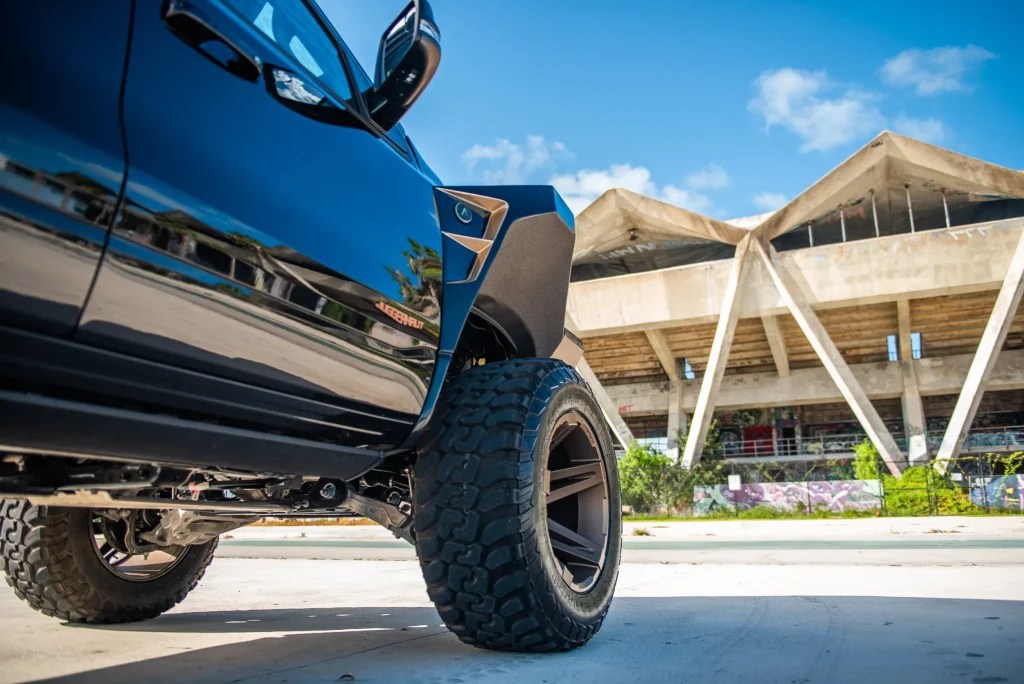 Eyes are are naturally drawn to the savagely spoked 22-inch SFJ rims wrapped in knobby 40 inch tires, which are connected to time-tested Dana 60 front and rear axles—the middle axle was fabricated by Apocalypse to accommodate true six-wheel drive.
The wheels reside in some of the most extreme wells ever made. Sharp cutouts leave gaping, trapeze-shaped spaces in back, allowing the tires to travel unimpeded even when the Juggernaut comes crashing down from a 10-foot drop (an ability that was proven over 50 times).
The steel front "grumper" (grill/bumper combo) and slate-piled rear steel bumper both add to apocalyptic aesthetic, while the lockable slant-back tonneau cover complements those cutting angles created by the fenders. It's the modern-day Lambo Rambo.
Power comes from the RAM TRX's supercharged 6.2-liter Hellcat V8, but the output is cranked up from 702 stock to 850 horsepower via special tuning, as Motor 1 points out.
Ostentatious as the build appears, it's no gimmick. The Juggernaut's proving grounds stretched 3,000 miles from Toronto to Key West in the Gumball Rally, during which it averaged 120 mph. That performance even earned it a spot in 2022's Sandra Bullock and Channing Tatum-led action adventure comedy The Lost City.
With external dimensions of 88 inches tall, 98 inches wide and 272 inches long, this is Apocalypse's largest truck yet. But the ultra-luxe cabin is the industry's largest, with room for seven-foot-tall passengers and the biggest rear bench ever fitted to a vehicle, according the company.
Creature comforts include plush leather and suede upholstery, a 12-inch head unit, electric seats and mirrors, Harman Kardon surround sound, a bird's eye camera, parking sensors, a rearview mirror camera, heated and cooled seats, a panoramic sunroof, and power steps.
The Apocalypse Juggernaut is currently available to purchase for $279,999—learn more or inquire here.