The Bugatti Chiron Profilée Is World's Most Expensive New Car Sold At Auction
The final Chiron and swan song to Bugatti's W16 engine sold for $10.7 million at an RM Sotheby's auction.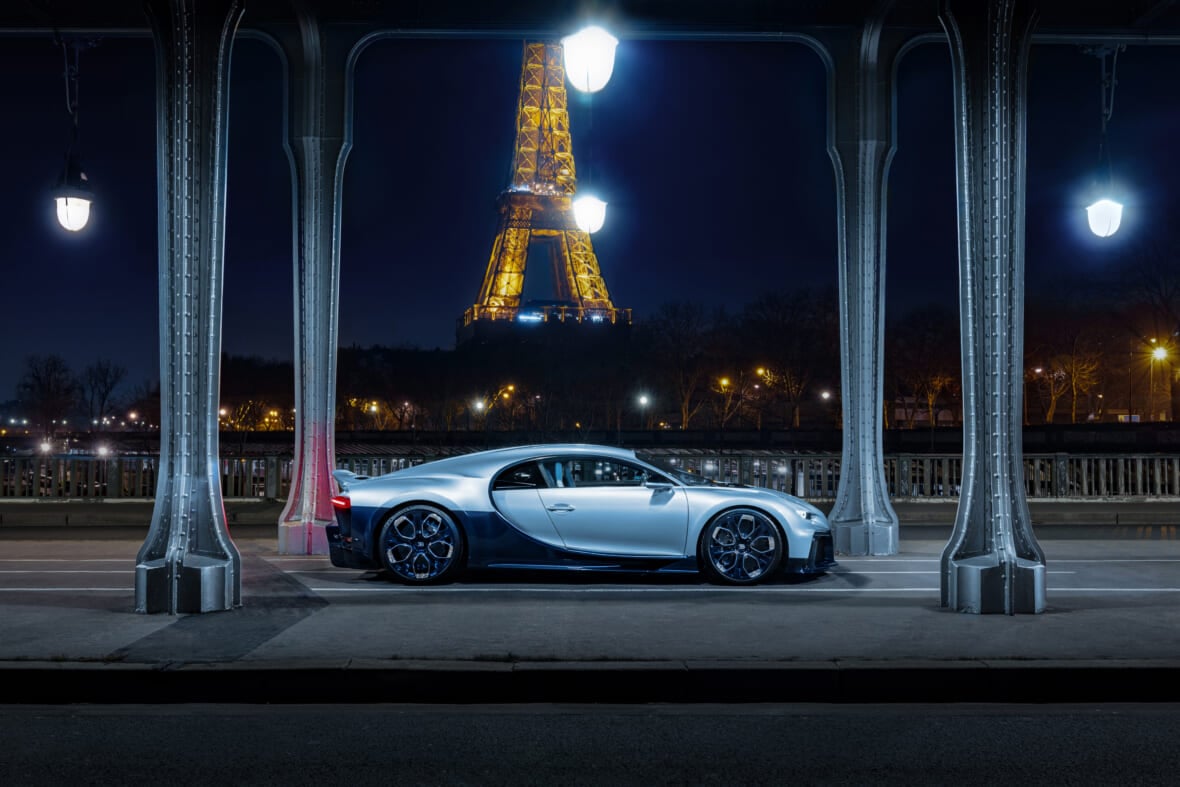 French hypercar maker Bugatti has laid claim to another lofty automotive record.
Already behind the world's first production car to break the 300-mph barrier and most expensive new car—the award-winning, $18 million La Vouiture Noire concept—Bugatti now holds the record for manufacturing the most expensive new car ever sold at auction with RM Sotheby's $10.7 million sale of the Chiron Profilée.
This is arguably Bugatti's most significant vehicle since the Chiron debuted in 2016, when it took the torch from iconic Veyron. The Chiron Profilée is a synthesis of the grand touring-oriented elegance featured in the aforementioned original and the unmatched performance of the Chiron Pur Sport, which featured a six-foot-plus long rear wing, shorter gear ratios, and boosted lateral acceleration.
But it's also the final Chiron to leave Bugatti's factory and a swan song for the marque's legendary quad-turbo W16.
With a redline increased to 6,900 RPM and a revised, short-ratio seven-speed dual-clutch transmission, the Profilée is the fastest accelerating Chiron yet—62 mph comes in 2.3 seconds, 124 mph in 5.5 seconds and 186 mph in 12.4 seconds.
There are also several features never-before-seen on previous Chiron examples, beginning with the model-exclusive "Argent Atlantique" main paint coat, which is underscored by the lower body's Blea Royal Carbon and polished aluminum accents.
The tail features a millimeter-perfect hollow section to allow hot air to easily escape, while the front is scored with wider air inlets. The horseshoe grille is also enlarged, and the altered front splitter helps maximize downforce.
Another Chiron first is found inside, where a leather finish utilizing 2,665 hand-woven strips covers the center console, dashboard, door panels and rear wall inlay. The steering wheel is color-matched to the Deep Blue comfort seats, and the Chiron instrument cluster is set in black anodized aluminum housing.
Whoever owns the Chiron Profilée paid a premium at $10.7 million, as Newsweek reports the pre-sale estimate was around $5.2 million. Considering the finality and one-of-a-kind spec, it's still worth every penny.