The Custom Line Navetta 50 Is A 164-Foot Aluminum Dream Yacht
Meet the new flagship vessel in the bespoke branch of Piero Ferrari's Ferretti yachts.
In Piero Ferrari's first ever interview with an American magazine, the son of Enzo Ferrari and Italian marque's current vice chairman mentioned that yachts are one of his great passions, which is why he also serves as VP of yacht builders Ferretti Group. The Navetta 50, then, is the latest realization of Piero's seafaring passion.
The 50-meter (164-foot) yacht is set to be the new flagship vessel under Custom Line, Ferretti's bespoke branch. To cut down on fuel consumption, it's made almost entirely out of aluminum. At a low-rev cruising speed, the Navetta 50 drinks up to 15 percent less fuel than a steel boat of the same size and volume.
According to the company, the four-deck design is distinct in that it revolves around the positioning of the master suite in the bow on the upper deck, where occupants revel in views offered by floor-to-ceiling windows and a private terrace complete with a sunset solarium.
In addition to the master suite, there are four guest cabins on the lower deck to accommodate 10 guests and nine crewmembers, including the captain.
Over 750 square feet of interior space aims to blend sophistication with sustainable materials, including 100-percent recycled natural leathers and eco-sustainable Alpi Lignum walnut paneling. The indoor dining room and bar flow into an outdoor area at the bow, which features a sun deck that can be customized wit ha Jacuzzi and second solarium.
Located aftward is a beach club touching the water's edge and an outdoor private lounge on the main deck—the two exterior spaces are joined by a rectangular pool.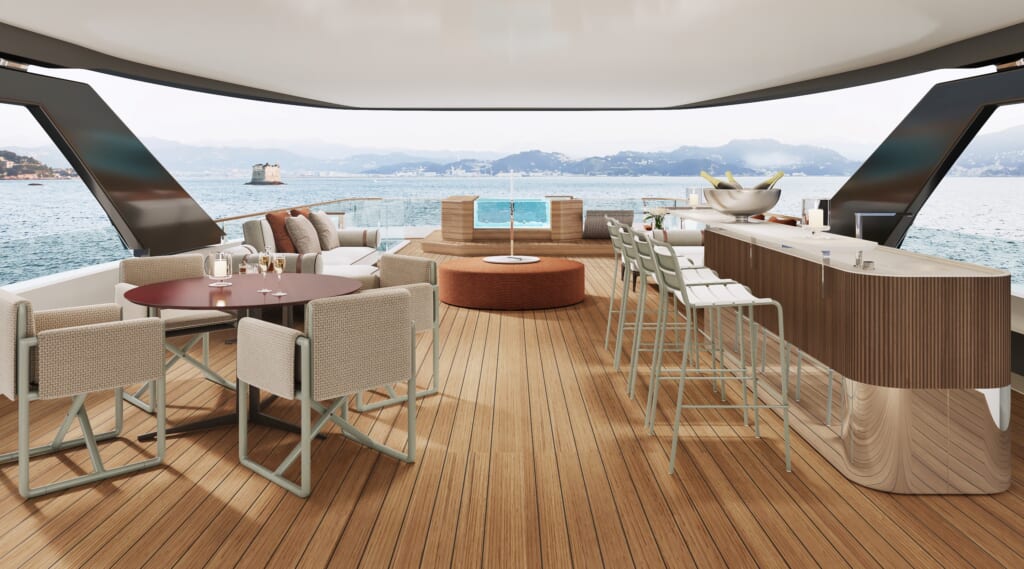 Construction on the Custom Line Navetta 50 begins this year before the yacht is officially presented in 2024.