The DeBolex DB25 Is A Bespoke Ducati Monster-Based Superbike
Only 25 of these carbon fiber custom motos will be built.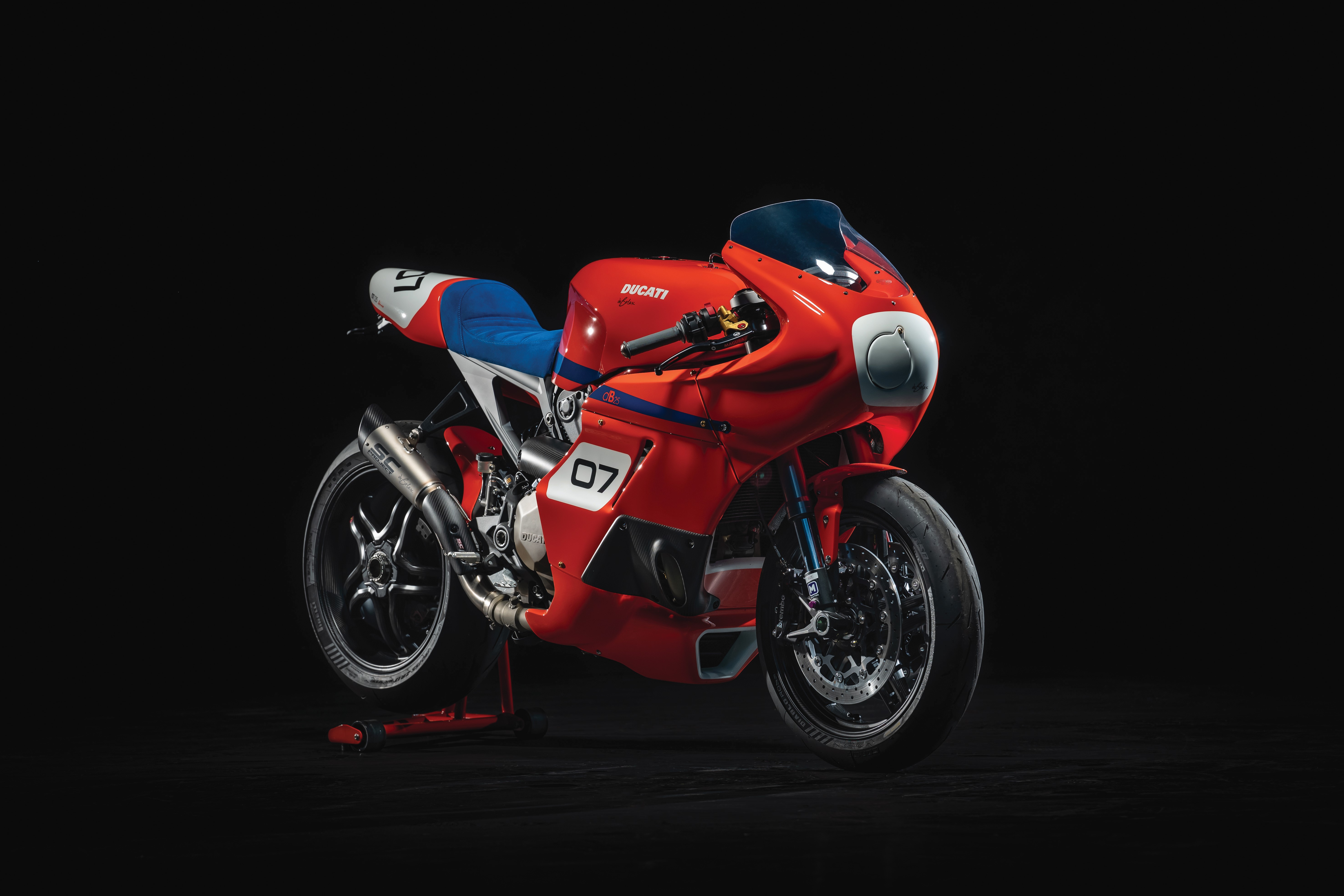 (DeBolex)
I 've been pondering the deBolex db25 for a while. Part monster, part beauty. Tyson Fury in Galliano. A deceptive combo for any café racer arriving fresh from 1960 after a bacon sarnie and roll-up cigarette at the Ace Café.
Looks like a bubble café racer, just seamlessly executed—not banged together from the parts bin with a hammer and anvil in a garage near Wembley. And with all sorts of mechanical stuff that makes it look as if it came from the future. Plus enough power and torque to leave a Vincent Black Lightning looking like it came from the Dark Ages.
When I asked Calum Pryce-Tidd, founder of the UK's deBolex Engineering, why on earth he'd start with what is to all intents and purposes the ultimate stock wheelie-bike, his answers made a lot of sense. After all, in stock form the Ducati Monster 1200S engine is a powerful and torquey 1198 cc L2 with 145 HP on tap and 91 lb.-ft. of torque.
More than many a superbike, but wrapped in a short, stubby, urban hooligan outfit. Pryce-Tidd used build numbers 6 and 7 to explain to me how this works (only 25 will be built).
"Each model begins with a blank canvas: the dB25 in its raw form consisting of 22 carbon fiber panels, wrapped around the last of the trellis-framed Ducati Monster 1200s," he expounds. "From there we play with paint and seat trim designs together with frame and engine upgrades to create a reflection of the owner's vision."
"No. 6 features a tinted version of the Alfa Romeo color 'Bluette' combined with a taupe stripe and seat to match," he notes. "The nose roundel and oil/air intakes are finished in orange, taking some inspiration from the 1960's BRM race livery. Suspension has been upgraded to a Maxton RT10 rear shock while the front forks have been anodized black. The custom CNC aluminum rear subframe has a Cerakote finish, and nestled into the subframe base lies thedB25 plaque presenting the number in the series, which is also airbrushed into the carbon fiber tail section."
Nor is that all of it. "SC Project have provided the titanium exhaust, opening up the monster L twin for a bark that will wake all the neighbors on a Sunday morning," he declares. "Brakes have been upgraded to Magura master cylinders along with a Cerakote finish on the calipers. And there are Pro-Bolt stainless steel fixings throughout…. For us this specification is clean and classy."
As for build No. 7, "If No. 6 is class then No. 7 is race ready. BST carbon fiber wheels, Pro-Bolt titanium fixings, Trans logic quick shift, Maxton suspension all round, Brembo brakes. As my dad would say, 'all singing all dancing,' the No. 7 has ticked all our specification boxes and more.
The color is taken from the 1960s Ferrari Dino, named after Enzo's son, and named Rosso Dino. We painted the Dino logo into the No. 7 tail section as a homage to this too. The bright blue stripe and Alcantara seat is also something seen on early Ferraris and a feature that ties in well. And we've also finished the engine covers and swingarm in Cerakote."
So why use a Monster as the base for what looks aesthetically like a retromod racer? "When we're looking at platforms to build our projects on, we mainly focus on the engine and frame design and whether the bike lends itself to modification," Pryce-Tidd explains. "In the case of the Monster, one of the plus points was the rear subframe being bolted on, as opposed to an integral welded-on rear subframe, which enabled us to engineer a subframe more in keeping with our overall design."
Given that the stock 1200 Monster does 0-60 under three seconds and over 150 mph if you are crazy enough on an unfaired wheely bike, we wondered what the db25 can claim. "At the moment all the dB25's under their skin share the same performance characteristics of the stock Monster," he reveals, "and this again was one of the reasons we choose it—145 bhp and the grunt of the Ducati twin was just what we were looking for."
As for the price, "The dB25 starts at 38,000 British pounds [currently about $46,000] including the donor motorcycle, and there is a long list of included specification options to choose from, but of course things can be taken further with a list of available extras," he says. So, there you have it. deBolex could well be the Brits' answer to Walt Siegl. Needless to say I'll be swinging a leg over one as soon as I'm back in Old Blighty.