The Electric 'Hyper-Jet' Is World's Fastest, Most Expensive Jet Ski
"This is to the jet ski what a hypercar is to a car."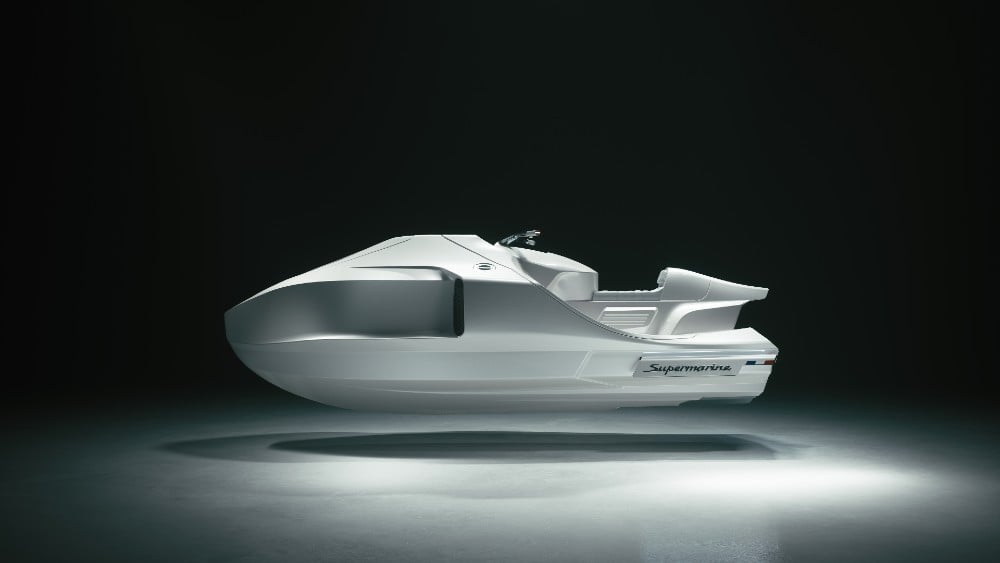 The super-fast jet ski niche has a new contender in the Supermarine MM01, a first-of-its-kind "hyper-jet" that will cost an eye-watering $900,000.
According to Robb Report, the superlative watercraft would be the "fastest and most expensive" jet ski in the world, with a 300-horsepower, all-electric propulsion system capable of sending the Supermarine MM01 to 75 mph.
It's the wave-slicing brainchild of brothers Germain and Léopold Bouvet's Bouvet Freres Marine. The high-end French company is planning a first limited-edition run yielding 30 examples—15 in a mother-of-pearl coat, and 15 more in black.
Each will be hand-built over 500-plus hours in France using a layup technique to mold a carbon-Kevlar "spine." To keep the rider protected from high-pressure winds at speed, the front end is constructed to channel air around the driver's seat.
There are luxurious touches commanded by its astronomical price, such as a leather-lined trunk and a champagne holder located underneath the seat.
There's at least one other jet ski comparable in the power and speed departments: the Belassi Buirrasca, a Ducati crotch rocket-inspired vessel that boasts 320 horses and a 74-mph top end.
But despite its superlatives, the Supermarine MM01 doesn't aim to compete with other watercraft, but reside in a class of its own.
"This is to the jet ski what a hypercar is to a car," Germain told Robb Report. "We are part of a radically different segment, without seeking to compete with the existing market, whether in terms of supply or volume."
The Supermarine MM01 is expected to arrive at market in 2024 following spring testing in 2022.