The 2024 Hybrid Chevy Corvette E-Ray Is The Quickest 'Vette Ever
The first electrified Corvette promises 2.5-second sprints to 60 mph and all weather-worthy AWD.
The C8-generation Chevrolet Corvette continues to usher in major changes for the historied American sports car.
Its 2019 unveiling debuted the entire Corvette range's more balanced mid-engine layout, while the Z06 introduced a European supe-style flat-plane V8. Now the new E-Ray brings hybrid electricity and AWD drive aboard for the first time ever, on the Corvette's 70th birthday no less.
The Stingray's LT2 6.2-liter V8 routes its 495 horsepower to the rear wheels, and a front-mounted electric motor pushes an additional 160 horsepower to the front. The result is a combined 655 horsepower and the quickest Corvette ever—Chevrolet cites a 2.5-second zero-to-60 mph time and a 10.5-second quarter-mile time.
But more significant is the eAWD system, which Chevy says intelligently applies torque to the front wheels as needed to increase stability while adapting to the road surface. This makes for a first-of-its kind four-season Corvette, adding real purpose to the Corvette's existing "Weather" mode and massive 20-inch front/21-inch Michelin Pilot Sport tires.
Meanwhile, an all-new Stealth mode enters the fold, allowing considerate drivers to run only the quiet electric motor at speeds up to 45 mph. The miniscule 1.1-kWh lithium ion battery, weighing about 100 pounds, is charged entirely through normal driving, regenerative braking and coasting.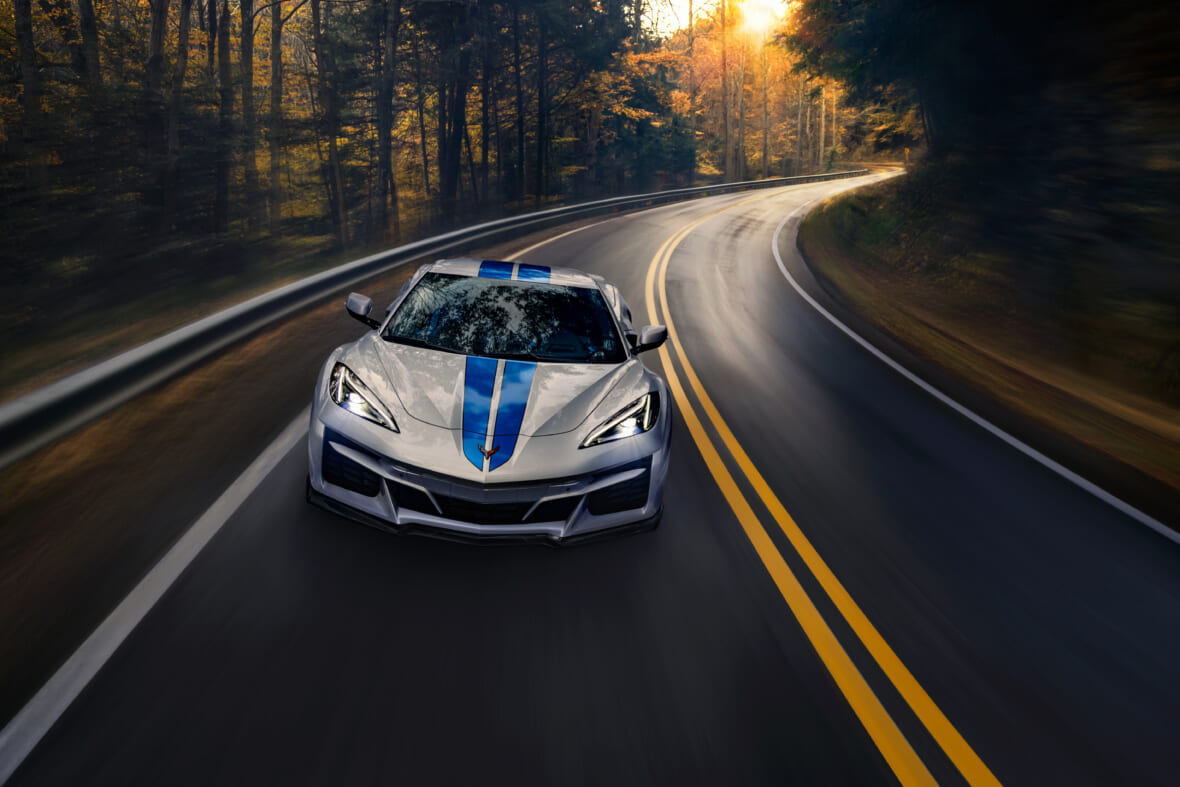 Despite its name, the E-Ray looks more like the Z06 than the entry-level Stingray, with a wider stance. There's an E-Ray exclusive body-length Electric Blue package, but 13 paints including new Riptide Blue, Seawolf Gray and Cacti are also available, along with optional black exhaust tips, carbon fiber components, and four aluminum wheel finishes.
Priced at $104,295 for the coupe and $111,295 for the convertible, the 2024 Chevrolet Corvette E-Ray goes on sale later this year.