The Lamborghini Sterrato Is An Off-Road Raging Bull
Wild new video teases an all-terrain Lamborghini Huracan coming later this year.
Lamborghini wasn't joking when the marque mocked up images of a rally-spec, Huracan-based Sterrato concept with a jacked-up body, fat tires and tons of LEDs back in 2019.
The Italian marque just dropped a teaser dubbed Beyond the Concrete featuring a camouflaged off-road Huracan prototype, the existence of which implies that a production Sterrato is in the works.
Seconds into the teaser, the Raging Bull takes a hard left onto gravel to race against a mountain biker—the clip may remind Top Gear Fans of the freewheeling British show's classic sequence pitting a championship-winning downhill rider vs. a Renault Clio.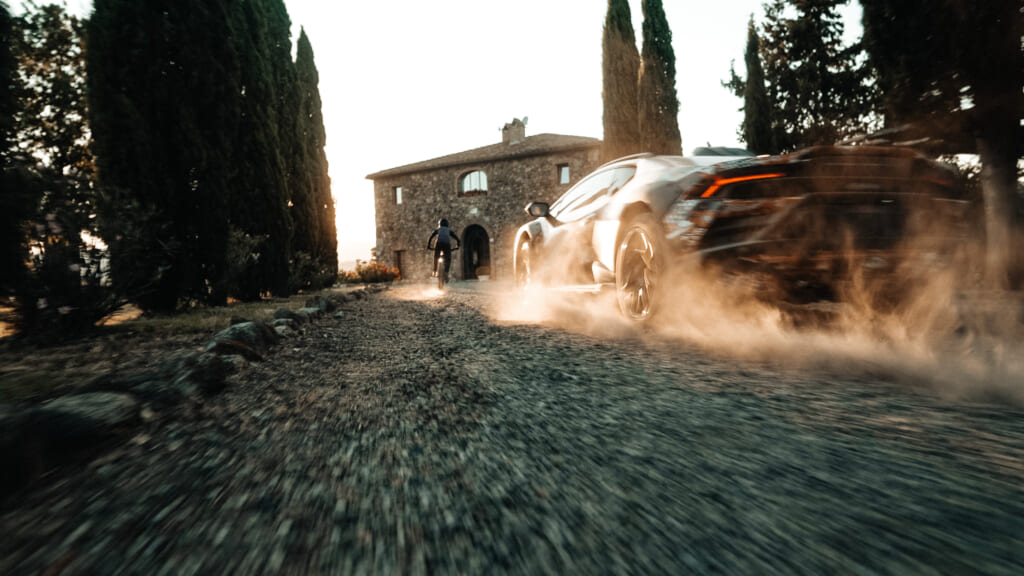 But the Lambo's lines of course look better than the Renault's, even if it is strange to see a wedge-shaped supercar sliding around on dirt and gravel. No details were provided, but Car and Driver notes some differences and similarities between the 2019 Sterrato concept and new prototype.
The roof-mounted LED light bar is gone, and there's now an intake cropping up from the engine bay. The slatted engine cover, roof rails, and black plastic cladding around the wheels have been retained. There's also some degree of body lift, perhaps a bit more than the 1.8 inches given to the concept.
C&D expects to see the same 631-horsepower version of Lamborghini's 5.2-liter V10 found in other AWD Huracans under the Sterrato's engine cover, as we as a launch date by year's end.