The Maserati MC20 'Cielo' Convertible Reaches Skyward With Color-Shifting Glass Roof
Maserati's new supercar soars with a high-tech crystal droptop and a ferocious twin-turbo V6.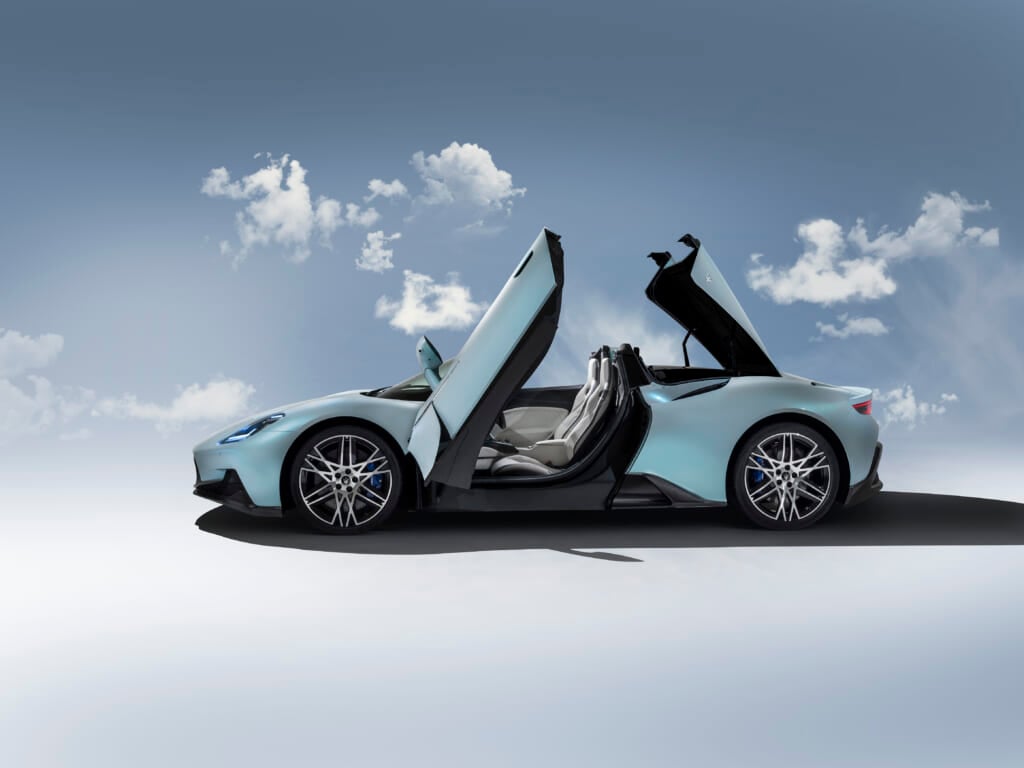 Maserati's halo car is proverbially soaring amid the clouds with a slick Spider variant dubbed the MC20 "Cielo."
The Trident marque didn't just slap a convertible roof on the existing coupe and call it a day, though that would surely would have moved some units, given the car's already beautifully-balanced street-condition performance.
Maserati went the extra mile in equipping a top made entirely of electrochromic "smart glass" that transforms from clear to opaque at the touch of a button, thanks to Polymer-Dispersed Liquid Crystal (PDLC) technology—material that becomes transparent when charged with electricity. Even with the roof deployed from its carbon tonneau cover (a process that takes just 12 seconds), drivers can enjoy unimpeded views of the sky above, hence the name "Cielo."
Combined with an exclusive three-layer metallic color called "Aquamarina," the droptop truly does stand our from the sold-out coupe. That said, the "Nettuno" 90-degree, twin-turbo 3.0-liter V6 remains unchanged, with 621 horsepower that sends just 3,306 pounds of car to 60 mph in under three seconds on its way to 202 mph.
That's notable when compared to other entry-level supes in MC20's price range, like the Lamborghini Huracan RWD and McLaren 570GT. The rival Italian Raging Bull does and the Brit both have similar 200 mph-plus top speeds but do 60-sprint considerably more slowly in the low-to-mid threes.
While we previously characterized the MC20 coupe's interior as adequate and nothing more, the Cielo does offer an optimized version of the coupe's award-winning 12-speaker sound system by Sonus, as well as a host of active safety systems ranging from parking sensors to an emergency brake and a 360-degree camera.
The Maserati MC20 Cielo is expected to take a five-figure price hike over the $216,996 coupe for buyers taking the first deliveries at the end of 2022.