Ride Along On The Ultimate Maserati Tour Of The Florida Keys And South Beach
Road-tripping from Miami to Key West and back in a custom-finished Maserati Ghibli Modena.
At 345 hp in base trim, delivered by a twin-turbo 3.0-liter V6, the 2022 Maserati Ghibli is sheer bang for the buck: a classic sports sedan with inimitable Italian verve and panache, starting at $78,000 and change. Base isn't really our style, though, so thankfully Maserati offers a few different ways to up the ante, the best option being an upgrade to Modena spec, which kicks the output up to 424 hp.
And hence an easy choice when it came to selecting wheels for an epic road trip from Miami to Key West and back, with all the speed, style and comfort we could muster without looking like a Russian mobster on holiday. In addition to the power boost, slightly more aggressive design, and more leather inside mark the Modena out from its brethren. But of course we didn't stop there.
Our Ghibli had a few more design flourishes, bringing the price up to $116,000: the iconic Italian marque's exclusive Fuoriserie Verde Royale paint, and Ermengildo Zegna Pelletessuta upholstery, courtesy of Maserati's collaboration with the equally famous Italian design house. Fuoriserie is Maserati 's personalization program that allows you to create one-of-a-kind cars, limited only by your imagination.
And the Royale paint references a limited-edition series range of cars made for the European market, designed as a tribute to a highly-coveted Maserati model from its storied past. Zegna's Pelletessuta meanwhile is a soft, lightweight woven leather fabric exclusively made by them, set off in this case with rich black hand-stitched solid leather and carbon fiber trim.
All in all, as Maserati puts it, adding up to a car that "represents the ultimate expression of dynamic beauty," again with that Italian edge that is simply more lustworthy than the cold precision of the Germans. The cues are relatively subtle, but if the unique Fuoriserie Verde Royale green paint didn't tip them off, the blacked-out wheels and badges definitely let other drivers know that this was no "ordinary" Ghibli—a rather less subtle signal to get the hell out of the way.
For people looking for a "balance of innate elegance, dynamism and fun-to-drive" thrills, as Maserati declares, the Ghibli Modena is the way to go. Add the Fuoriserie, Royale paint, and Zegna upgrades, all in all priced rather attractively, and you've got an understated-yet-still-mean machine that doesn't need to impress anyone but yourself; yet for those in the know, most certainly will.
Our point of embarkation, as it were, began in South Beach at one of the more tastefully renovated Art Deco icons on Collins Ave.: the Nautilus by Arlo. The 250-room historic hotel was designed by Morris Lapidus, aka the "father of Miami modern architecture," in the 1950s, and brought into the contemporary era by Arlo Hotels in 2019 after a carefully considered renovation, embellishing the spirit of the original landmark.
As Javier Egipciaco, senior vice president and managing director of Arlo said at the time of reopening, "We've created amenities and spaces that we hope inspire a sense of adventure and imagination for our guests, but also a spot where our locals can find the same sense of community and discovery"—all gospel true when we visited. It was was lively, but not off the rails, as many a South Beach luxury hotels are that neglect hospitality for "hotspot" status.
Among the attractions at Nautilus by Arlo are the pool and beachside scenes, with their classic South Beach vibes; the Nautilus Cabana Club, a Mediterranean indoor-outdoor restaurant showcasing fresh Floridian ingredients; and the Lobby Bar, a beautifully-designed mixology enthusiast's nirvana featuring locally-inspired libations and light bites, along with a rotating DJ roster, that's a cut above the usual Miami nightclub atmosphere.
One night in town was all we required, as we were itching to get the Ghibli off onto the Overseas Highway—the famed route that runs for 113 scenic miles along U.S. 1, spanning the entire chain of the Florida Keys over the Atlantic Ocean, Florida Bay and the Gulf of Mexico, all the way down to Key West and the southernmost point in the U.S.
The Florida Keys has long been one of our favorite destinations, and we'd been itching to make the run in a car really worthy of the drive; hence the Ghibli Modena was a godsend (grazie mille, Italy).
Our first stop was fairly far down along the line, allowing the Maserati to stretch its pistons, at the Sugarloaf Key winter residence of Kevin Andrews, an investment banker with a passion for collecting and rallying fast cars, who founded Canada's powerhouse AutoONE group.
A Porsche and Ferrari enthusiast who has competed in nearly every high-octane and high-stakes rally in the world, Andrews is among the cognoscenti who appreciate a car like the Ghibli Modena Royale, which looked picture perfect parked next to his vintage Grand Wagoneer and brand new AMG E63 S Wagon (which boasts a pretty impressive 600 hp powerplant of its own).
From there it was an easy jaunt down to Key West, with its colorful collection of bars, including famed Hemingway-era icons like Sloppy Joe's and the Green Parrot, picturesque lighthouse, world-class restaurants, Victorian architecture, historic seaport, and the semi-lawless camaraderie of Duval Street, second in fame in this regard only to Bourbon Street.
After a couple of days of carousing, and of necessity, taking Ubers, we were more than ready to get back in the Ghibli and head to one of the Keys' stunning luxury resorts for some R&R. So we set course for Hawks Cay, on the secluded island of Ducks Key, one of the most desirable destinations in the Keys beloved of yachtsmen, deepsea fishermen, and sunseekers of taste and refinement.
Hawks Cay is a paradise-within-a-paradise, set on 60 acres about halfway down the chain of islands, with epic sunrise-to-sunset views, offering virtually every water-related activity imaginable. It's a member of the prestigious Preferred Hotels & Resorts Lifestyle Collection as well as a AAA Four-Diamond Award-winner, with a total of 427 private villas and hotel rooms, six restaurants, a saltwater lagoon, five swimming pools, a full-service spa, and more.
At Hawks Cay, the nautical lifestyle is at its most attractive, and we arranged to check in to one of the storybook private villas that line the scenic waterways winding through the resort grounds. There are 250 two- and three-bedroom villas in all in the Hawks Cay collection, most with full kitchens with natural stone countertops and stainless-steel appliances, plus comfy living rooms and oversized decks with water views.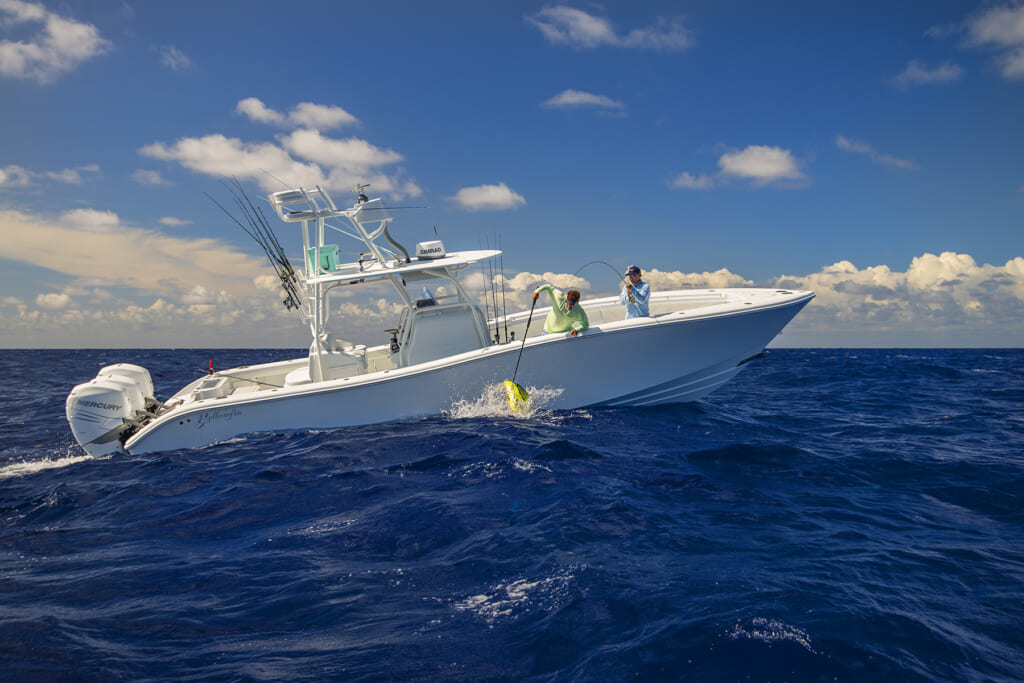 You can dock your fishing boat right outside, while larger yachts and cruisers (up to 110 feet) are accommodated at Hawks Cay's private marina. From there you have access to some of the world's finest snorkeling and best sandbars, while the property in general is a haven for all sorts of recreational sports. If fishing is your thing, the resort offers a "Hook N Cook" option at Angler & Ale, its lively marina-side eatery.
In other words, you hook it and they'll cook it, along with whatever accompaniments you desire from the menu, which pays tribute to the Keys with items like whole fried snapper, grouper cheeks, and tuna nachos. That's in addition to a comprehensive list of craft cocktails and draft beer, including a signature Angler's Ale brew made especially for the venue and best enjoyed on the outside deck.
When you've had your fill of seafood, the pro move is to book a table at Sixty-One Prime, the resort's newest culinary offering, a classic chophouse with a great selection of USDA prime cut steaks—and sea creatures too, in case you're still craving them. Sixty-One Prime is also committed to a "Fresh from Florida" initiative with a refined farm-to-table approach; opt for Kurobuta pork belly with apple turnip chutney and blackberry pearls, and McCoy Ranch grass-fed Delmonico steak with bone marrow fritters and tobacco onions to see just how good that can be.
For optimum easy access to Sixty-One Prime, the premiere pool, tiki bar, and private swimming lagoon, book into either the one-bedroom Presidential Suite or two-bedroom Penthouse Suites in the Hawks Cay Resort's main hotel building. These have impressive Keys views, oversized marble baths, and other luxe amenities.
Among the Penthouse Suite offerings, the Coastal Suite and Stargazer Suites, with its epic sunset views, are both top draws. And definitely book a massage at the Calm Waters Spa, with its ambiance of relaxation and head-to-toe rejuvenation, complete with steam room, sauna, and a tropical rain room.
Plotting course for our next destination, the more intimate yet equally astounding Bungalows Key Largo, we entered the coordinates for Morada Bay into the Ghibli's GPS. Originally opened by Islamorada's legendary The Moorings Village, Morada Bay is the ultimate upscale Keys beach bar, next to the famed fine dining restaurant Pierre's with its stately Key West Victorian architecture. Its stylish tropical setting could be straight out of the Caribbean, while the seafood-focused fare (we had a lobster salad) is fresh off the boat.
Bungalows Key Largo is a true hidden gem, though word is getting out. Opened in 2018, it's adults-only and all-inclusive, offering a respite from the usual family-oriented resorts on this stretch of shoreline. Owner Jerry Johnson, former proprietor of Cheeca Lodge & Spa in Islamorada among others, is a true connoisseur of the world's most iconic luxury hotels, resorts, and destinations, and he envisioned Bungalows Key Largo as an homage to some of his favorites.
There are elements of the famed bungalows at the Beverly Hills Hotel, along with other influences ranging from Mexico to the Amalfi Coast, but this is no mere "greatest hits" mashup, but something truly unique. Each accommodation is a private bungalow surrounded by rows of picture-perfect palm trees, and all either with views or easy access to the sand, sun, and water. Lushly landscaped, it's a movie star-worthy oasis, with more than one nod to Hemingway, obviously one of Johnson's heros.
That's most apparent in the Hemingway Bar, and Bogie & Bacall's, both located in the extremely attractive compound that opens onto the sinuous swimming pool fronting one of the property's piers.
For the bar, Johnson went to some trouble to have the actual tiles from Hemingway's house in Cuba reproduced, and the colorful space is adorned with photos of Papa at his saltiest, whether reeling in a giant marlin or quaffing one of his beloved daiquiris.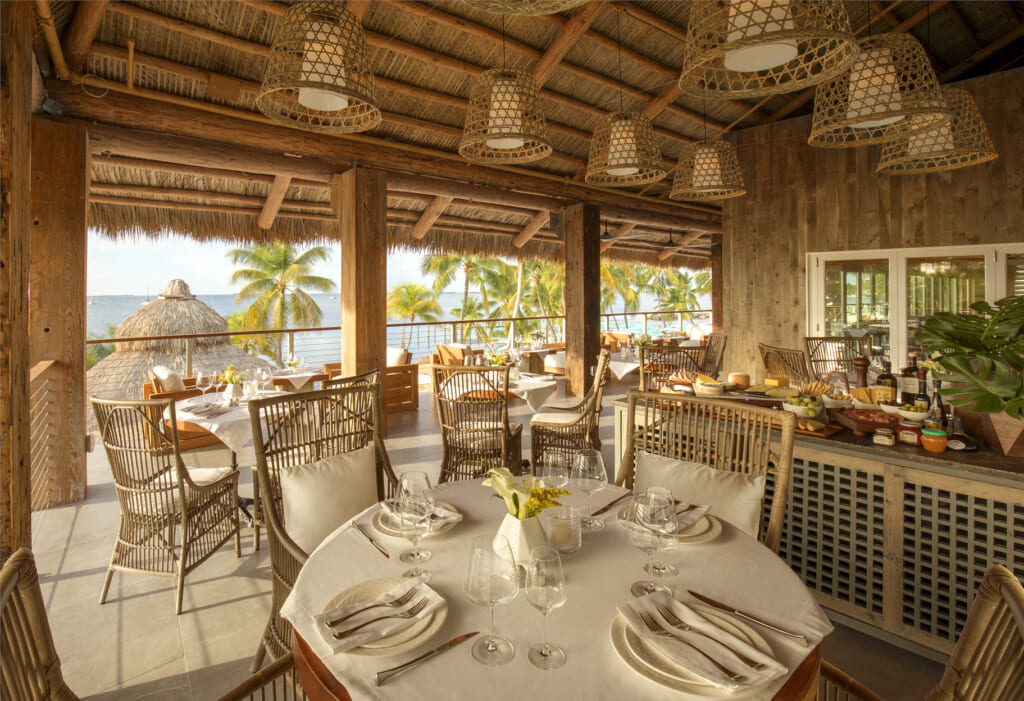 Bogie & Bacall's, the adjacent restaurant, incorporates elements of Hemingway's Key West, Cuba and safari days, with laid-back elegance complemented by world-class cuisine, wine, and service that sets a new standard in the Keys.
We just had time for a sunset sail prior to departure, with a heartfelt promise to return at the earliest possible moment. The staff had the Ghibli ready to go under the portico at reception as we prepared to embark on the last leg of the journey.
This was to be our final turn at the wheel of the gorgeous green machine, as we zipped along the road towards the incomparable W South Beach, and though sad we felt we'd had plenty of dynamic drive time.
You can read all about that stay, and the property's amazing $30 million upgrade, right here, so we'll move on to our "last supper" in Miami once we'd returned the Maserati upon checking in to the W. For a fitting finale to the amazing trip, we had a table booked at Zuma Miami, the city's premiere Japanese restaurant and one of the hardest-to-come-by reservations in town.
Chic, modernist and minimalist can all be used to describe the interior of Zuma, but that's before you take into account all the beautiful people—and beautiful yachts. The restaurant boasts one of the most attractive crowds in town, and the women especially tend to dress up for the occasion, stilettos clicking as they make their way through the main dining room. Plus it overlooks the Downtown Miami canal traversed by all manner of luxury craft, providing an even more scenic experience.
And once you've absorbed all that, Zuma hits you with even more beautiful food and cocktails; incredible sushi of course, but so much more. This place could easily rest on its laurels, but never does. Inspired by the informal Japanese dining style called izakaya, with contemporary flourishes and international flair, Zuma is the work of chef Rainer Becker, the culinary genius who opened the first Zuma in London in 2002. If you're heading to Miami for F1 weekend, or just to hit the beach, our advice is call everyone you know and try to get a table.