The Mercedes 300 SL Gullwing That Inspired Andy Warhol's 'Cars' Can Be Yours
"Andy's 300SL" is the art world's reigning classic sports car.
It's rare for even the wealthiest art collectors to buy an original Andy Warhol painting, but rarer still to purchase a subject interpreted by the pop art legend.
And this isn't a Campbell's soup can or a stack of Brillo pads, but one of history's greatest and most sought-after sports cars: a Mercedes-Benz 300SL Gullwing.
Nicknamed "Andy's 300SL," this is the very car that launched Warhol's Cars series, which Maxim previously covered in conjunction with its ongoing exhibit at the Petersen Automotive Museum in Los Angeles.
According to RM Sotheby's, which is hosting this car's auction, Warhol's German gallerist Hans Mayer initially suggested to Mercedes executives that a collaboration with Warhol was in order. The initial pitch wasn't received very enthusiastically, so Mayer gave Warhol a photobook of sports cars and asked for a taster.
Warhol picked out this very 300 SL. It starred in the silkscreen prints that ultimately convinced Mercedes-Benz to commission the Cars series in honor the automotive brand's 100th anniversary.
Warhol took creative liberties in the "Cars" series—he almost mockingly arranged the Mercedes "Silver Arrow" logos to look like a horde of angry hens and made a neon menace out of the Mercedes-Benz C111. But it's believed that Warhol's respect for the 300SL's beauty is reflected in the subtle, unperturbed manner in which he rendered the classic car.
As for the car's provenance, it was found and acquired by none other than Brabus. The German aftermarket specialists refurbished it over 4,500 hours under its 6-Star Restoration program.
RM Sotheby's has more:
Before rising to international fame, this 300 SL Gullwing was sold to its first owner in Paris in August of 1955. Originally finished in Silver Grey paintwork over a blue leather interior, often thought of as the quintessential color combination for these cars, it was optioned with the very desirable Rudge wheels, sporting 'knock-off' wheel nuts rather than the standard, round hubcaps.

Despite being sold new in France, it would later move to Germany, where it became registered 'EI-DR 1' in May of 1981 when acquired by Dr. Heinz Noeth, who would go on to keep the car until it was acquired by BRABUS in 2020. The car's German 'Fahrzeugbrief' (registration document) inextricably ties that registration number to chassis number 198.040.5500629, the very car presented here.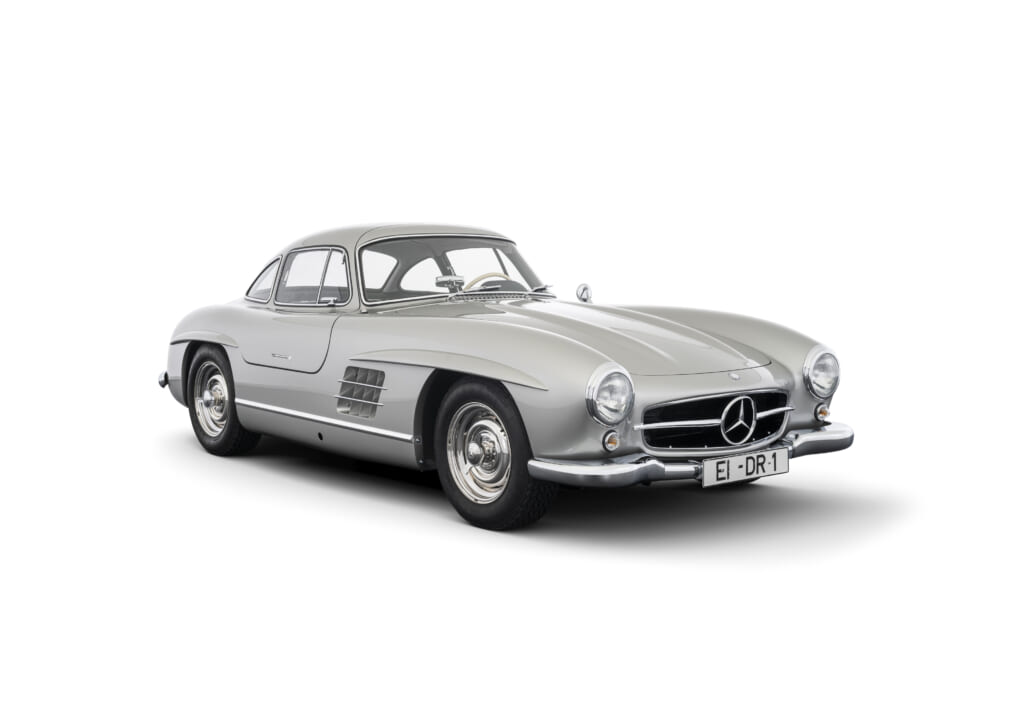 While Warhol planned to create 80 pieces Cars using 20 different Mercedes models, only 49 works—36 screen prints on canvas and 13 drawings—were completed before Warhol's death in 1987.
That said, "Andy's 300SL" is more attainable that actual Warhol artworks, which typically command eight- and nine-figure tags. Expect the car to sell for $1.5 to $3 million when the auction closes on November 17.