The Only Triple Matte Black Ferrari Enzo Is For Sale
The "Royal Enzo," ordered by a member of the Brunei Royal family, is one-of-a-kind Ferrari.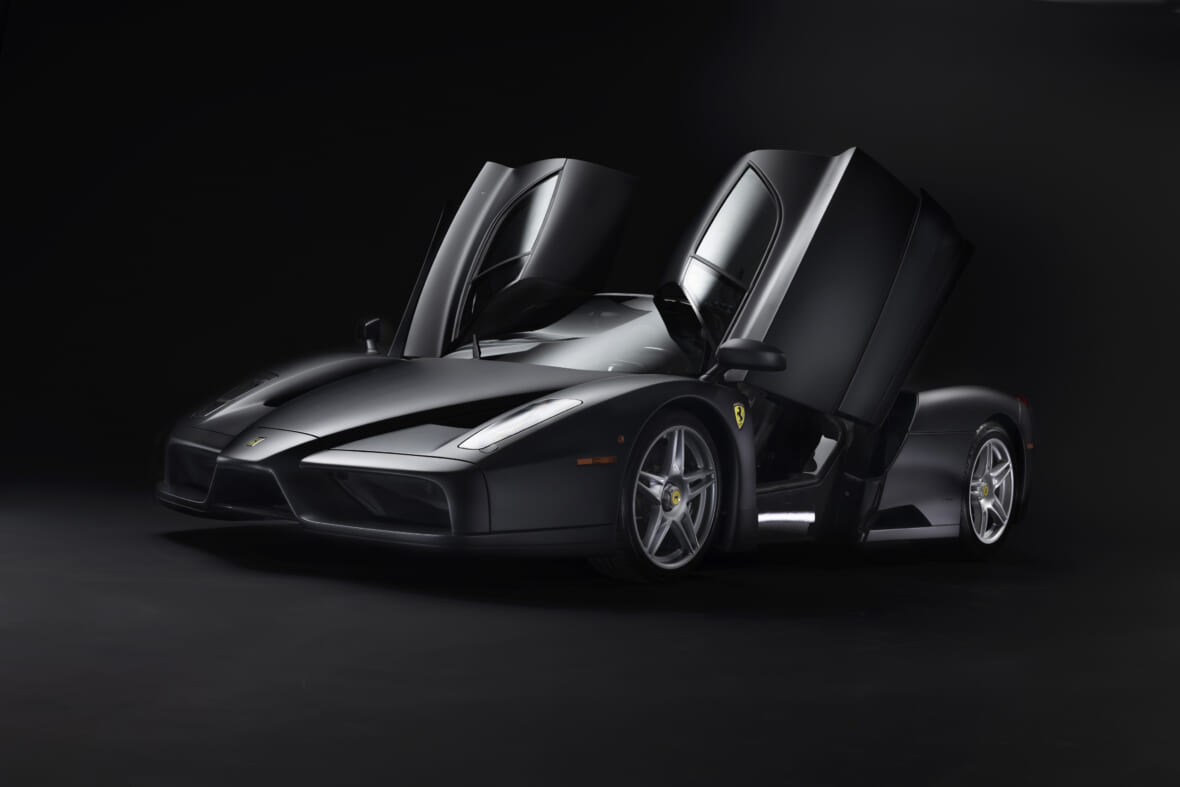 This matte black Ferrari Enzo's Prancing Horse badge might as well grow a horn, because it's truly a unicorn hypercar.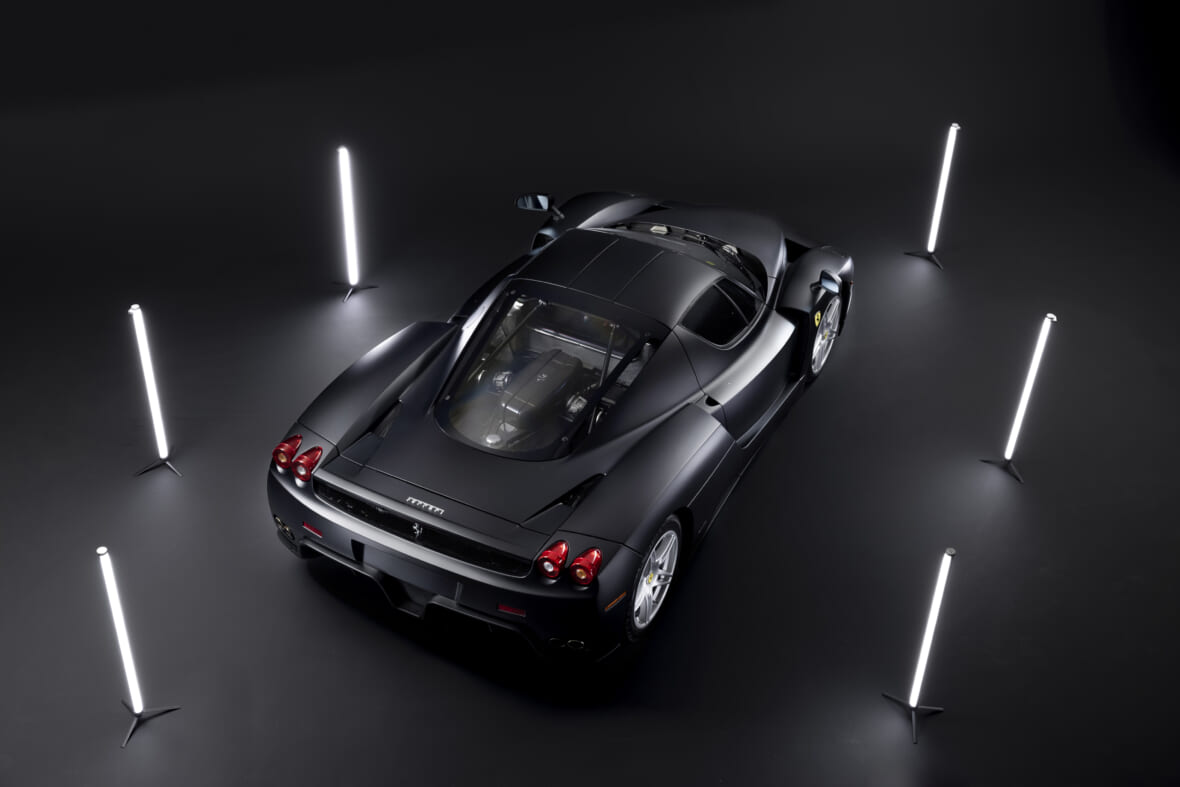 Any Enzo is a rarity, as just 400 examples Ferrari's aught-era halo car eponymously honoring its founder were produced. Most of those were painted red, yellow, gloss black, while rarer appointments included blue, sliver, gray or white.
This car, chassis 136069, is the sole Enzo that was allowed to be ordered in a true one-off color: Nero Opaco, or matte black. This deviation was only permitted because the buyer was a member of the Brunei Royal Family, which has famously ordered many bespoke automobiles from Ferrari and other sought-after marques. The client's status also inspired the vehicle's unofficial "Royal Enzo" moniker.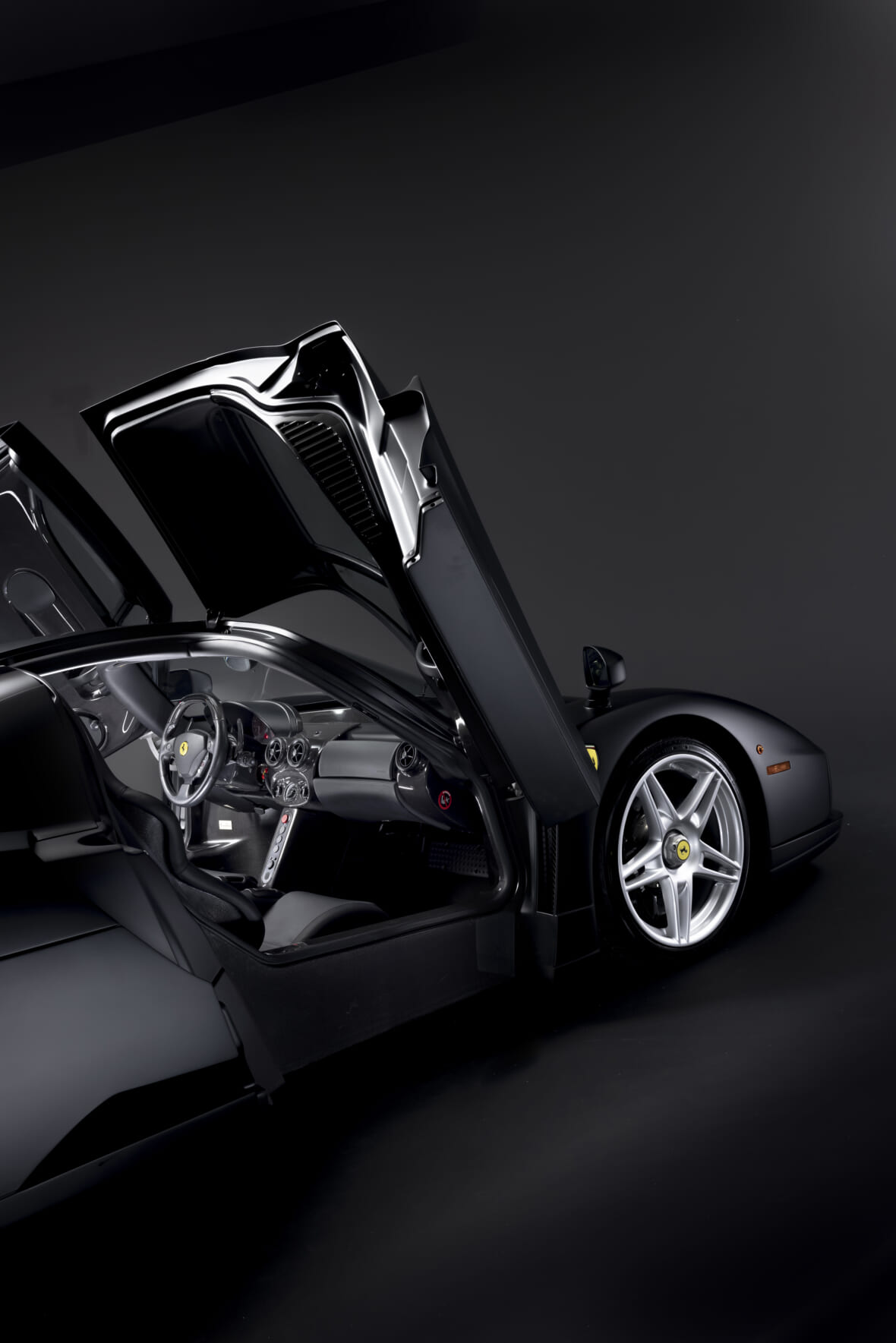 Either coincidentally or presciently, Nero Opaco has become one of most requested hues under Ferrari's Tailor Made customization program. Chassis No. 136069 is rendered in a triple-black scheme, with the interior receiving Nero seats and color-matched carpets. Only the silver rims, Rosso red instruments, and the yellow Ferrari badge on the steering wheel provide contrast.
RM Sotheby's is selling the "Royal Enzo" and has further details on provenance:
Construction began on 8 June 2004, with the finished car leaving Maranello's workshops on 15 October. The one-off car was kept at the family's London residence, where it made the occasional fleeting appearance rolling with menace around the streets of Hampstead, Mayfair and Knightsbridge, before later being brought over to the Asia-Pacific region.

Recently the car has been subject to a cosmetic restoration by Carrozzeria Zanasi, the official paint shop for all of Ferrari's Hypercars, Tailor-Made editions and Icona series cars. With receipts totaling over 110,000 € [$114,180], Zanasi went through the cosmetics of the car extensively, replacing any necessary items such as the typical "sticky" switches, front and rear headlights, rear bonnet glass and a full repaint to the car's magnificent original Nero Opaco, among a number of smaller items.
This is an opportunity to purchase a standout version of a standout model in Ferrari's lineage. Following a line of V12-powered flagships including the Testa Rosso, 250 GTO and F50, the Enzo was fitted with a 65-degree V12 engine—displacement was upped massively up from 4.7 to 6.0 liters compared to the preceding F50.
With the help of racy components such as Nikasil-lined cylinder walls, titanium connecting rods, and a torque-boosting telescoping intake manifold, the Enzo's engine originally sent 651 horsepower through an F1-derived six-speed dual-clutch transmission. The resulting zero-to-60 mph time was clocked at 3.3 seconds on the way to a 218-mph top speed.
No pre-auction estimates were provided, but given its unicorn status, the Royal Enzo will almost certainly fetch $4 million or more based on Hagerty's valuation tool. Bidding opens up on December 5.