The Shoe Surgeon Gave The Bentley Flying Spur A Bespoke Makeover
A black-on-black paint coat with bronze accents gives way to an interior designed by the luxury streetwear savant.
The Shoe Surgeon, whose LeBron James-commissioned, gold-plated crocodile skin sneakers and larger role in the luxury streetwear industry are explored in a recent Maxim profile, has lent his fashionable eye to the Bentley Flying Spur Hybrid.
The bespoke luxobarge, unveiled at 2022 Art Basel Miami Beach, is part of a collaboration between the British marque and designer that also includes coach car-inspired kicks designed exclusively for clients of Bentley's custom Mulliner division.
The Shoe Surgeon, real name Dominic Ciambrone, chose an almost-murdered-out scheme consisting of a two-tone Anthracite over Anthracite Satin paint coat with color-matched 22-inch rims.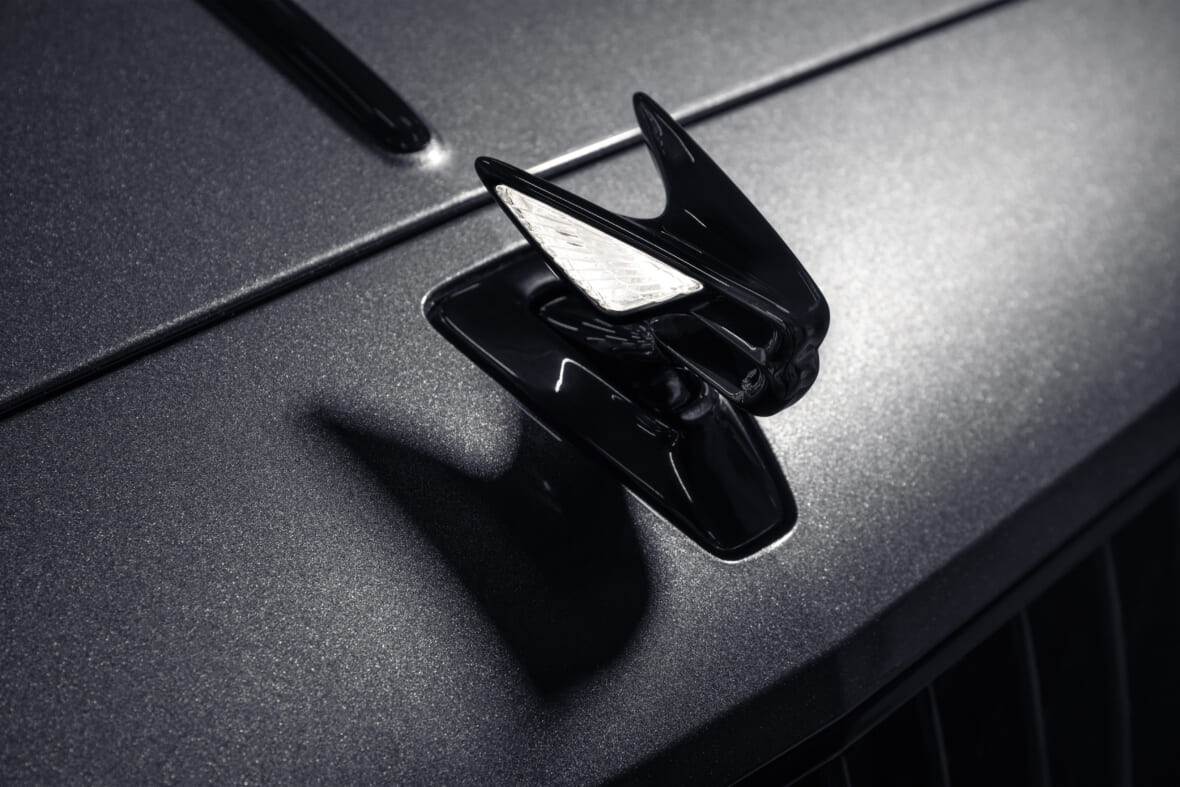 A closer look reveals subtle applications of Satin Bronze, including a pinstripe spanning the Flying Spur's bodacious body, a ring around the wheels' outer rims, and "Surgeon"-badged D pillars. A "Flying B" radiator ornament in gloss black rounds out the major exterior features.
But its the interior that sees Ciambrone leave his most prominent marks. Occupants are immediately greeted by LED welcome lamps projecting his skull and crossed scalpel logo on the ground below, a "Surgeon" motif on the outer door sill, and his "Never Stop" mantra on the inner sill.
Upholstery features Linen as the main material on the seats, doors and lower fascia while, and Beluga secondarily on the fascia top, center console and rear parcel shelf. Contrast stitching in Bronze highlights the seats, seat piping and in a cross-stitch pattern on the steering wheel. Stylized "Surgeon" text is embroidered in Bronze on the seats, while the headrests are adorned with Surgeon logos.
Ciambrone also selected the interior finishes, including the the upper veneer's open pore Crown Cut Walnut and lower veneer's High Gloss Crown Cut Walnut, which is laser-etched with his skull and crossed scalpel logo. Additionally, Grand Black gloss veneer clads the front and rear center consoles, with the Surgeon logo overlaid in chrome on the rear cupholder. Bentley's rotating display shows either analogue dials, a digital display, or a walnut veneer embossed with "Surgeon" in gold when selected.
As for the sneakers, 10 pairs of bespoke, Bentley-inspired Adidas Form Lows have been unveiled, but all have already been reserved by Mulliner clients—check them out above.