The Shoe Surgeon Crafts Custom Luxury Sneakers For A-List Clients
The designer's bespoke footwear has been worn by LeBron James, G-Eazy, Odell Beckham Jr. and other famous fans.
"It's been interesting to see what's been happening over just the last few years, how high fashion's taking from streetwear, and streetwear takes from high fashion," Dominic Ciambrone says.
"My first experience with luxury sneakers was when I was 22 or 23, and I went to a store in San Francisco called Black Scale which had a collaboration with Android Homme," he continues, name-checking the early Los Angeles luxury sneaker brand whose $300 price tags raised eyebrows at the time.
"As a kid, especially for me, I never thought I could afford Louis Vuitton or any of these other brands. So that was actually my introduction to luxury at an entry point, and really to see fashion in a different light."
Dominic—better recognized worldwide as custom sneaker artisan The Shoe Surgeon—knows a thing or two about luxury footwear. In fact, one could argue the Santa Rosa, California-raised designer has elevated to the highest echelon of "luxury streetwear"—a once-thought-impossible fashion intersection exploding everywhere from the runways of Paris to the skate shops of Venice Beach.
This seemingly paradoxical fusion could never have occurred when luxury brands exclusively courted old-world money, and streetwear was strictly the domain of grimy New York skate kids and graffiti artists. But now it's an industry unto itself, claiming a large, youthful slice of the $303.9 billion global luxury market—estimated by management consulting firm Bain & Company to potentially reach $360-$380 billion by 2025.
"The positives [of this intersection] are that it really shines a light on streetwear and where trends really come from, which is the culture rather than from the big brands," Dominic argues, mentioning the impact Kanye and his late creative director Virgil Abloh have had on the industry, smashing down doors for rappers and musicians to begin crafting high-end footwear.
For Ciambrone, his love affair with sneakers began in high school when he borrowed a cousin's pair of 1985 Jordan 1's. "It was this thing that I would wear, and it attracted other people to come talk to me and that felt empowering," he recalls of the game-changing loan. "So that's when I knew I needed cool shoes on my feet." Soon just having cool kicks wasn't enough, however—he wanted to own a pair no one else had. So the high school junior airbrushed one with a camouflage pattern, and the unexpected reaction from classmates instilled him with his raison d'être.
Getting his customized The Shoe Surgeon Vans into landmark West Hollywood luxury boutique H. Lorenzo was the first step, and soon thereafter he was crafting bespoke footwear for the likes of Justin Bieber, Will.I.Am. and Drake. Then in 2018 came The Shoe, commissioned by Nike to celebrate Lebron James eclipsing 30,000 points. No one could possibly have guessed what was coming.
"What originally they wanted wasn't as elevated as I was going to do," recalls Dominic of his goals. "I don't think they understood what my capabilities are." His vision? To craft a Nike LeBron 15 out of 24 karat gold-plated crocodile skin—a plan that turned out to be way more ambitious than initially imagined.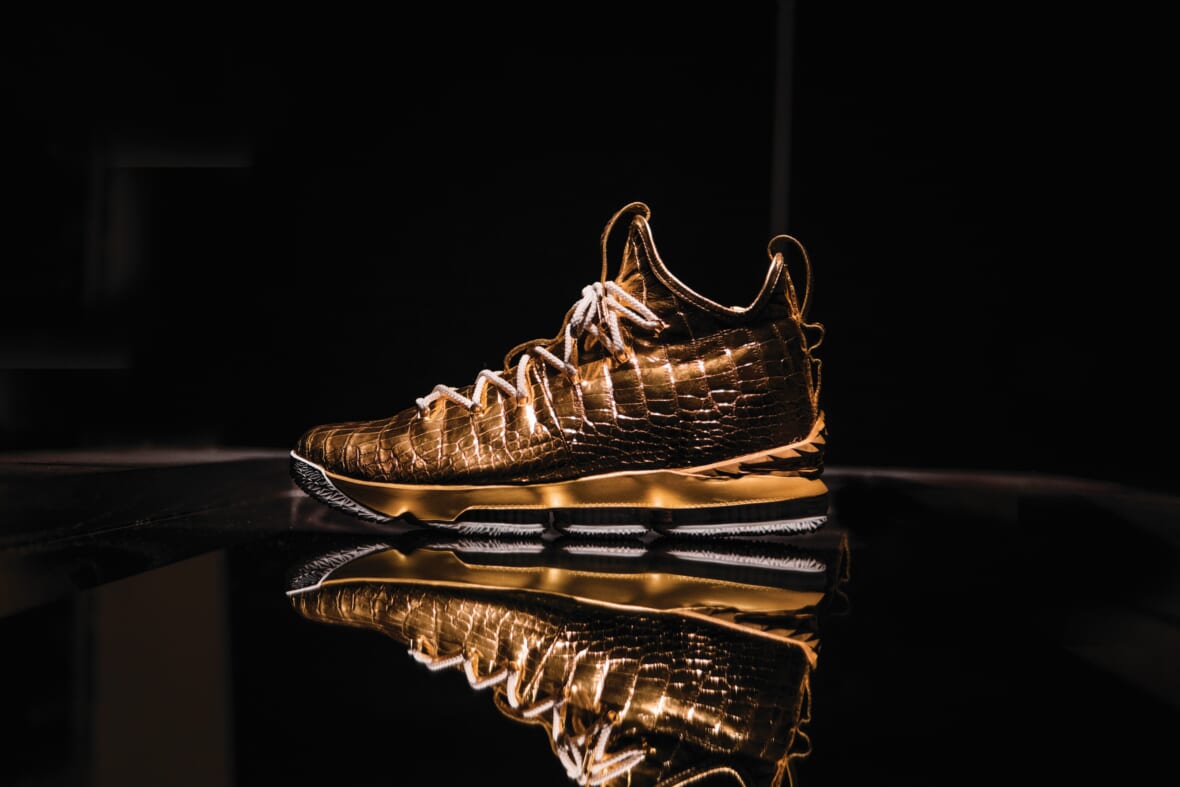 "I developed electroplated gold crocodile from Italy, and every time we would make the shoe it would rub off," he recalls. "I'm spending thousands and thousands of dollars on electroplated croc just for it to get fucked up, and people don't see how much money you spend developing." The zipper pulls are made from 14 grams of 18 karat gold, with diamond-encrusted lace aglets bursting at 5.8 carats each.
"I saw Bron about six months later at a fashion show— he was hyped and gave me props and love for it, so I felt like it was a job well done," he states proudly of his $100,000-plus internet-breaking creation. "People ask me all the time what are my favorite shoes I've made and I don't really have one, but that was definitely a pivotal moment for the brand."
A skyrocketing profile has now taken the humble kid who used to wash dishes in his parent's Italian restaurant to where we sit today: a cavernous 20,000 sq. ft. studio/workshop/private boutique/bar/campus in downtown Los Angeles. This spring he opened his SRGN Studios to the world with a celebrity and athlete-stacked event boasting G-Eazy and 2Chainz toasting the crowd.
The expansive studio features a customization shop where Ciambrone teaches classes on how to craft and design shoes; a private boutique that showcases some of his most renowned creations, including a Nike AJ1 reconstructed using authentic Louis Vuitton bags; and a regulation basketball court where he hosts his own league. There's even a secret mahogany-and-sneaker lined cigar lounge where VIPs can puff Montecristos, sip Glenmorangie single malt and talk shoes—like he did with Odell Beckham Jr. when the duo dreamt up the NFL superstar's gold-and-diamond-encrusted Super Bowl LVI warmup cleats.
But more important than any of those extravagances is the actual atelier in back where The Shoe Surgeon sneakers are made. The gleaming white hangar looks more like a laboratory than workshop, lined with reams of multi-chromatic fabrics and stacks of different sneaker soles, heels and hardware. Artisans stress fabrics, diligently cut and sew patterns, and experiment with different construction techniques. The place buzzes on any given day with dozens of workers manifesting Ciambrone's visions into rubber and leather.
Ciambrone's next big project is a still-secret The Shoe Surgeon reimagining of the Nike Air Mag, the famously futuristic high-top from Back To the Future. "We're going to recreate it and make the most expensive shoe in the world," he utters without a hint of hyperbole. Normally what customizers do is scale cost simply by layering on more gold and diamonds, which is nice and all but doesn't exactly move the needle creatively. But this time Dom is actually trying to craft something that goes beyond exotic materials and diligent craftsmanship to actual technology.
There will be LEDs in the soles and straps, so via iPhone app you can color-match your shoe with your outfit. And he's also trying to make the fictional "auto-lacing" feature of the Air Mag a reality by developing software that laces the shoes with the simple press of a button. No surprise then that he sighs when mentioning the cost of development—expecting the shoe's final price tag to reach well north of $1 million.