The World's First Ford Bronco 6×6 Can Now Be Yours
Apocalypse Manufacturing transformed Ford's revived off-roader into a six-wheeled beast.
When Ford described its new 2022 Bronco Raptor as the "most badass" version of the revived off-roader, the automaker didn't account for Apocalypse Manufacturing.
The Ford Lauderdale-based outfit behind the triple-axle Ram TRX 1500 Warlord and Jeep Gladiator Hellfire has created the world's first Ford Bronco 6×6 that definitely competes for superlative Bronco badassery.
Dubbed the "Dark Horse," the 189-inch-long base SUV is converted to a supertruck that measures 225 inches bumper to bumper and boasts a five-foot fiberglass bed. The convertible roof was also replaced by a custom fiberglass removable hardtop.
Apocalypse also modified the powertrain, implementing software tuning, larger injectors and exhaust upgrades to boost the 3.0-liter EcoBoost V6's output to 400 horsepower. In Auto mode, that power reaches all-six wheels, while a computer determines when to activate the front wheels in a normal driving mode.
A set of 20-inch wheels wrapped in 37-inch Milestar Patagonia tires, a Kevlar-coated steel bumper, sidesteps and a four-inch lift kit round out the exterior upgrades. The cockpit is clad in stylish-but-durable marine grade leather upholstery completed in a King Ranch style pattern with a mix of tan and black.
Apocalypse's first Bronco Dark Horse is headed to Barrett-Jackson's April 9 Palm Beach sale, where it will certainly go for a commanding sum—the aforementioned Ram TRX 1500 Warlord hit a bid of $275,000 at a previous Barrett-Jackson auction.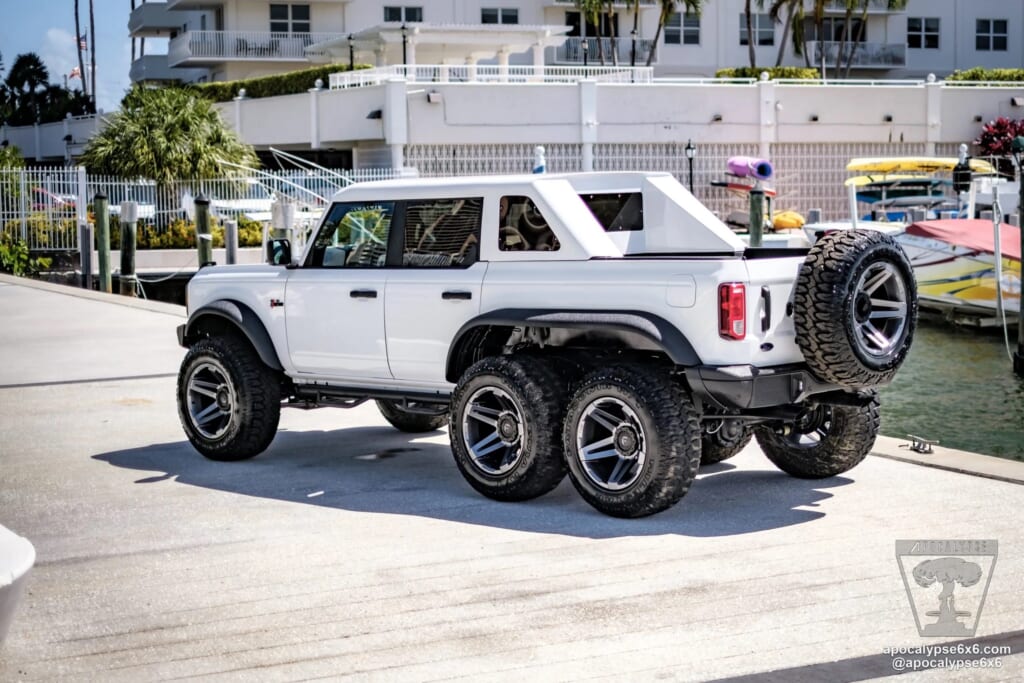 But you may want to hold out for the moment, as an even more apocalyptic Bronco 6×6 is on the way.
"The Dark Horse came out better then we could ever have dreamt, with several inhouse upgrades that give it a style all its own while still keeping a huge chunk of its Bronco identity" said Apocalypse owner and engineer Joseph Ghattas in a provided statement.
"In future builds for this model, customers could expect to see a 700+ horsepower supercharged V8 Coyote 5.0L motor upgrade, as well as a Kevlar coated exterior paint job."