Watch This $4 Million McLaren Solus Race Car Win The Goodwood Festival Of Speed Shootout
This crazy hypercar from "Gran Turismo 7" just notched a real-life victory.
From the Gran Turismo video game franchise to a victory at the Goodwood Festival of Speed, the McLaren Solus is a veritable racing weapon.
The track-only hypercar was first iterated as the McLaren Vision Gran Turismo (VGT) for the latest installment of the popular racing sim series, 2017's Gran Turismo 7, in which it reigned as the fifth-fastest ride.
But its real-life counterpart was the fastest ride of an intensely competitive day at the 2023 Goodwood Festival of Speed's shootout hill climb event. As seen in the footage above, driver Marvin Kirchhofer maneuvered the single-seat hypercar up a tight, rally stage-worthy road and across the finish line in 45.34 seconds.
Not only is that time a full second quicker than the second-place finisher—a highly customized Subaru GL piloted by action sports legend Travis Pastrana—but it's also the third-fastest production car to take on the course, behind the McMurtry Speirling (39.08) and Nio EP9 (44.32), per Motor 1.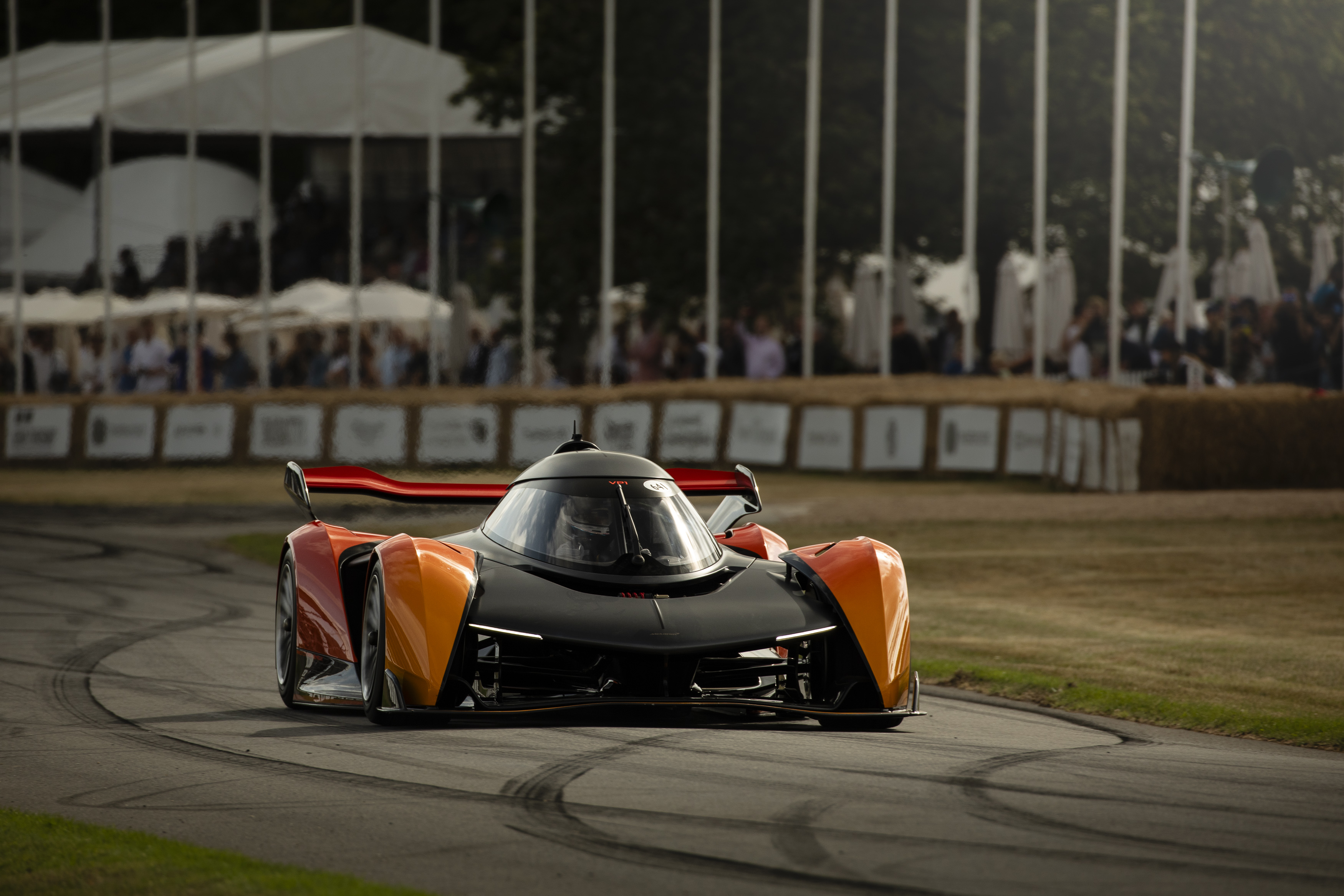 The feat was made possible by the powerplant, a 5.2 liter-V10 that screams at a 10,000-rpm redline with 829 horsepower and 479 pound-feet of torque. The engine is entirely gear-driven, with no chains or belts for a camshaft. Power is transmitted to the pavement via a seven-speed transmission, actuated by a sequential shift gearbox.
It weighs a feathery 2,205 pounds, which allows the Solus to hit 60 mph in 2.5 seconds. Meanwhile, a comprehensive kit including a large front splitter, a motorsport-derived intake above the cockpit, and a twin-element fixed wing helped the Solus set the fastest time at Goodwood this year.
Only 25 McLaren Solus examples were sold to customers for $4 million each. If it was worth it before, the Solus is definitely worth it now with a Goodwood win under its belt.