This Classic Lamborghini Countach Is A Car Collector's Dream
The iconic wedge supercar in its most iconic color is up for grabs.
While produced in red, black, red, blue and white, the latter color is what people envision when recalling the Lamborghini Countach. It's why Martin Scorsese had Leonardo DiCaprio's sedated Jordan Belfort crash one of the pearly white Italian wedges in The Wolf of Wall Street, and why Lamborghini revealed the Sian-based anniversary Countach in an updated version of the hue.
This white-out Bianco-on-Bianco 1984 Lamborghini Countach, then, represents a chance to own an iconic classic supercar in its most iconic color. Arriving midway through the Countach's production period, this LP5000 S variant replaced its LP400 predecessors' 3.9-liter V12 with a larger 4.8-liter V12 fed by six Weber carburetors in response to rival Ferrari's new 512BB.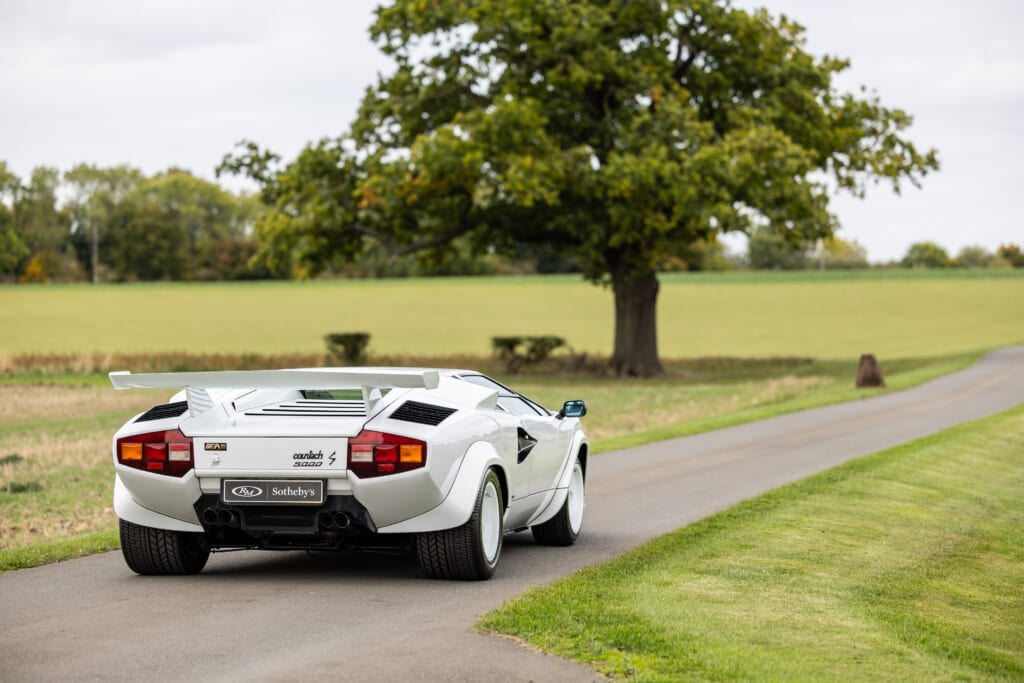 Though only 321 cars were manufactured—including chassis No. 12675— the LP5000 S had cumulatively outsold the two previous LP400 generations by the second year of its three-year production run.
Little is known about chassis No. 12675's first four years of life with its first owner, during which the odometer accumulated 50,000 kilometers. It was titled in the owner's daughter's name upon his death in 1988 and kept in storage for 27 years until the current owner acquired the car in 2015, who had all faulty components replaced or repaired over a full-service recommissioning. Today, the odometer reads 51,800 kilometers, or 32,187 miles.
This 1984 Lamborghini Countach LP5000 S is headed to auction on November 5 as a part of RM Sotheby's Gran Turismo collection, which also includes this Bugatti Chiron Super Sport 300+, four of the greatest Ferraris ever made, and two Bugatti EB110s.
Expect it to sell for $440,000-$580,000—visit RM Sotheby's to learn more.