This Rare Mercedes-Benz SLR McLaren Roadster Could Fetch Over $4 Million
The supercharged speedster's 220-mph top end could only be reached by those "whose neck muscles can bear it."
Even as the automobile industry is transitioning into a techier all-electric age, the throwback roofless roadster design continues to thrive in ultra-exclusive supercars like the Ferrari SP1/SP2, Aston Martin V12 Speedster, McLaren Elva.
This Mercedes-Benz SLR McLaren Stirling Moss, a 2010 example of which is up for auction at RM Sotheby's, helped forge the template for those modern topless exotics.
Originally unveiled at the 2009 North American International Auto Show in Detroit, this is by far the most extreme version of the Mercedes-Benz SLR McLaren, developed by Mercedes and its then-F1 partner McLaren.
Mercedes fans will recognize the "Sport Light Racing" abbreviation from the legendary, 1955 Mille Miglia-winning 300 SLR Gullwing, a prototype of which recently set the record at $143 million for the world's most expensive car.
In the performance-focused spirit the classic gullwinged car, the SLR McLaren Stirling Moss—named for the Mille Miglia-winning driver—was 441 pounds lighter than the standard SLR McLaren and void of all creature comforts, including the roof and windshield.
This extreme diet obviously maximized the effect of the monstrous 650-horsepower, supercharged 5.5-liter AMG V8.
The desired results were achieved—Car magazine likened the acceleration and 3.5-second zero-to-60-mph time to "standing on the wingtip of a 747." As for reaching the truly mad 220-mph top speed, the publication warned that only those "whose neck muscles can bear it" should make an attempt.
This example, one of 75 produced, is presented in "as new" condition with under 100 miles on the odometer. The combo of a metallic silver paint coat over a black and red interior serves as a modern twist on the 300 SLR's racing livery.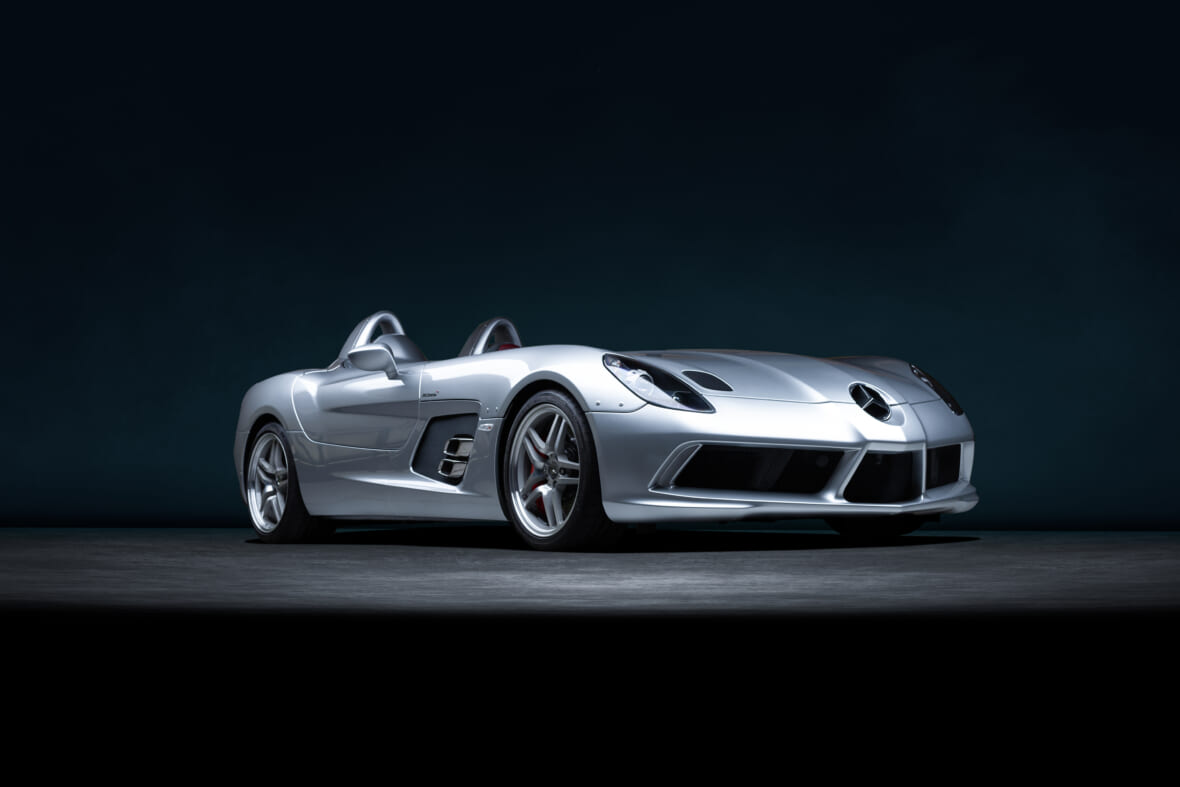 This 2010 Merceds-Benz SLR Stirling Moss expected to fetch between $3.26 million and $4.35 million by the time bidding closes on February 8. Click here to learn more.