This Rare 'Rambo Lambo' SUV Can Be Yours
Originally designed with U.S. Army contracts in mind, the Lamborghini LM002 was made to transport VIP clients over the toughest terrain.
Before the "crossover" era downsized and homogenized the Sport Utility Vehicle's stature, the term SUV referred to supersized vehicles—often with militaristic roots—capable of transporting passengers over the roughest terrain passable by a production automobile. The Lamborghini LM002, then, is the OG luxury SUV. And RM Sotheby's is selling one this December.
The so-called "Rambo Lambo"—Rambo star Sylvester Stallone was reportedly an early owner—famously drew comparisons to a "street-legal Tiger Tank" upon its 1986 debut at the Brussels Motor Show.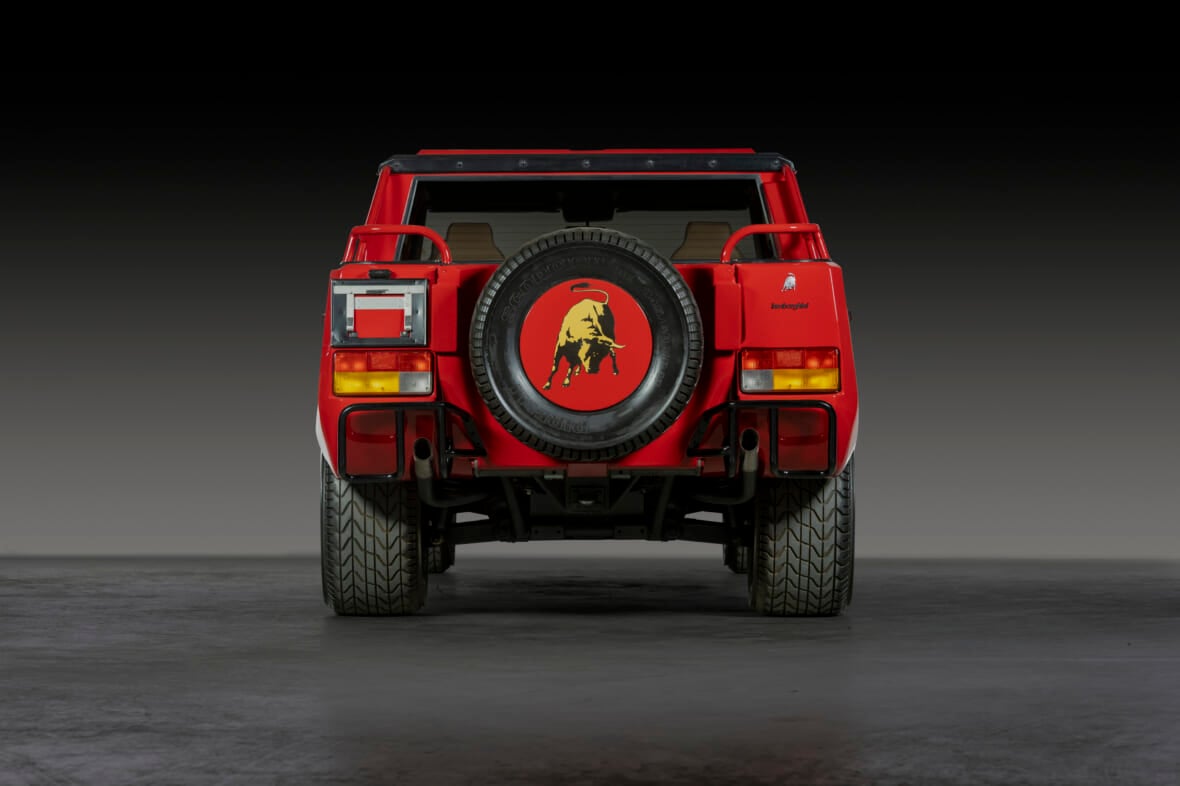 While it certainly has no historical link to Nazi Germany's dominating battle tank, the LM002's roots can be traced back to 1977, when Lamborghini began developing a large, rear-engined all-terrain vehicle dubbed the Cheetah LM001 with the hopes of winning a U.S. Army contract.
The engine's placement detracted from handling and interior space, so the LM001 never amounted to more than a prototype. But ex-Maserati designer Giulio Alfieri saw potential when he was was assigned to revise the design.
He moved the Countach-sourced 5.2-liter V12 to the front, which improved handling and weight distribution while opening up the interior to accommodate six passengers in a luxurious style becoming of energy executives and sheikhs. As such, it was appointed with cutting-edge. proprietary Pirelli Scorpion run-flat tires and a precursor of today's GPS navigation systems.
While only approximately 300 were made, today's booming luxury SUV market and the runaway success of the modern Lamborghini Urus vindicate the Rambo Lambo's existence.
This car, chassis No. 279, is a 1991 model year from late in the LM002's production cycle. RM Sotheby's has more details on provenance:
Chassis number 279 completed factory assembly in June 1991. While the car's early history is unknown, the center console retains a sticker representing the Japan Lamborghini Owner's Club, indicating that it might have been owned by a Japanese enthusiast at some point.

By early 2014, the LM002 was acquired by the consignor, a discerning collector based in Kuwait. Numerous invoices on file reflect that the car was then regularly serviced by a local specialist, and odometer readings from 2014 to 2022 show a gradual accrual from 8,875 kilometers to 8,931 kilometers, a gain of just 56 kilometers (35 miles) over eight years.
In addition to regular fluid services, cleaning of the spark plugs, and recharging of the air conditioner, in 2014 the exhaust system was modified and the exterior was repainted in the car's current shade of Rosso. In March 2020, the clutch was replaced and a new flywheel was installed.

This LM002's eight-spoke OZ Ruote wheels are shod with proper Pirelli Scorpion tires, and the car is accompanied by a tool kit. The ivory leather upholstery and brown carpeting remain remarkably well-preserved, and the interior abounds with luxurious appointments such as the wood-veneer door trim and dashboard, power windows, and winch controls.
Expect this 1991 Lamborghini LM002 to fetch between $200,000 and $250,000 when it hits the auction block in Miami on December 10.