Muscle Up With The Ultimate Collection of 1971 Ford Mustangs
These raging retro horses are a pony car fiend's dream come true.
Sometimes it seems as if the muse kisses car designers and they pluck wildly-inspired creations from the automotive ether. That seemed to be the case with the first Ford Mustang in 1964.
Other times, they just steal someone else's design. That seemed to be the case with the '71 Mustang. It's pretty much a clone of the amazing 1969-'70 Shelby GT350 and GT500, so it was a case of, "If you're gonna steal, steal from the very best."
The '71 Mustang and the rest of its '71-'73 generation haven't been as hot with collectors as the earlier muscle cars. But if you look at it as an opportunity for a bargain Shelby, suddenly the '71 becomes irresistible.
Collector Kirt Fryer seemingly has become bored with his unique sextet of Ford's ponies, so they are headed to auction at Mecum's Indiana State Fairgrounds sale in the build-up to the Indy 500. All but one of them are fastbacks, four of them are powered by 429 big-block V8s and four of them have four-speed manual transmissions.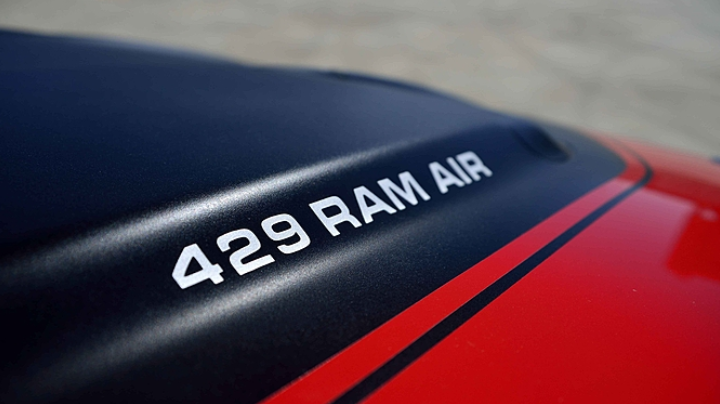 This scarlet Mach 1 stunner is in unrestored and unmodified condition, so much so that even its archaic emissions control hardware is intact, which is unheard of for a performance car of this era. It is a 375-hp Drag Pack Super Cobra Jet 429, meant for the drag strip, with a close-ratio 4-speed transmission and 4.11 Detroit Locker locking differential.
It also boasts the Mach 1's signature blacked-out hood and side stripes to go with goodies like the Magnum 500 styled steel wheels and center console.
This Grabber Blue Boss 351 Mustang has 17,000 original miles on its 330-hp 351 small block, wide-ratio four-speed transmission and 3.91 Traction-Lok differential. It has been thoroughly restored to as-new condition.
The Grabber Green Mach I Mustang has a 375-hp 429 Super Cobra Jet engine, three-speed automatic transmission and 4.11 Detroit Locker locking differential. This one was equipped as a luxury car, with a tachometer, power windows and an 8-track tape player built into its AM radio.
Then there's this beautiful Grabber Blue Mach I, fitted with the 375-hp 429 Super Cobra Jet, Drag Pack, and a close-ratio four-speed transmission and 4.11 differential. It is an older restoration from about ten years ago, but the engine bay is freshly detailed.
The Grabber Lime Boss 351 has the 330-hp 351, wide-ratio four-speed and 3.91 Traction-Lok differential. 
It also enjoys a groovy green stripe cloth and Corinthian vinyl interior. In those days of "color-keyed" cockpits, that didn't just mean green seats. Nope, you got green carpet, dash pad, door panels and other emerald-hued interiors, too.
In addition to these gaudy special edition Mach Is and Boss 302s, Mr. Fryer apparently also had an appreciation for subtlety, because the collection is completed with an unremarkable-looking Pastel Blue coupe (the others are all the sportier-looking fastback body), complete with a wimpy-looking white vinyl top and white vinyl interior. 
There are no macho stripes and no Magnum 500 styled wheels. But under the hood lurks a massive 429 big block engine, ready to annihilate unwary challengers in stoplight drag races. This car lacks the ram air intake, so its engine makes only 370 hp, and the sedate 3.25 differential isn't as suited to racing, but it will save you some pennies at the pump.
So there it is: your opportunity to own an entire collection of badass '71 Mustangs. Hagerty classic car insurance says these Mustangs are worth between about $60,000 and $75,000, putting them at about half the price of a similar Shelby GT500. So what are you waiting for?
For the latest car news, follow @MaximRides and Dan Carney on Twitter.