Watch: World's Biggest Hummer Absolutely DWARFS Original H1
A billionaire sheikh commissioned a Hummer H1 that's 21 feet tall and 46 feet long.
No one ever looked at the hulking off-road monstrosity that is the Hummer H1 and thought, "not big enough." Well, almost no one, except for an uber-rich sheikh who commissioned the world's largest Hummer H1.
Measuring 21 feet tall, 46 feet long and 20 feet wide, the Hummer H1 X3 is three times the size of the massive Humvee-based 4×4 that kicked off the Hummer line in the 90s.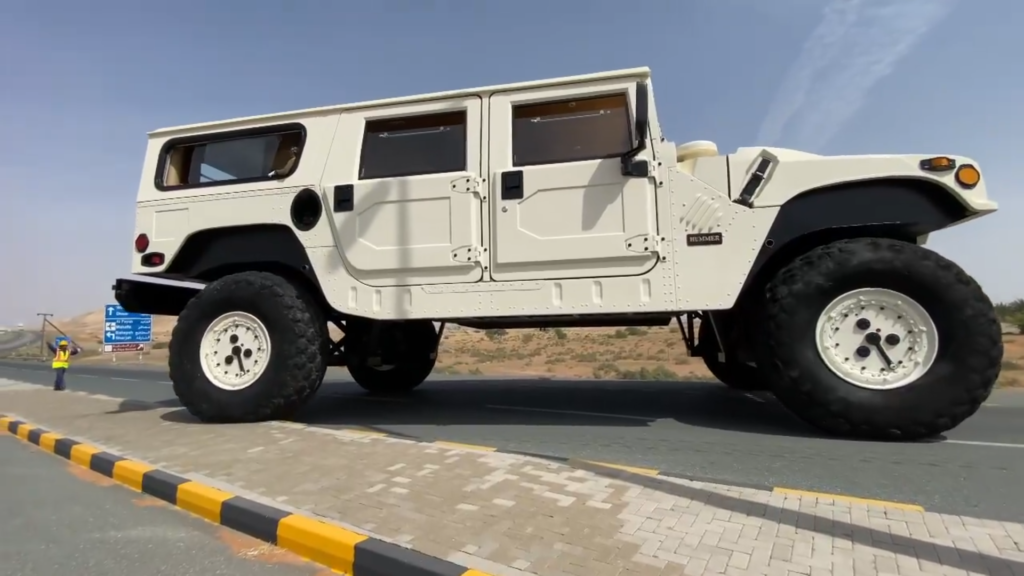 The Drive reports that owner, Shiekh Hamad bin Hamdan Al Nahyan, is a billionaire member of the United Arab Emirates' royal family who holds the Guinness World Record for the largest collection of 4×4 vehicles (718).
He also owns the UAE's Off-Road History Museum and a badass Instagram account where highlights from the H1 X3's recent journey were posted.
Aside from dimensions, the specs have been kept under wraps. Each wheel has its own dedicated engine, and The Drive picked up on rear-axle steering capability, as well as the two-story interior's indoor plumbing.
The Hummer H1 X3 isn't the only absurdly large new arrival at the UAE's Off-Road History Museum. Also parked at the entrance to greet guests is the "Bigfoot" RAM 2500, which appears to be a mostly standard RAM 2500 on a monster truck suspension and wheels.
Feel free to browse the sheikh's Instagram account for other off-road wonders. Here's a sampling: