Watch This All-Electric 'Flying Boat' Soar Over Waves
The 28-foot, $400,000 hydrofoil debuted at the 2023 Consumer Electronics Show.
Forget flying cars, the new C-8 by Sweden's Candela is a "flying boat"…sort of.
The 28-foot-long watercraft, which debuted at the 2023 Consumer Electronics Show, acts just as any other boat would in a stationary position, with a carbon fiber hull that sits on top of the water.
But beneath the surface is a hydrofoil system that pushes the entire craft above the waterline when the direct-drive "C-POD" motor unit is throttled. Electrek reports that the C-POD is comprised of two counterrotating electric motors to power two propellers and provide a combined 50 kW (67 hp) of power.
And the rationale behind the Candela's cutting-edge propulsion system is about more than inspiring the awe of onlookers. According to Candela, use of the hydrofoil system instead of a traditional combustion engine and planing hull reduces water friction by 80 percent, making for a much smoother and quieter ride. Candela's hydrofoil system also contains sensors that adjust for wave and wind conditions in real time.
"With the C-8, we set out to make the first no-compromise electric boat with maximum range and speed, but we've ended up with a new and improved class of craft, which also happens to be electric," said Gustav Hasselskog, Candela's founder and CEO, per Designboom.
"It's a far superior experience to old-school hulls with combustion engines. Boaters no longer must contend with vomit-inducing pitching and slamming, or the deafening roar from revving outboard engines. Once you've experienced flying above the surface in absolute silence, it's hard to go back."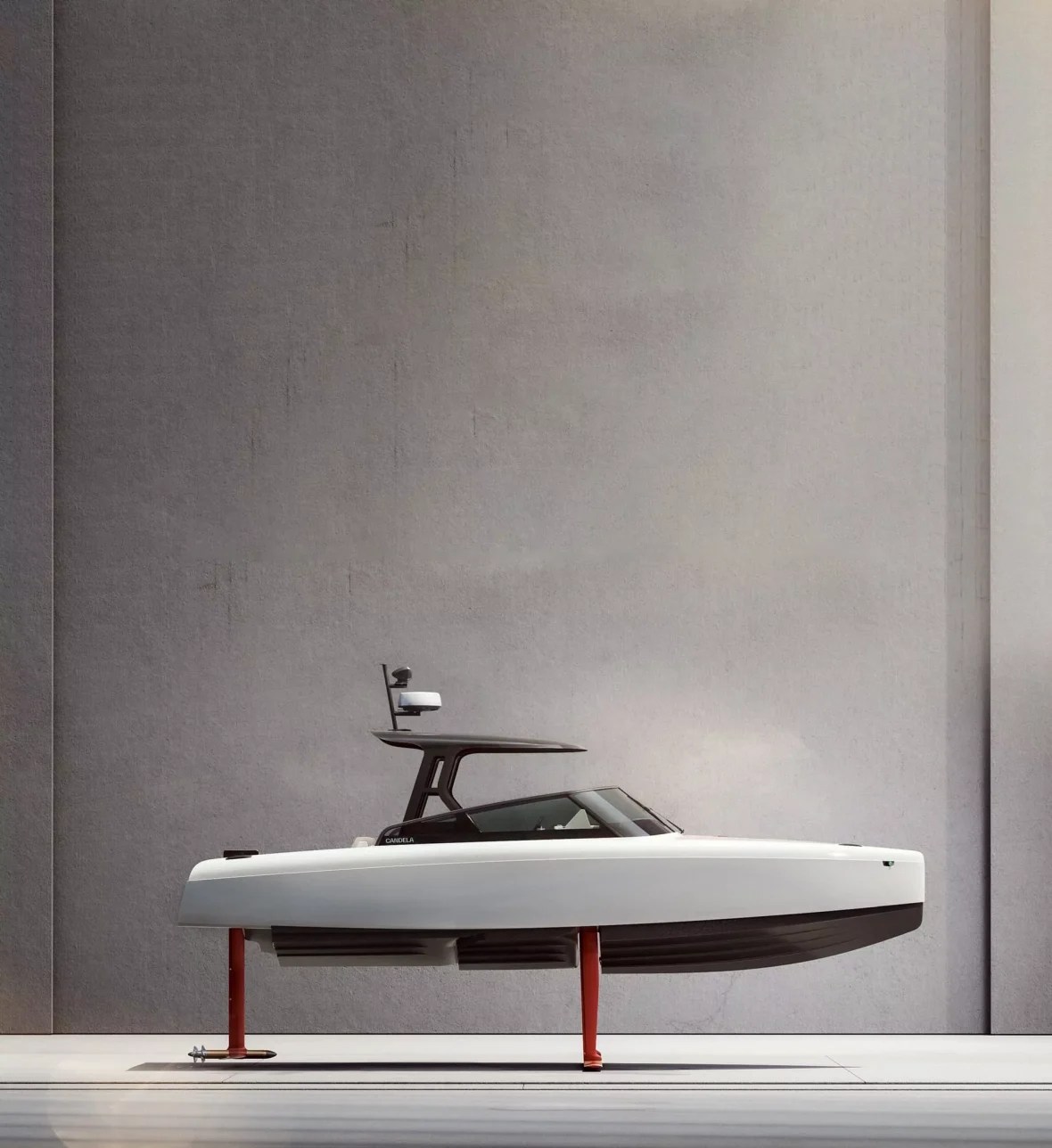 Candela C-8 has has a top speed of 30 knots, and with a range of 50 nautical miles it can travel at a cruising speed of 20 knots for over two hours—about four times longer than any other electric boat on the market. However, a recharge takes two hours at a three-phase outlet.
The C-8 doesn't rest on its performance and eco-friendly laurels, either. Available in Daycruiser, Hardtop and Floridian T-Top configurations, the C-8 accommodates up to eight passengers in a spacious premium cockpit for day trips, while a front cabin can sleep two adults and two children overnight. Everything from the navigation system and optional six-speaker sound system can be controlled by the boat's 15.4.-inch touchscreen or remotely via an app.
Production is currently underway on the Candela C-8, which can be reserved for just over $100. Prices start at $390,000.