We Unleashed A 52-Foot, 2,700-HP Powerboat In The Bahamas
This flame-red water rocket is capable of hitting an insane 165 mph while exuding "Cocaine Cowboys" vibes.
My wallet now contains dozens of Bahamian Benjamins, with a picture of a very perky pre-jubilee Queen Elizabeth II on one side and an enormous sailfish on the other. The result of a helpful sign at a bank on Freeport indicating the smallest note available was $100, and me assuming that must be small change. In the context of what I was in the Bahamas for, it certainly was.
Fresh off the plane from London, I'd spent a day inhaling caffeine and Domaine Michel Lafarge at Balthazar in Manhattan before heading to the Bahamas to hop into a 52-foot, flame-red, 2,700 horsepower, dual Mercury-engined twin-hull Mystic powerboat, with Cocaine Cowboys overtones and numerous Guinness Book of World Records entries to its name. Capable of reaching an insane 165 mph on the water.
I scratched my head and determined that this was definitely an occasion for the triple-lined incontinence pants and beta blockers. Especially as I would not be driving it, but strapping myself into a carbon fiber monocoque hull at the mercy of a dynamic duo known as "JHook" on the P1 offshore powerboat racing scene.
The JHook being veteran racers, American Jay Johnson and Brit Nigel "Captain" Hook. The previous day they had yet again one-upped themselves and their Lucas Oil-liveried missile by breaking their own record from Palm Beach, Florida to Freeport in the Bahamas in the burgeoning Ocean Cup series.
Taking just 58 minutes or so to complete the nearly-100-mile trip that Google tells you takes 4 hours and 58 minutes by boat. Back in the 1980s, Willy Falcon and Sal Magluta would have hired them in a heartbeat.
Having secretly, or not so secretly, nurtured the desire to pick up a 60-foot Cigarette boat for quite some time for the Nice to Saint Tropez run, when my editor at Maxim suggested someone look into powerboat racing for a story, my ears pricked up and I did an impression of Donkey from Shrek.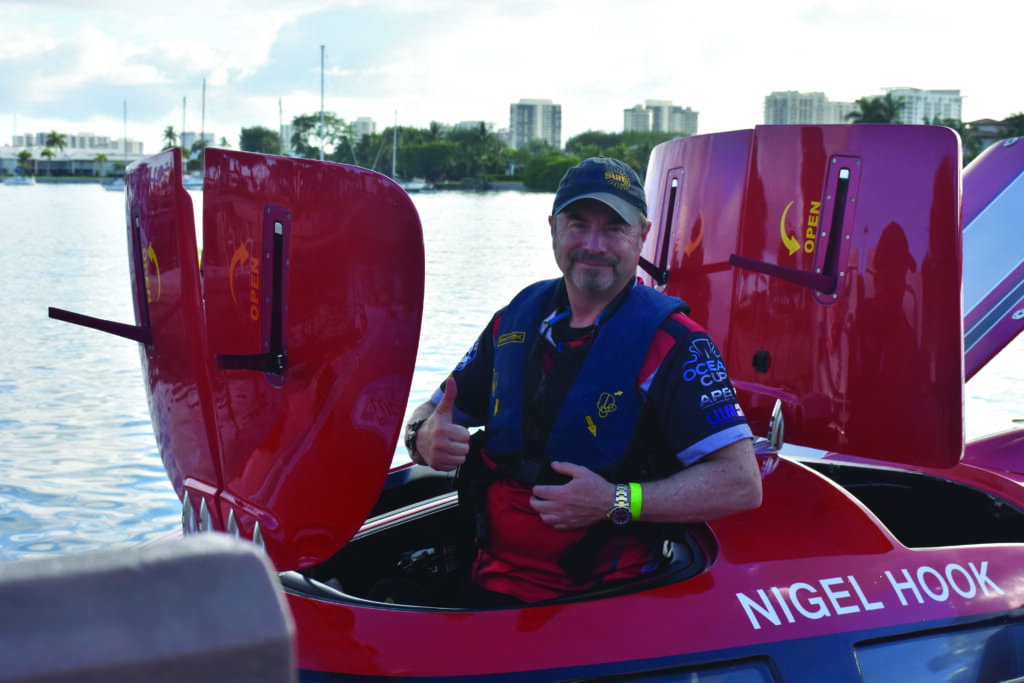 Duly chosen, I flicked my 1980s rolodex, picked up the Bakelite Batphone and dialed a guy I knew who runs with the Goldrush Rally crew—and also happens to frequent powerboat races with throwback lunatics who look like the rockstar Formula One drivers of the late '70s and early '80s, haircuts, cigarettes and all.
Having watched reruns of dashing Donald Campbell eating the pond at nearly 300 mph on his final waterborne world speed record attempt in January 1967, as preparation for this particular jolly, I was keen to understand the hydrodynamics at work in these Cigarette-eating rockets, where two hulls and an enclosed cockpit turn '70s hairdresser chic into Space-Age James Hunt.
For it seems to me this is really what it comes down to. Speed freaks pushing the outside of the envelope in one of the last bastions of freedom on the high seas. Just as with all truly beautiful things there are undiscovered pockets where Instagram doesn't yet roam; because it is real, and you can't hang off it and take a selfie, and you need to really be part of the club.
Meanwhile, up front in first class Jay Johnson and Captain Hook are hooked up to more telemetry than astronauts on the Space Shuttle with failsafe cellular and satellite connections to their onshore team much like Formula One. Aside from monitoring heart rates, skin temperature and respiratory rates of the human team every aspect of the machine is also watched closely to aid in peak performance on every run.
Everyone I met had a passion, a life that revolved in some way around making the boat work, run, and thrive. Like my Mille Miglia friends whose life's work was getting that '57 Aston Martin DB2 to run like a whippet; only in a 2,700-hp powerboat tuned and dialed in to perfection for every run. This is a rarefied atmosphere of cool where no one knows they are the coolest people alive, because they don't care, and you can't just pop in to briefly join.
So how did it feel? Like an applicant at the best adrenaline party you can imagine. Strapped in goggle-eyed, going way faster than God intended as Jay Johnson controlled the direction, and Captain Hook adjusted the power and trim to ensure the boat stayed on plane with nothing in the water except the twin propellers; hoping to make it out alive.
You can cheer on the JHook team as they compete in P1 Offshore, and watch as Ocean Cup racing becomes the new Gumball 3000 for boats. And you heard it here first.