49ers' Christian McCaffrey On Fantasy Football, Life With Olivia Culpo & His Favorite Aston Martin
"There's a lot more that goes into playing than what people see. It's pretty frowned upon to bring up fantasy football."
On any given Sunday fans around the world tune into the National Football League to watch Christian McCaffrey of the San Francisco 49ers light up the gridiron unlike anyone.
It's not hyperbole to state CMC is one of the most electric and explosive players of all time. After shattering records in both high school (Colorado) and college (Stanford), he was drafted 8th overall in 2017 by the Carolina Panthers, and soon became one of only three players ever to record 1,000 rushing and 1,000 receiving yards in the same season.
In 2020 Christian was voted 6th overall by his fellow players on the NFL Top 100 list, and was rewarded with a four-year / $64 million extension by the Panthers, making him the highest-paid running back in NFL history. Notably, soon after our interview McCaffrey was blessed by the Football Gods when the Panthers traded him to the 49ers for a haul of draft picks, offering him a rare shot at a Super Bowl run.
And all the star running back did days later was notch the rarest of all touchdown hat tricks: rushing, catching and even throwing a TD in the same game, becoming one of only three players in the Super Bowl era ever to accomplish this unicorn feat (along with Hall of Famers LaDainian Tomlinson and Walter Payton). Here's our convo, edited for clarity and brevity.  
You're one of the most electric players in the NFL, consistently a top fantasy football pick. Any bragging rights in the locker room?
It's never discussed; I don't know if I've ever had a fantasy football conversation in an NFL locker room. I think the thing with fantasy is especially offensive skill players have mixed emotions about what it's done for our game.
Obviously we love it because it's brought so many new viewers into football, but at the same time part of what makes football so great is the team aspect, and certain plays—say if you pick up a blitz that leads to someone throwing a touchdown, that's a big play that might not go on the fantasy sheet but that's rewarded in our game. It's a selfless game.
When it comes to my experience and just my interactions with fans, sometimes that's all anyone talks about. People are fans of specific people rather than the overall team. You could have a great game on film, but your fantasy owners might hate you. It's good and bad for the game. But to your question, not a lot fantasy conversations in the locker room.
It is a sign of superior performance, however, even among the best players in the world. What about the NFL Top 100 voted on by your peers, honestly you guys never discuss either?
No, honestly it's not—you don't really have time. There's a lot more that goes into playing football than a lot of what people see on Sundays. So when you're in the locker room, man, you're cracking jokes, hanging out with your teammates, playing ping pong, eating with the fellas. It's pretty frowned upon to bring up fantasy football. At least in our locker room, they don't bring it up a lot.
You said the NFL is the world's greatest team sport. Is it frustrating as someone who's broken records at every level to have never been on a team with great expectations?
We always have high expectations. I think people might not, but we don't listen to what people think. Just in the world now people want to define who you are, and if you listen to them that's your fault. People talk now, it's what they do best. I think for us the best part about football is that on any given Sunday you can win. There's not a team in the NFL that can't beat another team. That's what makes the sport so great: it's about who executes on Sunday.
You mentioned, is it frustrating? I don't focus on anything other than my job. On every single day I have so much to do in order to be successful and that's what I'm focused on. I don't really have time in the day to focus on someone else's expectations for me. I have very high expectations for myself. Our team has very high expectations. It's a very competitive league, and every game you go into you believe you can win—if you don't, you shouldn't be playing. But I know we do. I think a lot of that talk is for the fans, but it's not always the reality when it comes to the locker room.
When you're sitting there watching the Championship Games from home and you're texting the guys on the team, how bummed are you all that you haven't yet made it to that stage?
Oh no, no one's okay with losing. If your question is, am I okay with it? That answer's no…. I think obviously, whenever you're sitting down and the playoffs are going on, it's frustrating. It pisses you off, it should piss you off, but you can prove them right or you can prove them wrong.
My whole thing has always been just put one foot in front of the other, keep working and good things are going to happen. But this is a league where we've seen teams start the year 1-6 and people say, "You're not a top team," and they end up making the playoffs. I think that's the reality of this league, not the bird talk of this league. I go into every game confident as ever with my preparation, confident in my teammates. It's just about executing.
You have a famously robust recovery regimen—sauna, pulse machine, a very strong relationship with BodyArmor, etc.. Can you tell me what recovery means to you?
As far as recovery goes, for me it's always changing—you're always trying to figure out what the next best thing is. The end goal is what makes you feel the best—that's the question every athlete has to answer: What did you do? And did that help you or not?
So when it comes to the sauna, I do it because the next day I feel really good. Check that box, you feel good, you feel light. Obviously the science behind it is proven to have benefits. The cold plunge, same thing. I think the challenge is always when to do what.
The routine is always evolving, right? You learn a little bit more here and there.
Yeah, you play NFL running back you're going to do your best to find the best way to recover as quickly as possible, because you don't have another choice. For me it's you're always trying to find out what's the next best thing and can this speed up my recovery process?
You mentioned BodyArmor, obviously one thing that's been consistent is diet and what I put into my body. When it comes to sport drinks in particular recovery's not just after, it's during the sport. You're already starting that recovery process. You're already training your body to do specific things for long periods of time.
That's why I partnered with BodyArmor, it's a really easy partnership because I used the product before I partnered with them. It's a better-for-you sports drink. It has nothing artificial in it. All of those things are obviously really important when it comes to training. Sometimes you can get a fake high when you're in the field by putting certain stuff into your body, but it's not going to have the best benefits for you in the long run.
One thing I find funny and paradoxical is that you don't like to walk. You love your Boosted eBoard—expand on that, because you're literally one of the fastest human beings on the planet. 
[Laughs] So it all started at Stanford. Stanford has a massive campus, and we're working out a lot. I figured I get enough exercise and I overthink a lot. So I'm thinking, okay, what's the best thing for me to do if I want to be 100% tomorrow? Is it to walk a mile uphill to my next class? Even biking.
I already did the workout, I did the lift. It was on the lifting card for a reason—it didn't say walk an extra mile after. If it wanted me to do that, it would've had me do that. Obviously you'll do your extra specific work, but I needed to maximize my recovery time. So I got the electric Boosted longboard, and I've had the same one up until now. I think I got it my freshman year in college and I still have it to this day. But yeah, I'm not a fan of walking. I'd rather run to the destination.
It's just a funny paradox that you're either sprinting at 30 miles per hour or you're chilling cruising an e-Board.
Yeah, it's true. I think a lot of fast guys on the team, man, they don't like going slow. It's one speed or nothing.
You ever hear any stress from the brass, like, "Please stay off the board?!"
I do. Yeah, I'm always getting a, "Hey man, be careful."
You're also a big music fan and an accomplished keyboardist. Who's moving you these days?
I like Zach Bryan, he's a country folk artist and a friend of mine as well. I did a charity concert with him a couple years ago. You're going to find every single genre on my playlists, just depends on what mood I'm in. When it comes to rap, I love Drake, love Lil Wayne, love J. Cole. I think those are three of the best. I like old school rap too. Country. I love Sturgill Simpson. I'm a Luke Combs fan.
I've heard you mention some golden era hip-hop guys—Biggie and Tupac, and late '90s as well, right?
Oh, yeah, huge fan. All the late '90s, early 2000s rap. Then I grew up on 50 Cent, The Game, old Lil Wayne, Eminem, all that. Drake was coming into the scene when I was, I'd say middle school, so obviously he came into there. But Tupac, Biggie, Mobb Deep, all the old school stuff, I like it all.
I could definitely see listening to "Shook Ones" right when you're stepping on the field.
That's the song I play when I walk on.
We heard you drive an Aston Martin DB11. That's a distinguished choice.
I'm not a massive car guy but I love that car. I love the Bond films [wherein 007 drives an Aston Martin]. All my cars are matte black-on-black, clean. The Aston is an experience when you drive it. It's not super fancy on the inside, it doesn't have a lot of gadgets, you feel like you're flying a plane. It's got the dashboard that's very simple and sophisticated, but I love that car. It's fun to drive.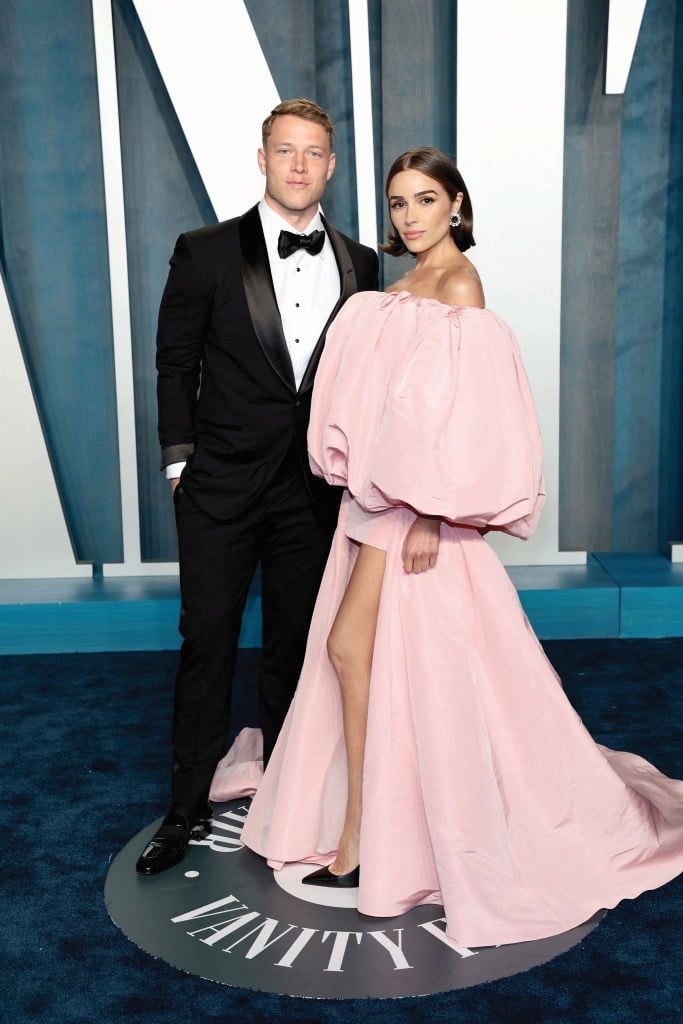 It's also super quirky. Like the emergency brake on the left hand side, a tiny screen from 1989. But it drives like a motherfucker.
[Laughs] Yeah, exactly. It's not a tech car, that's for sure, but it goes.
Last question: Your girl happens to not only be a Maxim cover girl, but also one of our biggest sellers of recent years. How's life with Olivia?
Yeah, great, she's awesome man. I wish people could sometimes see her through my eyes too. She works so hard. One of the hardest workers I've ever met in my life. You want to talk about somebody who wakes up every day and chases greatness. It's inspiring to be around her. But she's doing great, our family's doing great, we're doing well.
Most people don't understand how hard she hustles, how she's grown from a local beauty queen to a true mogul—it's absolutely impressive.
Yeah. I think she's told this story publicly before, but she was stealing money out of her dad's wallet to hire speech coaches to try to win Miss Rhode Island. Everybody was laughing at her at the time, and obviously it turned out great. But that's just who she is. If she has her mind on something, she's going to attack it full speed and put everything into it.
Only 2 weeks after our interview Christian was traded to the San Francisco 49ers for a haul of four upcoming draft picks. This was his statement:
"I'm back in the Bay-Area and I couldn't be more fired up to be here. I'm proud and happy to be a 49er! Thank you to everyone who has welcomed me, and thank you to everyone back in Carolina. I'm forever grateful to the Panthers organization, my former teammates and Carolina fans who have all helped make these past five years so special. Now it's time to get to work."