Michael Jordan's First Air Jordans Could Be the Most Expensive Sneakers Ever Auctioned
Here's your chance to own MJ's original game day kicks.
Sotheby's
It's unlikely anyone would buy an original pair of Air Jordan 1s worn by the GOAT to wear them in a pickup game at home. No, they're collector's items autographed by Michael Jordan himself, and now the sneakers are up for auction by Sotheby's. 
The chances are excellent that when they sell, it will be for a mind-numbingly big dollar amount—the beginning price range is $100,000 to $150,000.
These Jordans have been in Jordan Geller's shoe museum, ShoeZeum, since 2012, but once ESPN's docuseries The Last Dance premiered, Geller noted that Michael Jordan memorabilia was going up in value. As he told GQ, "Timing is everything and right now is unquestionably the right time to put them on the market."
The record for a sneaker auction is nearly a half-million dollars for a pair of handmade Nike "Moon Shoes."
Thanks in part to both their legacy and the way sneakers have begun to take off as collectibles on par with watches, these Air Jordan 1s might be initially priced in the $100,000 range but Jordan Geller believes they could end up going for much more, telling GQ that "There's a definite possibility that they'll beat the Moon Shoes."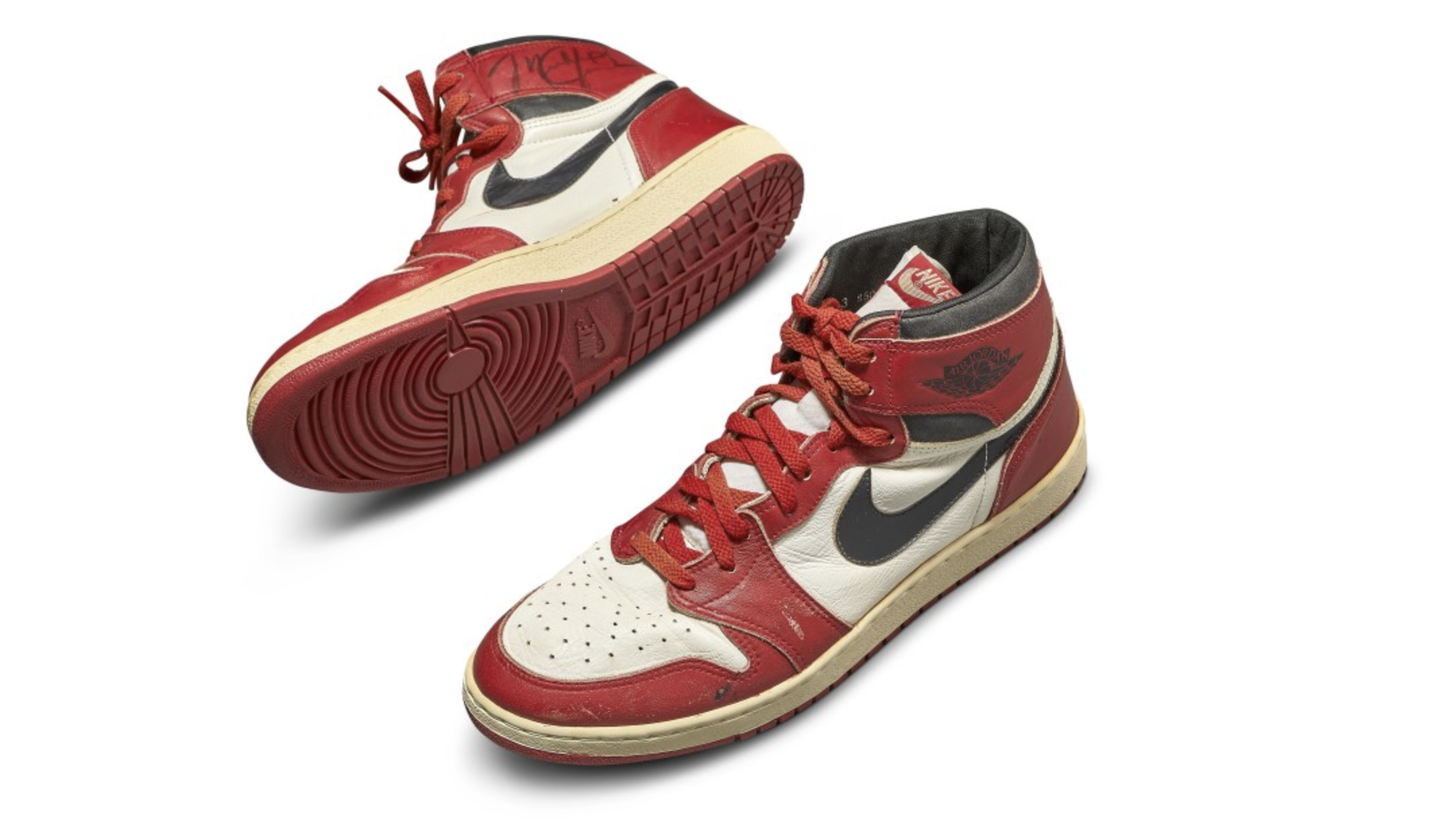 He might be right, as due to The Last Dance, Jordan's legacy is only growing. Even former teammates who occasionally ended up on the wrong end of MJ's ferocious competitiveness like Dennis Rodman still testify to his greatness.
Appearing on Mike Tyson's podcast, Rodman laid out why Jordan will always be the greatest ever to play the game, even in comparison to the likes of LeBron James.
James, Rodman told Tyson, "wasn't bought up this way"—with the kind of drive both he and Jordan shared.
"I had that desire to win," Rodman continued, "I didn't give a shit what it took. I'll do the dirty work, I don't give a shit. At the end of the day that ring is more important." 
And Michael Jordan, Rodman said, "when he came up he had one thing—'I'm going if I didn't beat your ass and do my job.'"
The Last Dance airs Sunday May 10 at 7 p.m. ET beginning with re-airing episodes 5 and 6 followed by new installments, episodes 7 and 8. 
Interested in Jordan's actual Jordans? Check out the details at sothebys.com.