Buccaneers Next Quarterback Odds: Who Will Replace Tom Brady?
MaximBet reveals the best picks for which NFL quarterback replaces Brady in Tampa Bay.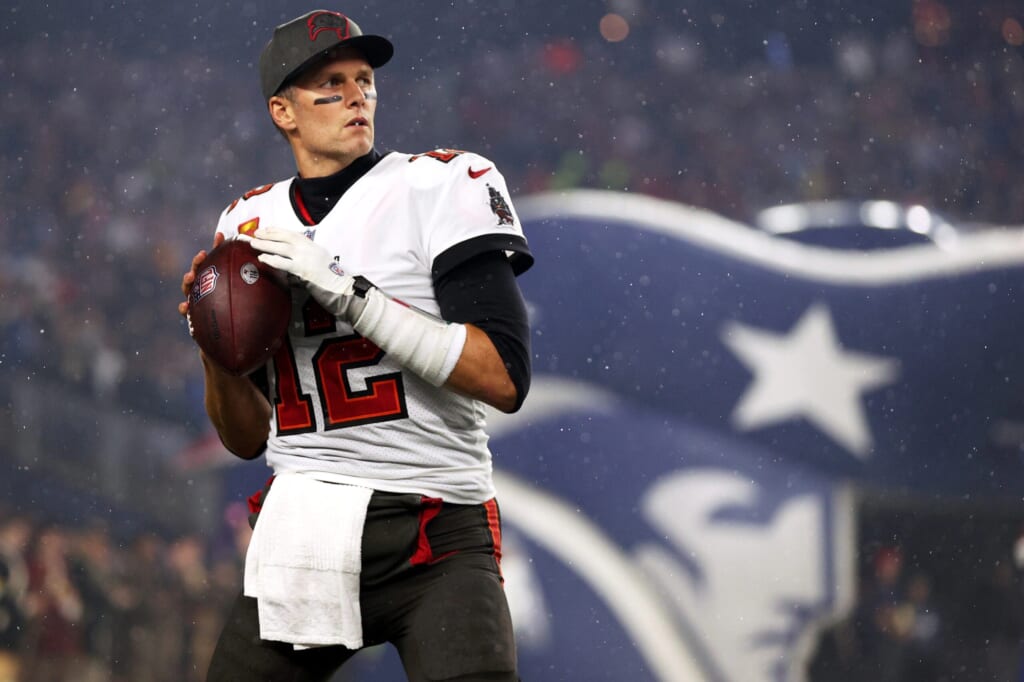 Tuesday morning I awoke to the news that Tom Brady, through his own words now, had officially retired from football. Frankly, I don't know what to think.
It's rare as a human that lives outside of the Marvel Cinematic Universe or Lord of the Rings Realms to have an arch enemy, but if I did, Tom Brady was it. Football has been my favorite sport my entire life and I hated the guy that was best at it.
You can see how that would be a problem.
But my team, the Los Angeles Rams, vanquished Brady (cashing underdog tickets across the country at MaximBet). They literally punched him in the mouth in his final game, and while I have no doubt that Brady would have retired at the end of this season regardless of his final game, the fact that it was a loss to the Rams is something I'll hold inside my heart for a long time regardless of what happens on Super Bowl Sunday.
Seeing that it's the NFL, there will always be a team or a player to hate, whether it's by being a crazy violent idiot, racist homophobe or an anti-vax misinformation font, but no one will ever do what Brady did to me — just ruin my life by being good at his job.
But Brady's retirement leaves the Tampa Bay Buccaneers, with a "win now" roster, in kind of a pinch. After two years with the best quarterback of all time, anyone will be a drop-off, but no one is going to step in Tampa's offices and command the same respect and gravitas Brady did. I'll be really happy to not have to write shit like that ever again.
MaximBet actually created an NFL prop bet for who will be starting for the Bucs in Week 1 of the 2022 regular season. Here's the list of players and their respective odds:
Next Tampa Bay Buccaneers Quarterback Odds
Kyle Trask +400
Jimmy Garoppolo +450
Carson Wentz +550
Aaron Rodgers +750
Teddy Bridgewater +750
Derek Carr +950
Cam Newton +1200
Marcus Mariota +1200
Ryan Fitzpatrick +1200
Jameis Winston +1400
Tyrod Taylor +1400
Kirk Cousins +1600
Russell Wilson +1600
Ryan Tannehill +2200
Blaine Gabbert +2500
Deshaun Watson +2500
Philip Rivers +5000
Andrew Luck +5000
If Aaron Rodgers and the Green Bay Packers consciously uncouple, you can add them to the list of teams in desperate need of a quarterback. The fact that they spent a first-round pick on one a couple of years ago, pissed off Rodgers with the selection, and still didn't find a QB, will turn out to be one of the best self-owns of all time.
And, frankly, why the hell should Green Bay care about Rodgers at this point? Captain Cow Wormer spent another playoff game on the sidelines at Lambeau watching another team win. This is who he is — probably the greatest regular season quarterback of all time.
And, yes, that's an insult. Like being called the greatest Pro Bowl coach of all time.
We all know now that if you don't have a quarterback, you don't have a team. It's not all you need. Matthew Stafford's ascension with the Rams shows you need a good squad around him, but if you're working with a nobody behind center, your season is over in September.
That's why "Regular Season Rodgers" will be in such high demand. What's he worth to another team? At this age, probably two first rounders and some extra sugar in another later pick or player. Green Bay will not trade him to another NFC team, so you're looking at franchises like the Pittsburgh Steelers, Denver Broncos and maybe the Tennessee Titans as your best bets to land him.
All have "win-now" rosters and everyone except Tennessee is quarterback-less at the moment.
Rodgers joins Russell Wilson and Deshaun Watson as the most expensive trade targets walking the Earth. All would cost a lot, but any team dealing for Watson will have to deal with the backlash over the next few months to the trade until he starts winning football games and everyone just pretends nothing ever happened.
For my money, I like Jimmy Garoppolo. A guy who was unjustly maligned in San Francisco, and I say that as a Rams fan. I hated him for all the right reasons.
But he'd cost, at most, a second rounder and would put a team like the Steelers back in the playoffs in his first year.
That's not even counting the quarterbacks who are available in free agency. It's not a garbage fire this season with winning quarterbacks, all former first rounders, set to hit the bricks — Marcus Mariota, Mitchell Trubisky and Jameis Winston.
If I'm Bruce Arians, I'm looking at Garoppolo and Mariota right now the way a Kardashian eyes an NBA player.
And who's to say the Falcons don't go full rebuild and set Matt Ryan loose? For the QB-needy teams like the Broncos, Steelers, Texans, WFT, Buccaneers, Saints, Panthers (and maybe Packers, Seahawks, Falcons, Titans and Browns) this could be the perfect time to add a guy that's a little bruised, but obviously has the talent.
And if you've got the team and the draft capital, why not shoot for the moon and toss away those draft picks?
All it did was land the Rams in the Super Bowl.
Adam Greene is @TheFirstMan on Twitter.
Ready for some football action? Take advantage of MaximBet's massive welcome offer that puts a 100% bonus up to $1,000 back into your betting account after your first deposit. Sign up here today to maximize your sports betting experience with MaximBet.