Colin Kaepernick Files Grievance Accusing NFL Owners of Collusion
Does he have a case?
Getty Images
After six weeks of being frozen out of the NFL, former 49ers quarterback Colin Kaepernick is tired of sitting on the sidelines. On Sunday, as schmucks far worse than he is prepared to start NFL games, Kaepernick filed a grievance accusing NFL owners of blackballing him for igniting the movement of NFL players protesting racial injustice during the national anthem by taking a knee.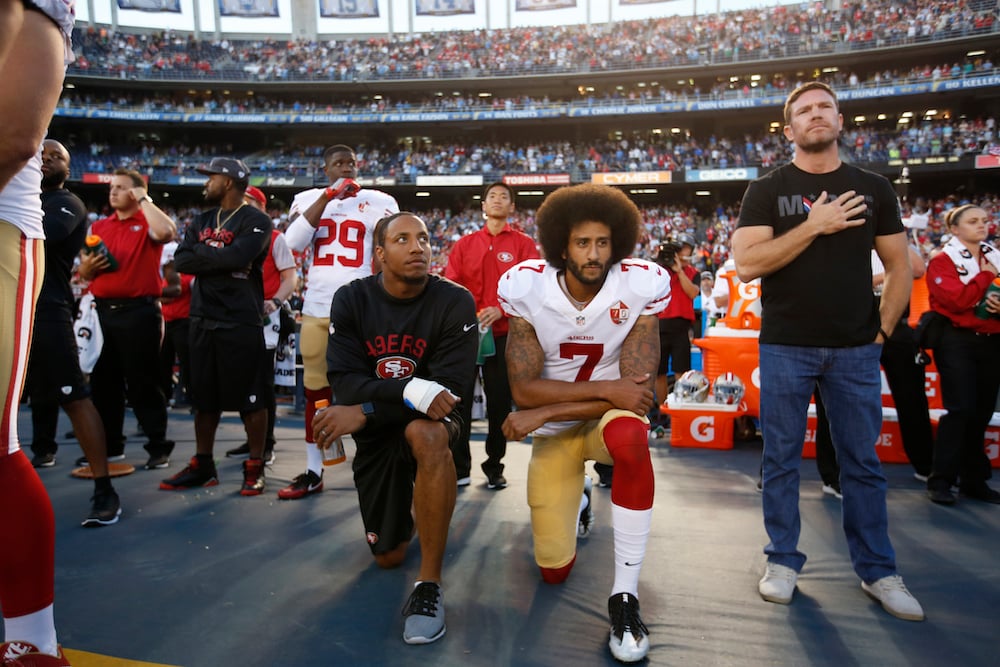 Kaepernick's lawyer Mark Geragos released a statement explaining the reasons for the complaint:
We can confirm that this morning we filed a grievance under the CBA on behalf of Colin Kaepernick. This was done only after pursuing every possible avenue with all the NFL teams and their executives.

If the NFL (as well as all professional sports leagues) is to remain a meritocracy, then principled and peaceful political protest — which the owners themselves made great theater imitating weeks ago — should not be punished and athletes should not be denied employment based on partisan political provocation by the Executive Branch of our government.

Such a precedent threatens all patriotic Americans and harkens back to our darkest days as a nation. Protecting all athletes from such collusive conduct is what compelled Mr. Kaepernick to file his grievance.

Colin Kaepernick's goal has always been, and remains, to simply be treated fairly by the league he performed at the highest level for and return to the football playing field.
There's little doubt that Kaepernick belongs in the NFL. He was by any measure one of the top 30 starters in the game last season, which would suggest that he's good enough to start for at least one team and good enough to be the backup on any of them. Instead, he's watched quarterbacks like Blaine Gabbert, Austin Davis and Brandon Weeden get jobs while his phone has remained silent.
Owners have stayed away from Kaepernick because they think he'd be a distraction and they might be right. These days, business owners do whatever they can to avoid showing up in a presidential tweet.
But Kaepernick will have to do much more than prove owners are being unfair to him. To prove collusion, Kaepernick will have to "show that two or more teams, or the league office and at least one team, conspired in some way to deny him an opportunity to play in the NFL," according to Sports Illustrated's Michael McCann. That won't be easy.
Proving collusion requires more than just showing teams passed over him for lesser players. It requires more than proving owners disregard for the basic human rights of players. It requires real, tangible evidence. That's a high bar, but in a league run by an incompetent ignoramus, anything could happen.