Colin Kaepernick Hits Back at Jay-Z For Saying 'We're Past Kneeling' in NFL
The hip-hop mogul just entered a lucrative new partnership with the NFL, and he's drawing fire from the controversial ex-quarterback.
Getty Images
Things are getting complicated in the zone where ultra-rich entertainers and pro athletes mix. On one side there's former NFL star quarterback Colin Kaepernick, whose protests against police violence during the national anthem led to him becoming persona-non-grata in pro football. 
On the other side, there's rap mogul and Beyonce husband Jay-Z, whose Roc Nation has partnered with the NFL for an entertainment and social justice initiative—and who is likely to soon be (at least) a partial team owner. As far as he's concerned, those anthem protests are played, apparently.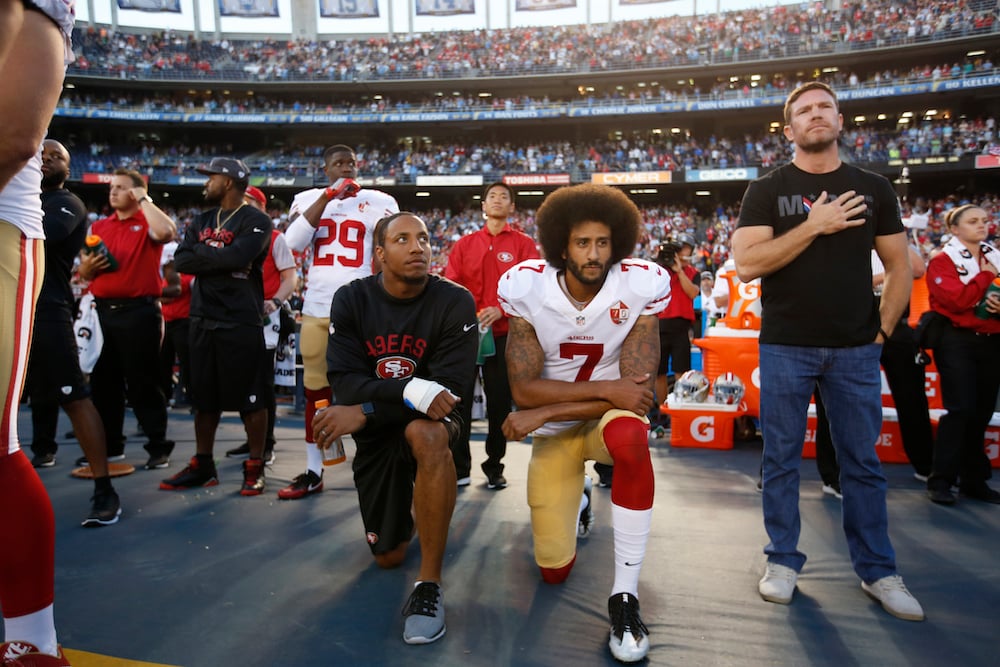 Of course, it isn't actually that simple. 
Regarding Jay-Z becoming an owner, this is from TMZ:
We're told Jay wants to become a part owner "because he's a huge fan, already has a sports business and wants to continue to be a change agent for the NFL.

"There's a question … can Jay manage players if he owns a team? Our sources make it clear … "Jay is not an NFL agent and does not take part in the operations of the NFL players in Roc Nation."
So far, so good. The rapper also known as Shawn Corey Carter isn't even new to owning pro sports teams, either—he had a partial ownership stake in the Brooklyn Nets until he sold it in 2013. 
So there's the Roc Nation/NFL deal and the possibility of ownership. That could be good, especially since Jay-Z's company is aiming to promote social justice, something Kaepernick is obviously on board with. 
But Jay-Z—a vocal Kaepernick supporter in the past—gave an interview which muddied the waters, to say the least. Speaking with NFL commissioner and lightning rod no. 1 for NFL players' objections regarding the way the league has treated Colin Kaepernick Roger Goodell, Hova responded to a reporter's question by saying, "I think we're past kneeling. I think it's time to go into actionable items." 
https://twitter.com/Wilkinleaks_/status/1162006895927943168
The man didn't become a billionaire by being thoughtless, and it initially seemed like a thoughtful answer. But Kaepernick supporters insisted the kneeling was the action. 
And in an Instagram post, Kaep seemed to respond directly without actually addressing Jay-Z directly.
" tml-render-layout="inline
Kaepernick tagged his "brothers" Eric Reid and Albert Wilson and wrote that they "continue to fight for the people, even in the face of death threats. They have never moved past the people and continue to put their beliefs into action. Stay strong Brothers!!!"
That reads like unsubtle shade, in the end.
Jay-Z's only real mistake, however, may have been expecting the press to communicate nuance because he gave a nuanced answer. He didn't say kneeling was played; he simply seemed to say it was time for further steps.  
Meanwhile, Colin Kaepernick has spent almost three years out of an NFL team uniform. 
We're sure they'll figure it out, but both men probably have better things to do at the moment. It would help Jay-Z, however, if he didn't appear on camera with Roger Goodell for a while.