Mayweather vs. McGregor Will Be 'Bigger Than the Super Bowl' and McGregor's Odds Weirdly Keep Improving
Think Conor will throw a kick in the fight? You can bet on that right now!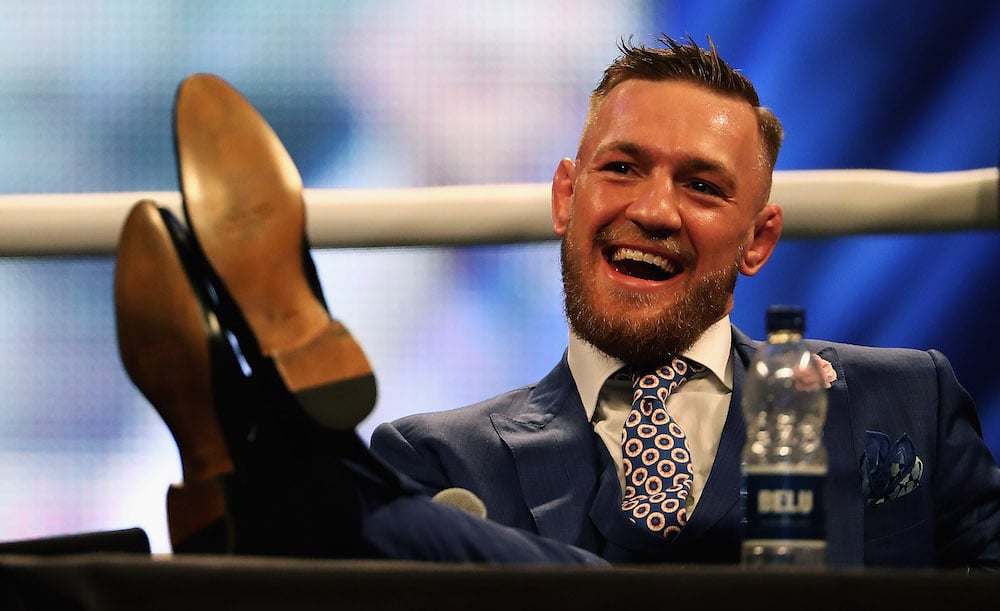 It's not often that a sporting event gets mentioned in the same breath as the Super Bowl, but the upcoming megafight between Conor McGregor and Floyd Mayweather is not your typical sporting event. 
Few people know that better than Kevin Bradley, the sports book manager of Bovada.lv in Las Vegas. As he recently told Yahoo Sports, the super fight between an undefeated boxing icon and a UFC superstar–both of whom just came off an epic promotional tour–is guaranteed to see more money wagered on it than the Super Bowl.
"We knew this fight would be big, potentially even bigger than the Super Bowl, but now we are almost certain it will be.

The recent trash talking and promotional tour is only encouraging bets and at this rate we cannot even imagine how much we will take on it."
None of this means Vegas will be a guaranteed winner on fight night. So much money has been bet on McGregor at such long odds, that if he somehow manages to beat Mayweather, the sports books will get hammered. 
"One thing is for sure though, we will need Mayweather huge," Bradley said.
One thing the sports books can do to protect themselves is to drop the odds on McGregor, and that's precisely what they're doing. The longshot Irishman is now coming in at +350, down from the +950 Bovada gave him when it first laid odds on the fight.
https://www.instagram.com/p/BWtp4f6gOmC
The sports book has also started accepting prop bets on the fight, including whether McGregor will get crazy and try to throw a kick at Mayweather and if the fight will go the distance. 
Will Conor McGregor throw a kick in the match?
Yes +1100 (11/1)
No -6500 (1/65)
Will there be a point deducted?
Yes +350 (7/2)
No -600 (1/6)
Will Floyd Mayweather Jr. be knocked down or out?
Yes +350 (7/2)
No -600 (1/6)
Will Conor McGregor be knocked down or out?
Yes -300 (1/3)
No +200 (2/1)
Will the fight go the distance?
Yes +160 (16/10)
No -230 (10/23)
Method of victory
Mayweather Jr. by KO, TKO or DQ (2/3)
Mayweather Jr. by Decision or Technical Decision (5/2)
McGregor by KO, TKO or DQ (4/1)
McGregor by Decision or Technical Decision (10/1)
Draw or Technical Draw (50/1)