Floyd Mayweather 'Legitimately' Considering UFC Fight Vs. Conor McGregor, Says Joe Rogan
"I told him he'd get killed but he's still talking about doing it.'"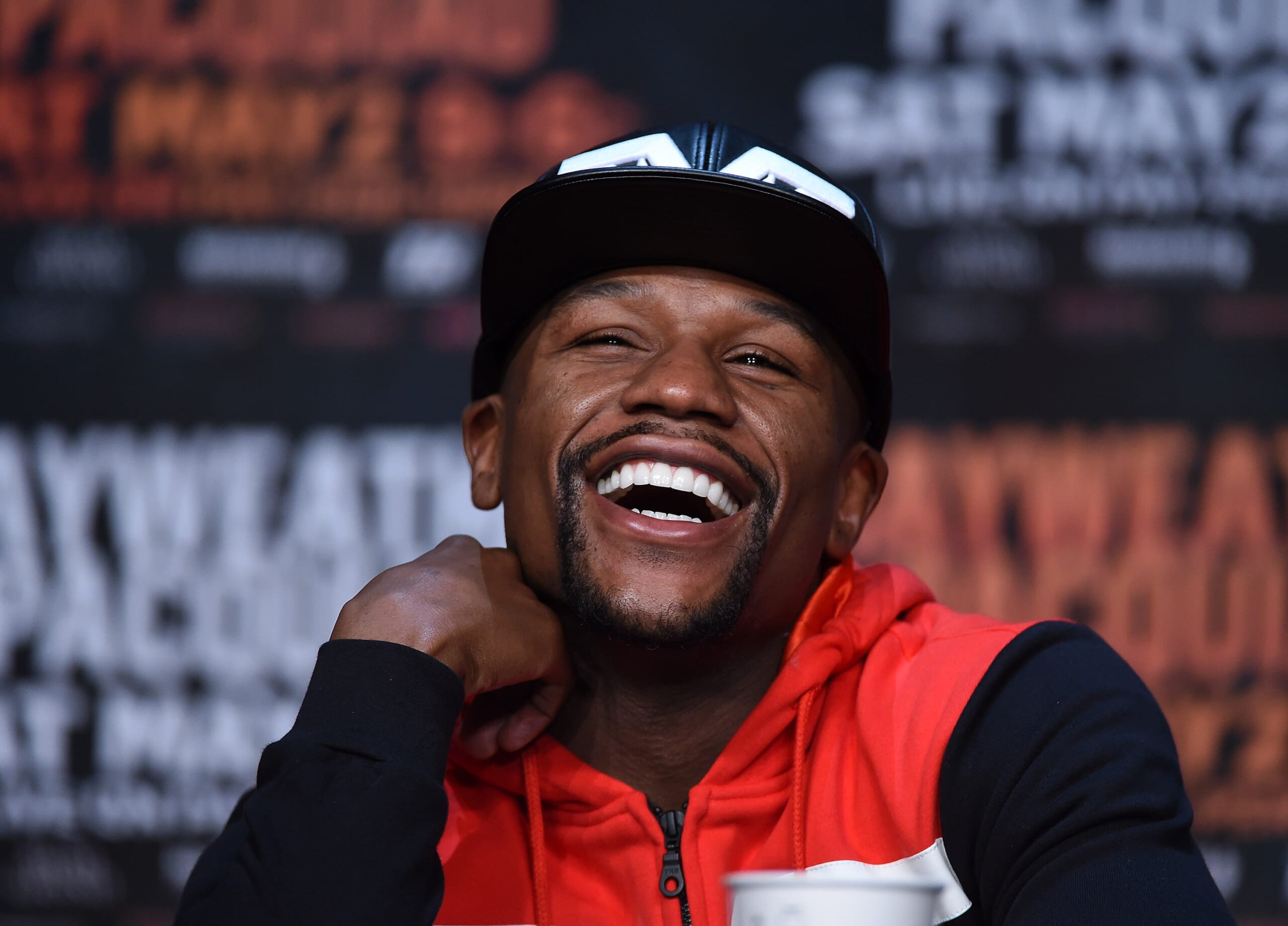 When UFC commentator Joe Rogan heard Floyd Mayweather say he wants to take his talents to the Octagon, he though it was bullshit, just like the rest of us. But unlike the rest of us, Rogan has Dana White's cell phone number, so he texted the UFC president and asked if Mayweather is serious about trying his hand at MMA.
"Floyd talked about it, apparently," Rogan said on his podcast, The Joe Rogan Experience on Tuesday. "This is one thing I can tell you, Dana [White] told me that Floyd wants to make a deal in the UFC. Like legitimately. So I texted him, 'Is Floyd really talking about fighting in MMA?' And he goes, 'Yeah, he's fucking crazy. I told him he'd get killed but he's still talking about doing it.'"
https://www.youtube.com/watch?v=F0v4l6qAzuI
Mayweather knows he'd get killed, but that's beside the point. He just wants to get paid. And the way Floyd tells it, he'd make a billon dollars for three or four fights in the UFC.
As wild as this sounds, Las Vegas has already laid odds on Mayweather making a transition to MMA in 2018. Bovada is currently giving +500 odds on Mayweather fighting in the UFC in 2018. 
The most talked about potential opponent for Mayweather's fantasy fight in the UFC is Conor McGregor, who he outboxed to a 10th round TKO in their August superfight.
"He did say an MMA fight. So if he wants to, lets fucking do it," McGregor said in November. "There's not a hope in hell…I'd like to see him come over to our side and have a knock. I earned their respect and put myself out there. Style over to my side and earn our respect now."
Bleacher Report breaks down why the money-obsessed Mayweather may be tempted to come out of retirement and enter the Octagon.
Money, last seen in the boxing ring in August opposite UFC fighter Conor McGregor, has been teasing a return since October. But while there's little doubt that Mayweather remains a major pay-per-view draw, there are few low-risk, high-reward options out there at this time.

Mayweather's 2015 bout with Andre Berto reportedly tallied between 400,000 and 550,000 pay-per-view buys, the lowest since his rise to stardom in 2007, which casts doubt on whether a squash match would be worth his time. On the flipside, while matches with top boxing stars such as Canelo Alvarez, Gennady Golovkin or Vasyl Lomachenko might do strong numbers, Mayweather would likely open as an underdog against any of them.
"You already know I'm a money-getting motherf–ker," Mayweather said last week. "I'm Money May. They just called me not too long ago and asked me to come back … I can do a three or four-fight deal in the Octagon and make a billion dollars."
Unsurprisingly, McGregor isn't the only mixed martial artist salivating over the prospect of fighting Mayweather in the Octagon. Georges St-Pierre wants in, too. 
Firas Zahabi, GSP's longtime coach, says the Canadian MMA legend's next fight needs to be massive and one of the opponents who could guarantee that is–yep, you guessed it– Floyd Mayweather. 
"I think Georges is gonna get better, get back in the gym," Zahabi told TSN. "He's gonna feel his body out and see what he wants, what's the most interesting, epic fight out there. Mayweather? McGregor? We need a mega-fight."
"Georges will come back for a big, exciting fight."
Not sure Mayweather vs. GSP would be exciting, but it would be a circus. And as Mayweather's boxing match last summer against McGregor proved, people love a circus.