Floyd Mayweather Is Officially the World's Highest-Paid Celebrity
"Money" edged out George Clooney, Kylie Jenner and The Rock to top Forbes' annual list.
Getty Images
Floyd "Money" Mayweather has topped Forbes' annual ranking of the world's 100 richest entertainers.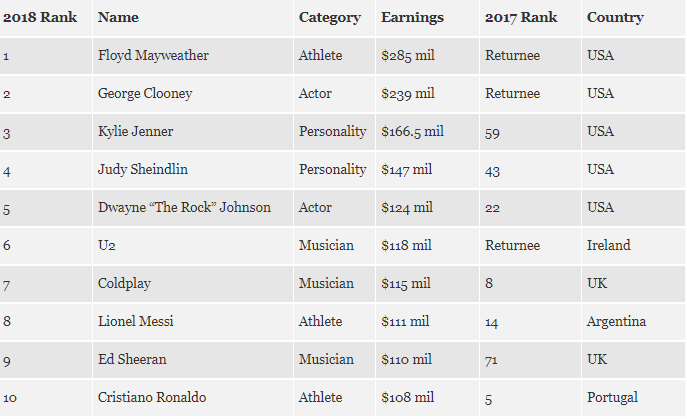 The 50-0 boxing legend's prize for winning last year's $550 million megafight against Conor McGregor accounted for most of the staggering $285 million he made in 2017. 
Mayweather was one of three top ten entrants to return to the list after not making Forbes's 2017 Celebrity 100 list. George Clooney, who trails behind the star athlete with $239 million in total earnings, also reappeared thanks largely to Diageo's $700 million acquisition of his Casamigos tequila company. 
Forbes reports that the purchase gave "Clooney the best annual take-home of his—or any actor's—career."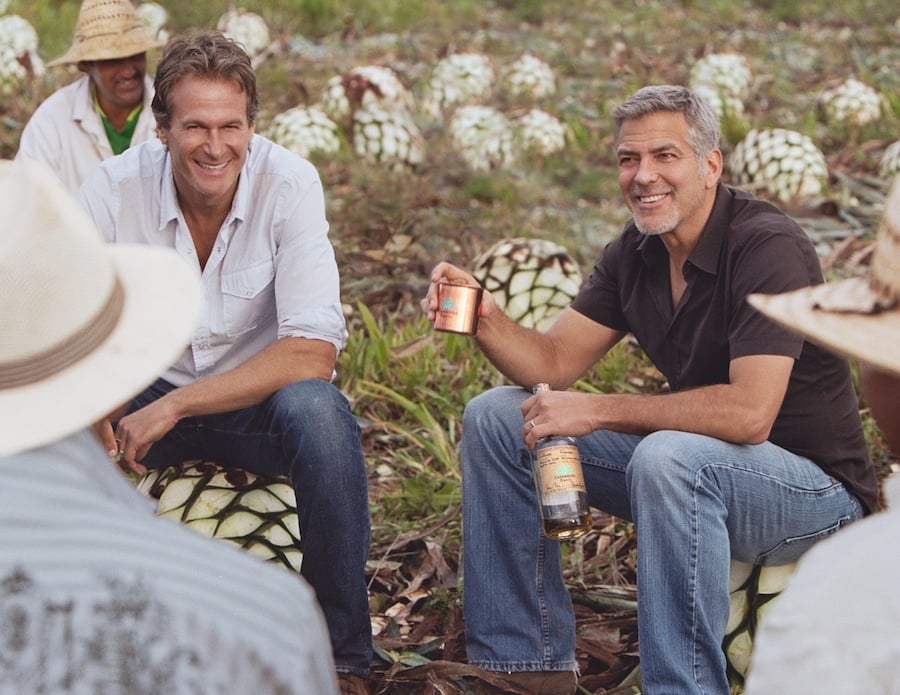 The No. 3 spot was clinched by "self-made" billionaire Kylie Jenner. The Kardashian clan's youngest member raked in an impressive $166.5 million stemming from her wildly profitable makeup line, Kylie Cosmetics, as well as revenue from Keeping Up With the Kardashians and paid Instagram posts.
Judge Judy Sheindlin and Dwayne "The Rock" Johnson round out the top five after earning $147 million and $124 million, respectively. 
The list includes celebs from 17 countries: U.S., U.K., Barbados, Portugal, Ireland, Brazil, Argentina, Australia, Switzerland, Canada, China, Mexico, Colombia, Germany, Spain, Greece, India. All 100 pulled a combined $6.3 million—up 22 percent from last year.
Meanwhile, in the world of insane wealth, Amazon founder Jeff Bezos' net worth just broke $150 billion, making him the richest man in modern history. Since he is not an entertainer, he wasn't included on Forbes' list. 
These other notable celebs, however, were: 
Returnees account for 12% of this year's Celebrity 100, including veterans like U2 (No. 6; $118 million), the Eagles (No. 41; $56 million), Depeche Mode (No. 44; $53 million) and the Rolling Stones (No. 80; $39 million). These longtime acts make the cut from mammoth tours, for which their loyal fans fork out major cash.

Roger Waters (No. 28), cofounder of Pink Floyd, joins the ranking for the first time as the largest-earning newcomer, along with musicians Imagine Dragons (No. 89) and Nas (No. 98). Also new to the list are a handful of NFL players including Matt Ryan, Matthew Stafford, Derek Carr, Alex Smith, Trumaine Johnson, Jimmy Garoppolo, Ryan Tannehill and Von Miller, who earned a combined $353.5 mil.

Sean 'Diddy' Combs, who held the top spot in 2017, dropped to No. 32. Combs' paycheck dipped from $130 million in 2017 to $64 million in 2018 because last year's total was inflated by a massive tour and selling a chunk of his Sean John clothing line.
If anyone deserves to top such a list, it's definitely the man whose nickname is "Money." Help Floyd Mayweather celebrate his No. 1 spot with his most baller Instagram posts below: