NFL Teams Are Giving Johnny Manziel A Look, While Continuing to Ignore Colin Kaepernick
Which out-of-work QB really belongs in the NFL?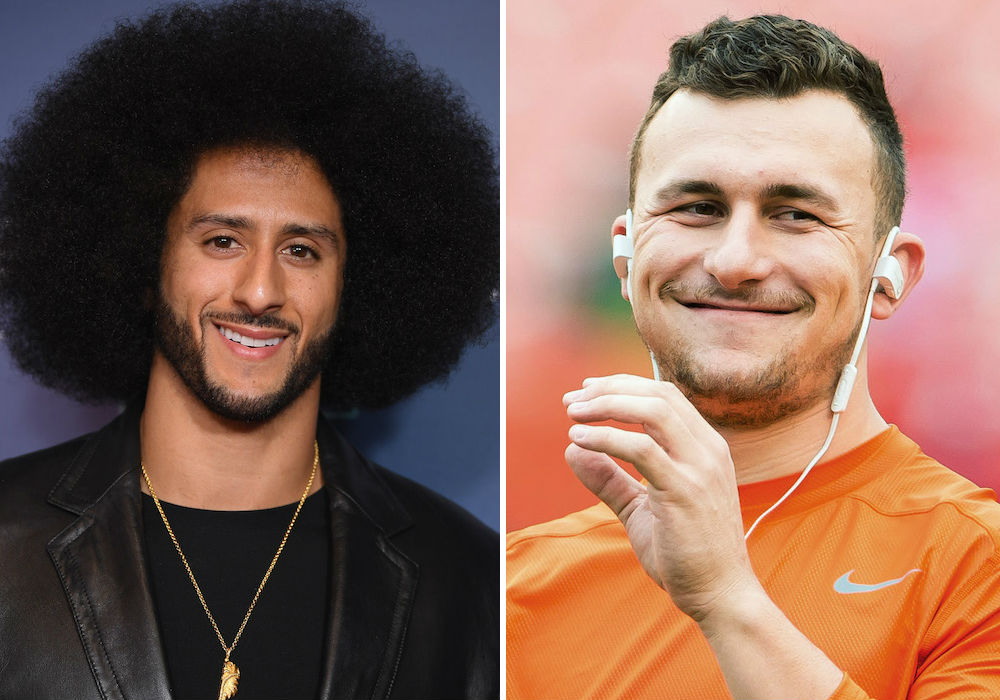 Johnny Manziel threw some passes in front of a handful of NFL scouts this week, the first time teams have seen him in action since he flamed out of the league more than two years ago. 
The former Heisman winner, who is currently training with a QB guru ahead of an attempted comeback, was on hand for the University of San Diego's pro day Thursday. The team didn't have a quarterback available, so the 2014 first round pick stepped in.
Johnny Manziel threw today at the University of Sam Diego.
12 teams in attendance.
38 attempts.
2 misses.
Light rain.
Strong day say those in attendance. pic.twitter.com/A8NAtSO5In

— Adam Schefter (@AdamSchefter) March 22, 2018
It didn't take long for fans of Colin Kaepernick to notice. As everyone knows by now, the former San Francisco 49er was unemployed last season, not because of his inability to lead a team from under center, but because of his role sparking the protests that swept the NFL last season.
Kaepernick is, without a doubt, a better quarterback than Manziel, and the attention given to the oft-troubled quarterback had some people heated. 
13 NFL teams reportedly showed up to watch Johnny Manziel throw at the USD pro day. How many teams would show up if Colin Kaepernick threw at a pro day?

— Jim Trotter (@JimTrotter_NFL) March 22, 2018
13 teams watched Johnny Manziel throw today. Zero have called Colin Kaepernick.

Fuck the NFL.

— James Brady (@jamesbradyisme) March 23, 2018
If Johnny Manziel gets an NFL job before Colin Kaepernick, I'll …well, I have no idea what I'd do. But it won't be pretty.

— Vincent Frank (@VincentFrankNFL) March 22, 2018
If Johnny Manziel get a contract before Colin Kaepernick I'm not watching the NFL no more!! 🚫

— Cpt. Shibb (@_Shibb) March 23, 2018
It's not just the differences in their on-field performances that makes this apparent second chance for Manziel so galling. Off the field, they're polar opposites, too.
Manziel has spent the two years he's been out of the NFL dealing with addiction issues and legal trouble sparked by an alleged domestic violence incident. Kaepernick has spent the last year giving away $1 million of his own money to a handful of charities. 
And yet, Manziel is attraction attention from NFL scouts, while Kaepernick is out here throwing passes with nobody watching. 
https://www.instagram.com/p/BgWx7WMlIT-
None of this, of course, is Manziel's fault. He's doing what he can to get back into the league where he wants to play, including taking a gig with something called the Spring League. And as he's said before, he thinks Kaepernick belongs in the league. 
As Jimmy Traina at Sports Illustrated wrote, people should stop pitting these two players against each other and recognize the true villain: NFL ownership. 
"Why can't you want BOTH men to be in the NFL?" Traina wrote. "It's not Johnny Manziel's fault that NFL owners are at the least ignorant and scared and at the worst racist when it comes to Kaepernick."