Justin Verlander on His Strangest MLB Ritual, Best Workout and Date Night with Kate Upton
"I'm a big believer in the number 3."
Getty Images
Justin Verlander is pretty much living the dream. Married to Maxim Hot 100 winner Kate Upton? Check. Won a Cy Young and the World Series with the Houston Astros? Check. 
But the most envied pitcher on the planet still struggles to stay in shape, keep his game on point, and yes, even battles allergies, just like the rest of us. 
Maxim caught up with Verlander via email as part of his duties as a pitchman (get it?) for Flonase, and he took a swing at a few of our softballs. Read on for Justin's takes on working out, weird pre-game rituals, and date night with Kate.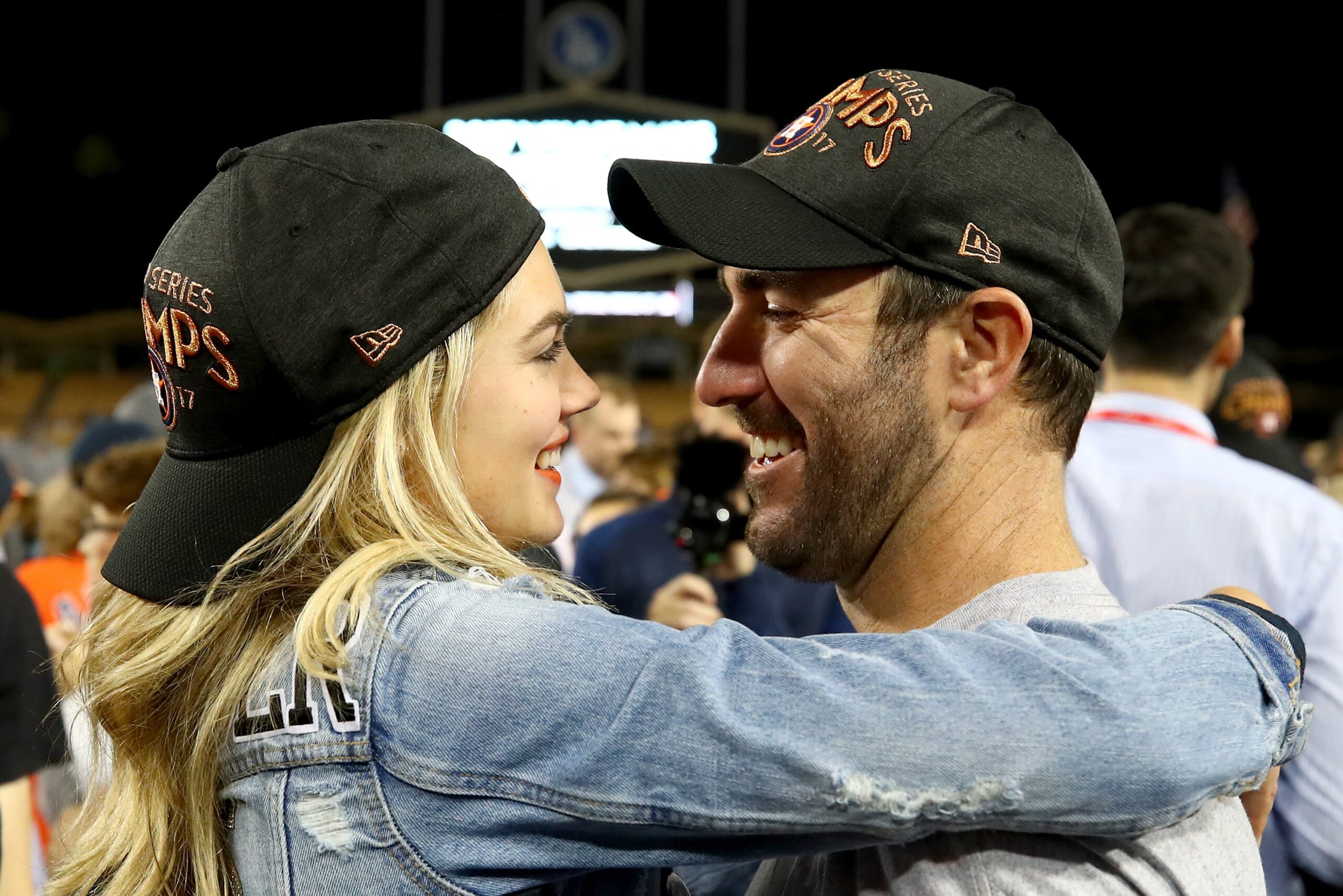 Besides pitching in the majors, describe your regular workout routine.
Well my workout centers around what I do as a pitcher and when I play. I am a believer in training hard in the offseason and I actually limit my workouts during the regular season so I feel my best as we approach this time of year, the end of the year. 
I will take a little time off in the offseason, maybe about three weeks or so typically and then start getting into it. I do a lot of cardio training, interval vascular work. And the strength training is pretty important to me, especially the core and lower half. 
That's my main focus. I do some upper body but it's my legs and core that I look to get as strong as I possibly can.
What do you listen to to get pumped before games?
Oh gosh, it changes quite often. Probably something by Eminem.
Do you have any other pre-game rituals?
Well I am really big on the number 3. I do things in numbers of 3's. I use the 3 bathroom stall, I use the soap jar and pump 3 times. I use 3 paper towels. Big on the number 3.
What's your favorite pre and post-game meal?
I don't really have a favorite post-game meal. It depends on if I am pitching or not, night before I pitch, etc. But i don't have anything that I would say is a favorite because it's more about what I am eating in preparation. I tend to have some carbs with protein before a game, but I don't have a go to food.
Do you think you'll win another Cy Young?
Yes!
Describe a typical date night with your wife, Kate Upton?
We are foodies so I think a typical date night would be going out to dinner and a movie.
You're currently one of the highest-paid players in MLB and are totally crushing it. But have you thought about what you'd like to do after your baseball career is over?
The dreaded question. Honestly, I have not. I know though for certain, I will be playing a lot of golf!
You recently teamed up with Flonase. What kind of allergies do you have, and has it ever affected you during games?
Oh gosh I suffer tremendously from allergies, everything from stuffy nose and watery eyes to you name it. And if I don't take care of it, it can spiral and get worse for me. 
Playing in the spring, it's the start of baseball season and warm weather, so I've been on the pitcher's mound before and I've had congestion or watery eyes and I think you can understand how that would severely impact my ability to perform. But using Flonase has helped me avoid those moments.