Wild, 11-Inning World Series Game 2 Was One of the Greatest of All Time
Eight home runs, three lead changes, and one supermodel.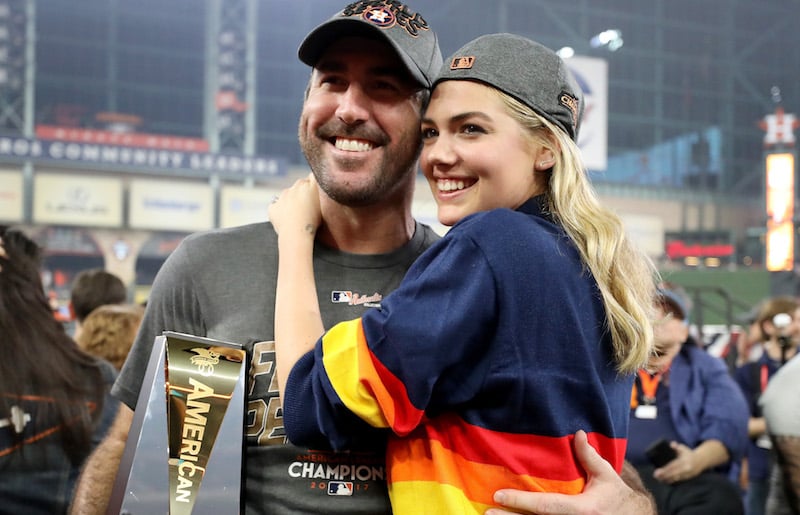 On Wednesday night in Los Angeles, the Dodgers and Astros played one of the wildest World Series games ever. Among other things, the teams set a record for most homers in a single World Series game with eight. Five of those came in extra innings and one led to a batflip worthy of Cooperstown. We also got to see an umpire nearly get hit in the beans.
But before reliving all the dramatic bombs let's check in with Kate Upton, whose fiancé and Astros ace Justin Verlander started for Houston on Wednesday. The producers of last night's broadcast stayed away from the gratuitous reaction shots of Upton that we see so often get when Verlander's on the hill, but she was there and the camera eventually found her. 
https://www.youtube.com/watch?v=BCy23T5OjtU
Though the Astros would go on to win 7-5, Kate's man didn't have the greatest night. Cruising up until the fifth, Verlander gave up his first hit to Joc Pederson, who lifted a breaking ball just over the right field wall. Then in the sixth, Corey Seager blasted a fastball into the left field seats. The homer was nice but the reactions from Seager and Clayton Kershaw were better.
https://www.instagram.com/p/BasduPWAdSZ
The Astros would come back to tie it at three and take the game to extras. In the top of the tenth, Jose Altuve and Carlos Correa went back-to-back, leading to a bat flip and tongue wag from Correa that makes you think the WWE should get a call into this guy's agent.
The Dodgers clawed back to the tie the game in the bottom of the tenth but George Springer quickly put the Astros back up with his own bomb in the 11th. 
https://www.instagram.com/p/BatePXXFhfX
The Dodgers were not quite done in the bottom of the 11th, when little used infielder Charlie Culberson, who spent most of the year in AAA, hammered a solo shot. His exuberance as he rounded the bases was so over the top that Joe Buck questioned if he knew the score. After the game Culberson said he knew the Dodgers were still down after the homer, but he'd just hit a bomb in the World Series and he was excited. Hard to blame him for that.