Ravens' Lamar Jackson Passes Michael Vick as Fastest QB in 'Madden' History
"It's an honor and privilege to be able to hand something off to the next generation," the former Atlanta Falcon said of the NFL's breakout quarterback.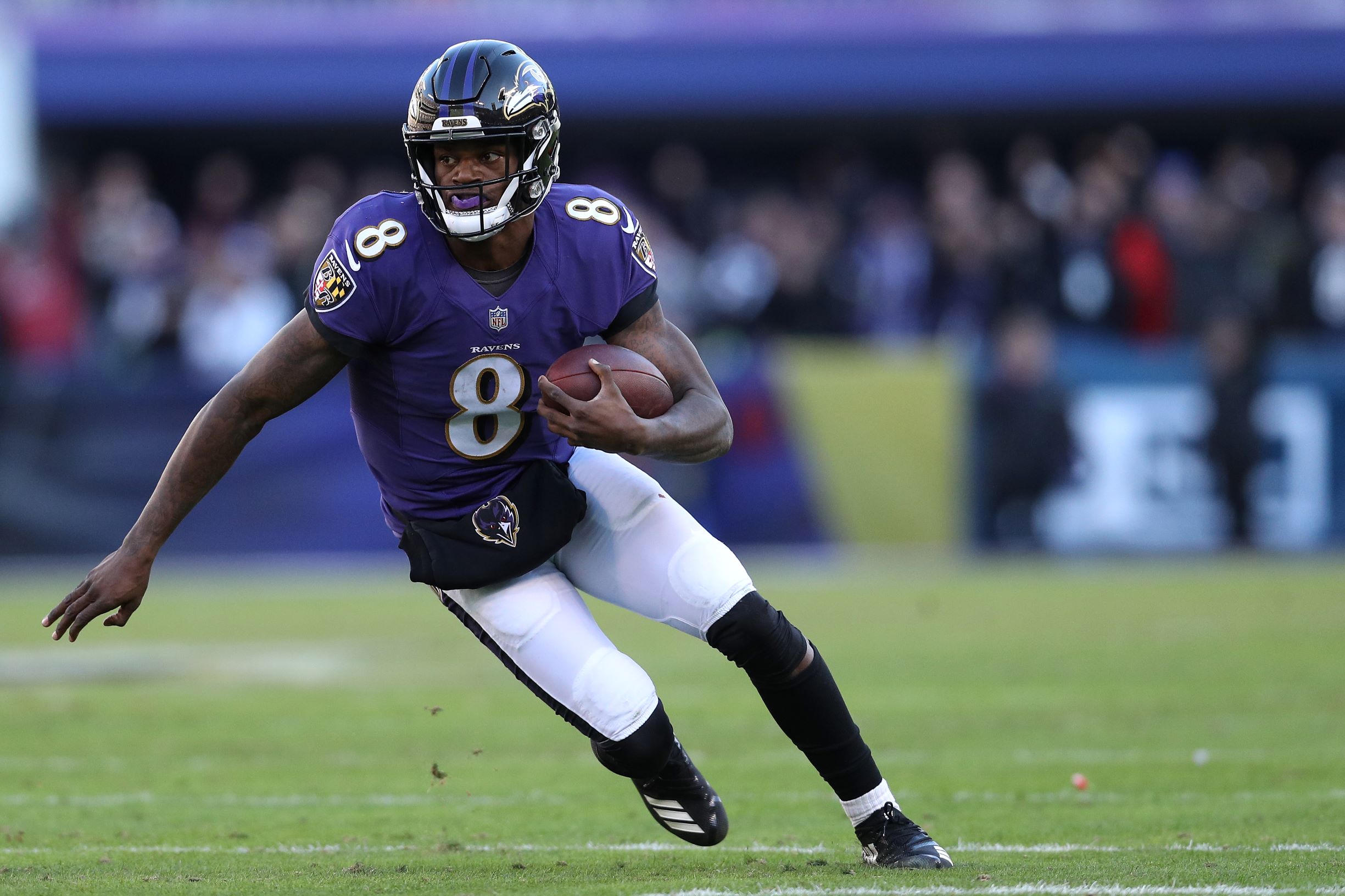 Before Lamar Jackson breaks Michael Vick's single-season rushing record, Madden NFL 20 has given the Baltimore Ravens star quarterback a 96 speed rating—the video game's highest ever for an NFL quarterback. 
Vick, who had clinched the previous high rating of 95, announced the "changing of the guard" on Twitter before the gridiron-simulating title's Twitter official account confirmed the news: "From one Madden legend to the next. @Lj_era8 takes the crown as the fastest QB in Madden history!" In a video accompanying Vick's tweet, he said it was an "honor and privilege to be able to hand something off to the next generation."
Vick also showed off special-edition version of Jackson's current Nike Vapor Untouchable Pro 3 cleat inscribed with the words "Not bad for a RB" below a Ravens purple swoosh on the lateral. The cleats' medial features features red swooshes, inspired by Vick and the Atlanta Falcons, along with the phrase "Your turn" in reference to Vick's passing of the torch to Jackson. The Nike x Electronic Arts cleats, which also feature EA Sports and Madden NFL 20 logos, will be gifted to Jackson at a later date. 
ESPN reports that the critics who initially questioned whether Jackson's arm was accurate enough to throw in the NFL were silenced when the Most Valuable Player front-runner famously said "Not bad for a running back" after the Ravens' 59-10 Week 1 blowout of the Miami Dolphins. 
"Now they're eating their words," Vick added in his Twitter video. "Lamar's the modern-day, new-era quarterback. And well deserving of it. The changing of the guard is all good, man. All records are made to be broken. The next generation are supposed to be better than us. Got to give credit where credit is due. I say, it's your turn now."
https://www.instagram.com/p/B0ecgzqFYXr
Jackson, who was originally picked up by the Ravens in the 2018 NFL Draft to serve as a backup QB, has rushed for 876 yards during his breakout 2019 season. He needs 164 yards to best Vick's 13-year-old league record. In Madden NFL 20, Jackson's virtual numbers are already there. He has the most rushing yards (704 million) and most rushing touchdowns (6.3 million). 
The Ravens (9-2) take on the San Francisco 49ers (10-1) this Sunday at 1 p.m. ET in a hotly anticipated game that could be a preview of Super Bowl LIV.