LeBron James Compares 'Blackballed' Colin Kaepernick to Martin Luther King Jr. and Muhammad Ali
"The only reason I could say he's not on a team is because the way he took a knee."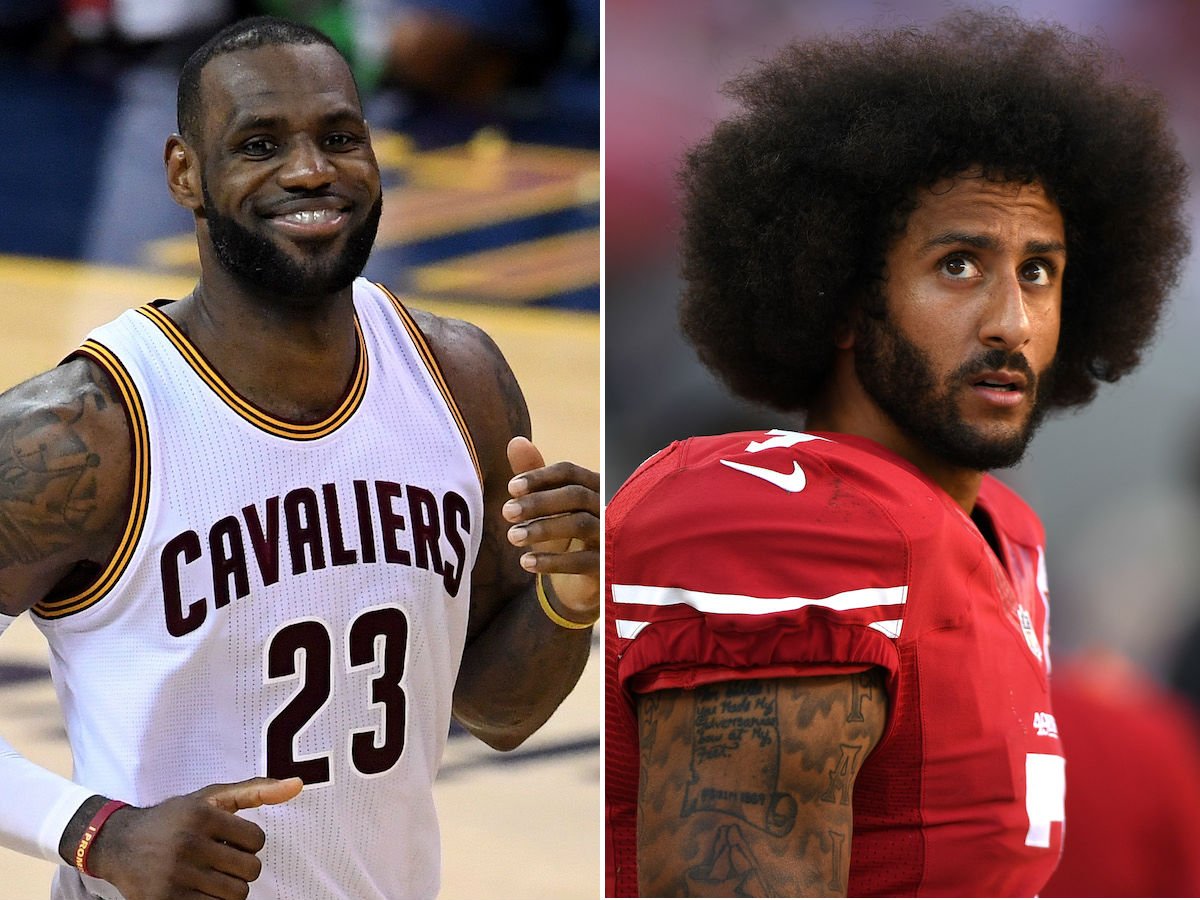 The most famous athlete in the world is sticking up for the most controversial. 
LeBron James on Sunday waded into the ongoing debate surrounding Colin Kaepernick and his continued unemployment, declaring that the free agent quarterback is being "blackballed" by the NFL because of the protests against racial injustice he ignited across the league last year.
"I love football, but I'm not part of the NFL," James told ESPN. "I don't represent the NFL. I don't know their rules and regulations. But I do know Kap is getting a wrong doing. I do know that. Just watching, he's an NFL player. 
"He's an NFL player and you see all these other quarterbacks out there and players out there that get all these second and third chances that are nowhere near as talented as him. It just feels like he's been blackballed out of the NFL. So, I definitely do not respect that." Kaepernick agrees.
James, who has made his own statements about racial issues on the court, said he "salutes" Kaepernick's willingness to sacrifice his career in order to stand up for a vital cause.
James compared the quarterback to Martin Luther King Jr. and Muhammad Ali—two men famous for taking unpopular stands and being harshly judged for them. 
"When it's something that's new and it's something that people are not educated about or don't understand what your beliefs are all about, people are so quick to judge, and people are so quick to say that what you're doing is wrong," said James, who recently posted on Instagram GQ's cover declaring Kaepernick the "citizen of the year."
Unlike some supporters of Kaepernick's, who have boycotted the NFL this season, James says he still watches a lot of football. And that has only reinforced his opinion that the former Niners quarterback belongs in the league. 
"The only reason I could say he's not on a team is because the way he took a knee," James said. "That's the only reason. I watch football every Sunday, every Thursday, every Monday night. I see all these quarterbacks — first-string, second-team, third-team quarterbacks — that play sometimes when the starter gets hurt or are starters that play. Kap is better than a lot of those guys. Let's just be honest."
People can argue about Kaepernick's protests, but we can all agree on his final point. NFL quarterbacks suck this year and the 30-year-old has the talent to be in the league. But as we've recently learned, talent isn't all that matters in the NFL.