LeBron James: It 'Pisses Me Off' That I'm Not Considered Among NBA's Best All-Time Scorers
"When they talk about the best scorers of all time, they never mention my name. It pisses me off."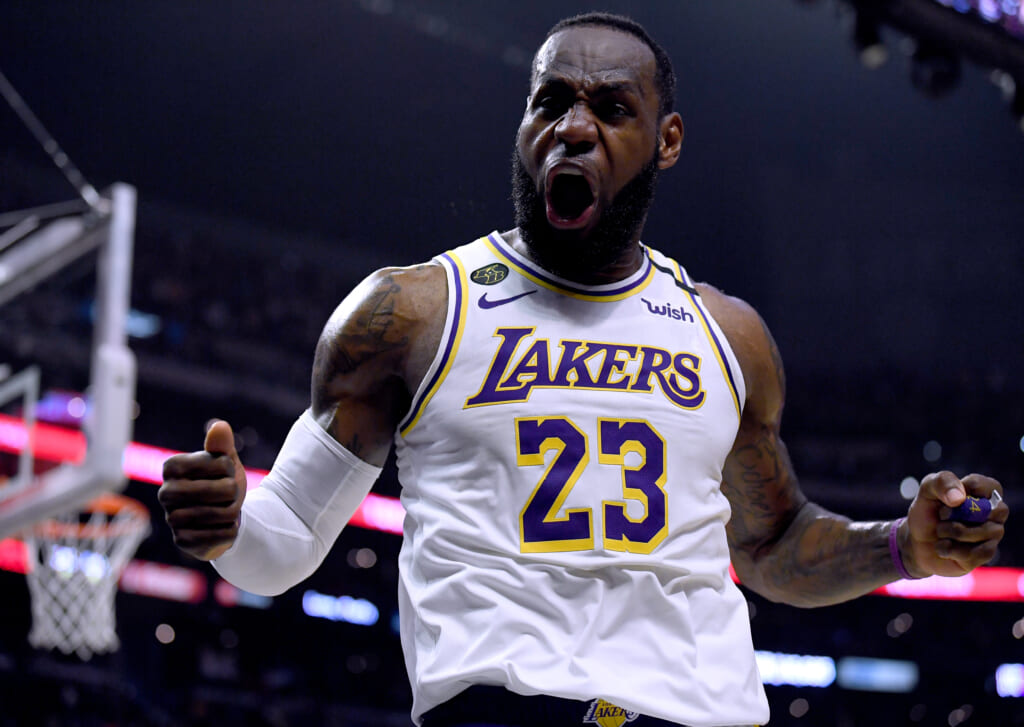 Never count out King James. LeBron James recently posted his highest-scoring performance in four seasons with Los Angeles, putting up 56 points during the Lakers' 124-116 comeback win against the Golden State Warriors on March 5.
The game saw James, 37, become the oldest NBA player to score 55-plus points and take 10 rebounds in a game. He joins Michael Jordan, Kobe Bryant and Jamal Crawford as the only players to have scored 50 or more points past age 37.
"Our guys were following me off the floor tonight going into the locker room and they asked me, 'How does it feel to score 56?' " James told reporters, per ESPN. "I said, 'Right now, I don't give a damn about the 56. I'm just happy we got a win.' That's just literally the first thing that came to mind."
The timing was impeccable given comments James made in the most recent free episode of Uninterrupted's The Shop series, which went live on YouTube the day before.
James, who is featured alongside actor/rapper Donald Glover (aka Childish Gambino), actor/writer Quinta Brunson, singer J. Balvin, and Baltimore Ravens quarterback Lamar Jackson, opened up about his frustrations with not being considered as of the NBA greatest scorers ever.
"When they talk about the best scorers of all time, they never mention my name," James said at the 18:10 minute mark of the episode, per Complex. "It pisses me off."
"I'm not like a natural scorer," James added. "I love getting my guys involved, I've always been that way."
Though the Lakers currently hold an unsavory 28-35 record, James is scoring at his highest rate since his 2009-2010 season with the Cleveland Cavaliers.
He recently passed Kareem Abdul-Jabbar for the most points scored all-time in NBA history, and did so in 1,616 games—200 fewer than Abdul-Jabbar needed to set the previous record.