Meet Top Tennis Influencer Rachel Stuhlmann
This former D1 athlete-turned-model and trick shot queen has been dubbed the "world's No. 1 tennis influencer."
The first week of September in New York City is always exhilarating. The city is abuzz with models destined for New York Fashion Week, while the world's top tennis stars head to Flushing for the annual US Open. Model, athlete, and the tennis influencer Rachel Stuhlmann represents the intersection of these two worlds.
Hailing from St. Louis, the six-foot-tall brunette bombshell was nationally ranked on the USTA's Junior Circuit and went on to play NCAA Division I collegiate tennis. Now Stuhlmann has taken her love for the sport and spun it into a career that's propelled her to stardom on various social media platforms.
Her Instagram feed, which now boasts more than 150,000 followers, drew serious interest from droves of brands after her tennis trick shots went viral in in 2019. She's even been named the "world's No. 1 tennis influencer" by sports blog Outkick, a superlative title she's happy to display in her Instagram bio.
I had the pleasure of sitting down and chatting with Stuhlmann about her life, career, thoughts on this year's US Open and more.
You played for the University of Missouri before you became an influencer and media personality. How have lessons have you learned from tennis helped you make the transition?
I loved being an athlete! Playing college tennis taught me many qualities—time management, work ethic, and resilience. I was super disciplined with my training and workout routines, and once I finished playing in college, I transferred that into my professional career. Now instead of preparing and training for big tennis matches, I focus on everything I have going on in my professional life and how I can best show up for all the various work I do within the sport!
Who are your current favorite pro tennis players, and why?
I've loved Rafael Nadal since I was little; growing up I used to have a poster of him on my wall! He's the prime definition of a sportsman and champion. Andrey Rublev was always one of my favorite interviews. He's honest, humble, and such a likable guy! I also love his game style- his forehand is amazing.
Reilly Opelka is a good friend of mine! I love how he has his own style and hobbies outside of tennis, like art and fashion. He's also the sweetest guy!
And everybody loves Ons Jabeur—she's one of the most likable and fun players on tour! I've been in many of Ons' press conferences in the past, but hadn't met her in person until I was in the player's lounge at Western & Southern Open a couple of weeks ago and she came up to me and gave me a hug which I thought was so sweet!
What was the most memorable moment from this year's US Open?
This US Open has been one of the most fun tournaments of my life. Every single night there has been some crazy fun event or party. My most memorable moment of the entire trip was sitting in the suite watching Serena [Williams'] first-round match. The energy and feel of the New York crowd and seeing my favorite tennis player play in one of her last matches ever is something that I will never forget.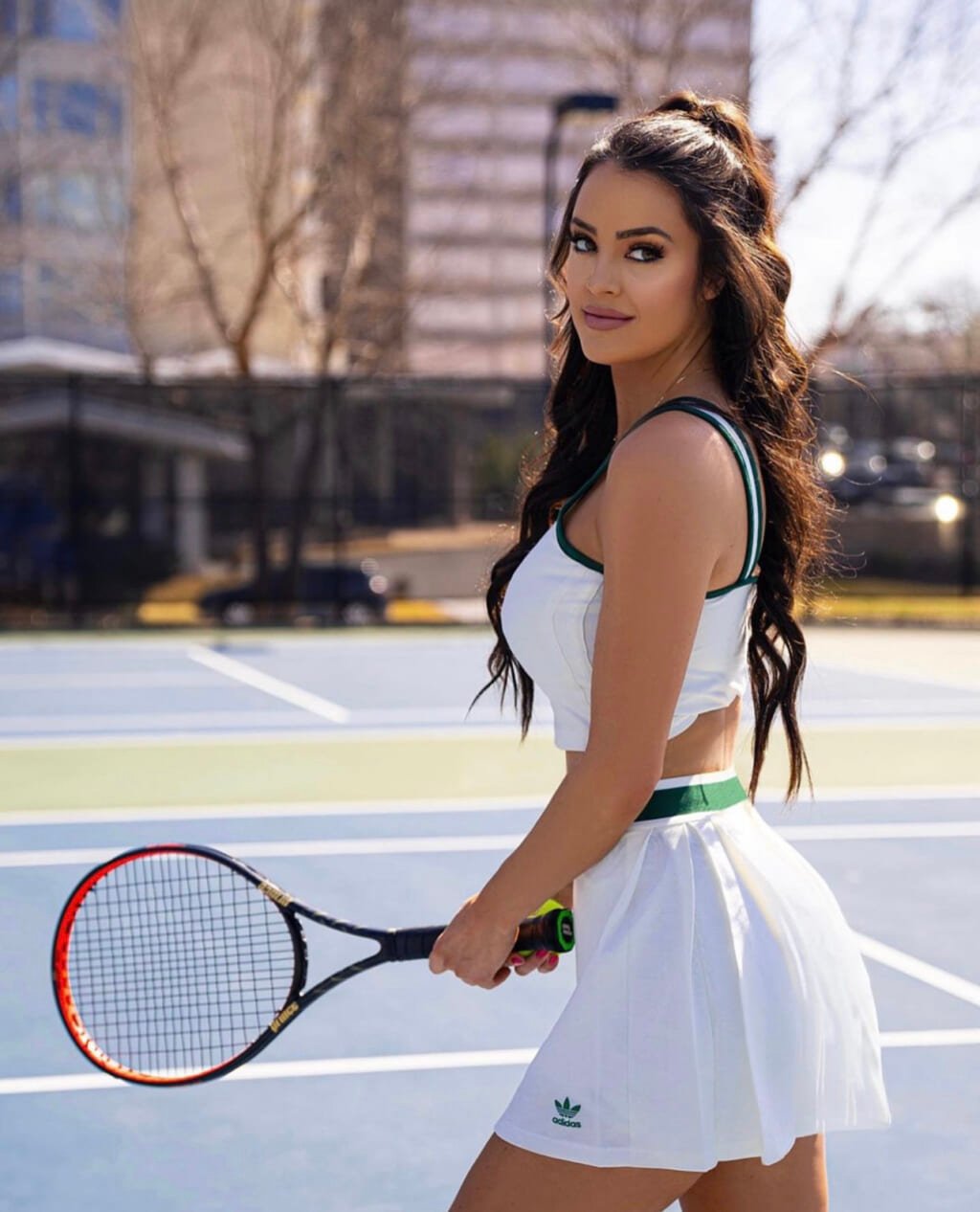 Another cool thing is that we're witnessing the changing of the guards. The young players on the men's side are starting to showcase their skills and personality (their hard work, confidence, and maturity has kicked into play) and you're starting to see it in the second week of the Slams. It's not just the top 3 or 4 guys like we've seen in the past. On the women's side, this was probably the most exciting year ever in women's tennis. Not only with Serena's retirement but the fact that any woman with any ranking can win the US Open! That's how deep the women's game is right now- filled with talent and surprises all year.
Have you gotten any inspiration from fellow sports influencers, like Maxim Hot 100 star Paige Spiranac?
Yes! Tennis and golf are very similar sports. I respect what Paige has done for the sport of golf so much! We have similar stories, and I aspire to continue to push the sport of tennis forward while being unapologetically me!
What's one simple tip for anyone looking to improve their tennis game?
One simple tip to anyone looking to improve their tennis game: Have fun! Tennis can get frustrating sometimes if you're having an off day. But if you focus on things like getting in shape while you're playing or setting small, achievable goals, you can turn the practice/match around!
What's your absolute favorite racket?
I actually just switched racket brands to Head! I absolutely love the feel of their rackets. I am the kind of player where I know that I will like a racket the very second I feel it in my hand for the first time. I absolutely love every Head racket I have played with so far! I am currently testing out and demoing which racket feels best for me and which one I will officially switch to. I am leaning towards the Head Gravity Pro or the Head Boom MP. I will probably decide within the next couple of weeks!
Can you share any exciting projects you have on tap for the future?
Even after such a busy summer, my schedule is filling up quickly for the rest of the year. I might go to the Laver Cup in London in a couple of weeks; I haven't decided yet. I will be traveling overseas next month to do some work with the Rolex Paris Masters in Berci, France! I am really excited. I will also be hosting the All American Cup in San Antonio in November, which will feature the 10 best American men professional players.
A long-term project I have been working on is bringing a professional tennis tournament to my hometown. St. Louis has a rich tennis history, and I want to bring professional tennis back.