Celebrate Michael Jordan's 55th Birthday With His Most Savage Trash Talk Stories
The GOAT loved to torch opponents with both his shot and his mouth.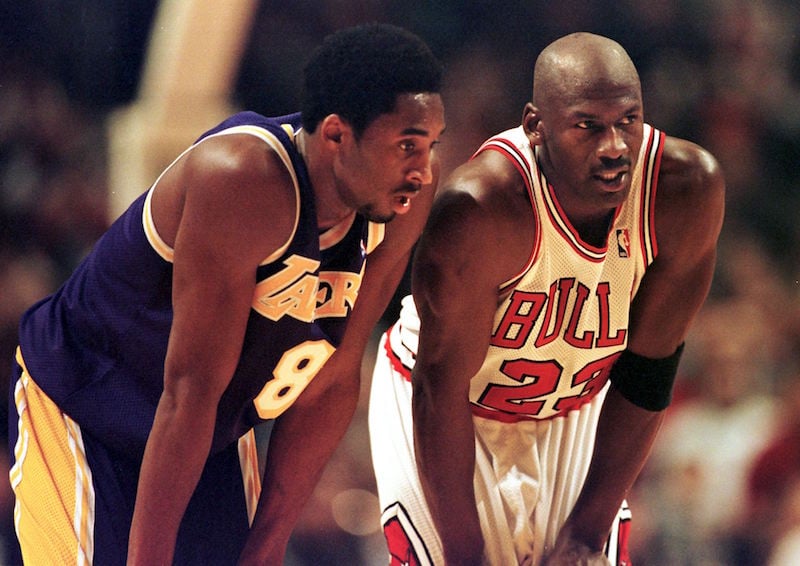 Michael Jordan's status as the GOAT, as it pertains to playing the game of basketball, is undisputed. But his status as the GOAT, as it pertains to talking shit while playing the game of basketball, is much less certain. His contemporary Larry Bird is often referred to as the greatest shit talker to ever take the hard wood. Players who joined the league after him, such as Gary Peyton and Kevin Garnett, have cemented their own legacies as skilled mouth runners. 
But today, on his 55th birthday, we make the case that Jordan was as lethal with an insult as he was with his jumper. Here are 10 of our favorite stories of Jordan talking trash. 
The time he destroyed Muggsy Bogues' confidence
"On the biggest possession of the game, Muggsy had the ball with the Hornets down one. Jordan backed off of him and told him, 'Shoot it you fucking midget.' Muggsy shot it, and didn't come close." — Former Bulls assistant coach Johnny Bach 
The time he telegraphed his moves becuase he knew he couldn't be stopped
"You know you can't stop it. You know you can't stop this. You can't guard me. I'm gonna catch it on the left elbow, and then I'm gonna drive to the left to the baseline, and then I'm gonna pull up and shoot my fadeaway." — Jordan to former Cleveland Cavalier Craig Ehlo
The time he shot a free throw with his eyes closed to shut up Dikembe Mutombo 
The time he tried to end a former teammate's career with words
'You're a loser! You've always been a loser!' — Jordan to Rodney McCray
The time he told Nick Anderson exactly how he was going to destroy him
"'I'm coming down. I'm going to dribble it between my legs twice. I'm going to pump fake and then I'm going to shoot a jumper. And then I'm going to look at you.' And that's exactly what he did." — Shaquille O'Neal on Jordan decimating his former teammate
The time he embarrassed that actor who's in all the basketball movies
"Jordan hit a 35-footer on me. I mean, it was ridiculous: leg out, tongue out, all that stuff…hit a 35-footer on me and goes, 'GET THE FUCK OFF THE COURT.'" — Keith Gibbs
The time he ripped a teammate for being fat and playing poorly
"Big, fat, fat guy…One rebound in three games. Power forward. Maybe they should call it powerless forward." — Jordan to former Chicago Bull Stacey King
The time he shut down a team owner
"He big enough for you?"— Jordan to Jazz owner Larry Miller after dunking on 7'1" Mel Turpin. Miller had just made fu Jordan for dunking on the tiny John Stockton.
The time a pro golfer tried to trash talk Jordan and got embarrassed in front of the world
The time he convinced Reggie Miller to never trash talk to him again 
"Be careful. You never talk to Black Jesus like that." — Jordan to Miller after putting 40 points on him in a single half