Model Christen Harper Talks Rude Responses To Her Viral NFL Bikini Video: 'Really Can't Win'
The SI model was targeted by online trolls after her bikini-clad reaction to fiancée Jared Goff's Lions win.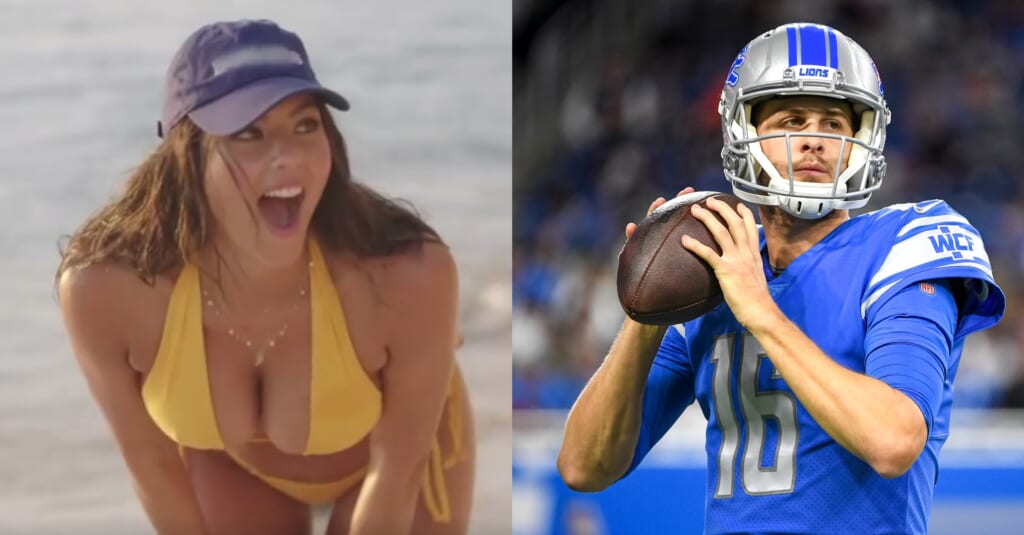 Christen Harper "can't win," even when Jared Goff does. The Sports Illustrated Swimsuit model and fiancée of the Detroit Lions quarterback revealed she became the target of trollish vitriol after her on-set reaction to Goff's first win of the 2021 NFL season went viral.
"When I was shooting Sports Illustrated this last year, I was in Barbados, and there was this video of me that went viral," Harper said during a recent appearance on the Courtside Club podcast with Rachel DeMita, per the New York Post.
"The Lions had their first win and that comment section, the whole thing was like, 'If she really was a fan, she would have been at the game.' And it's like, dude I can't win because if I was at the game, they'd be saying, 'You're a gold digger. All you're doing is following your boyfriend around,'" Harper said of replies to the original video below:
"You really can't win. If you're at the game, you're too invested. That's your whole life. If you're not there, you're not supportive. So as women, it's like, it's impossible to win."
While most well-adjusted people could see that they were witnessing both parts of a power couple excel simultaneously in their respective fields, Harper added that the few loser trolls who couldn't grasp that were a source of frustration.
"I was so mad I wasn't there but I was living out my dream, meanwhile, he's living out his dream," Harper said. "It was such a magical thing that was happening at the same time but people just couldn't see that."
Goff and his Lions' first win of the season against the Vikings put them at 1-10-1 at the time before the team finished the year 3-13-1. As Goff struggled through his first year in Detroit, his fans began using Harper as a digital punching bag.
"I get the most death threats after a loss," Harper said. "My DMs just blow up."
Fortunately, Harper knows how to take the unwarranted hate in stride.
"People can be crazy. People can be mean. What I've learned is to kind of block out that noise and try to enjoy the moment," she said.