Nicki's Picks: NFL Week 4 Results
MaximBet's Nicki's Picks offers players a chance to win $1,000,000 each week by guessing the outcomes of NFL games. Find out how Nicki Minaj fared betting on last weekend's games.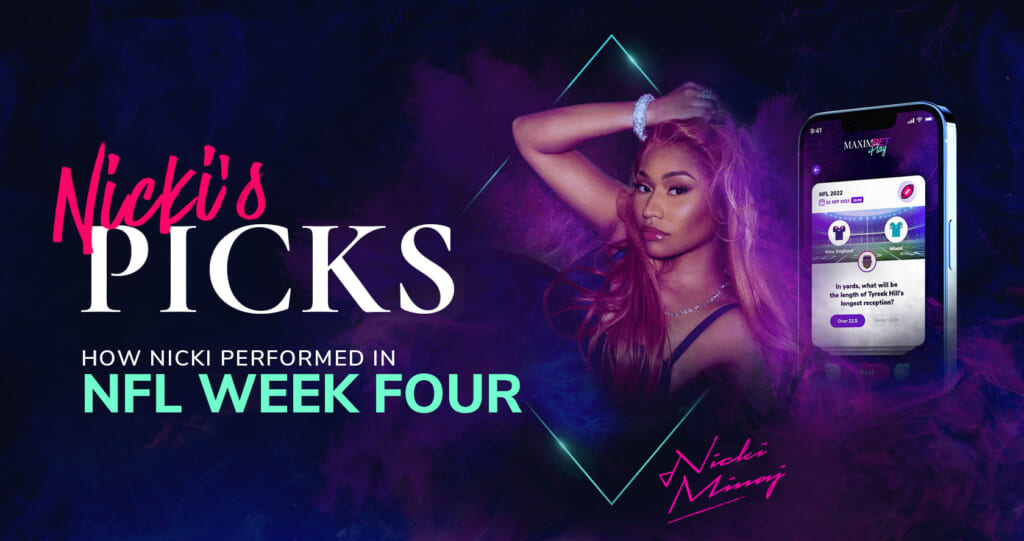 The results are in. Last week, Nicki Minaj tied for seventh place in MaximBet's weekly free-to-play $1,000,000 NFL contest. She correctly answered 14 of the 24 questions about Week 4's games, dropping her into the Nicki's Picks leaderboard top ten for a second week in a row. 
You can play along with Nicki all NFL season long too – and it's completely free! Download the MaximBet Play app and make your NFL predictions every week. Answer 24 questions about upcoming games, and if you get all of them right, you could win a cool $1,000,000*!
What Did Nicki Know?
Nicki made some pretty shrewd predictions that were realized during last week's NFL action. Here are a couple of her top answers.
What Will Be Saquon Barkley's Longest Rush?
Nicki is a proud New Yorker. It's where she grew up, and she's known as a New York Giants fan. So, she'd be well aware that Giants' running back Saquon Barkley is having a hell of a run (pardon the pun) so far. In fact, he's likely the best RB in the league. So, Nicki correctly predicted that he'd rush for more than 15.5 yards (in fact, he ended up having three plays of 15 yards or more!).
Will the Raiders Win by 3 Points or More?
Nicki guessed correctly that the Los Angeles Raiders would beat the Denver Broncos by more than three points last week. She likely knew the Raiders had won the last four times the teams have played against each other. The Raiders were also playing at home, so there was also that advantage. A late drive in the game put them 32-23 against Denver.
What Did Nicki Get Wrong?
It was a week of ups, downs and upsets. Nicki made some great guesses, but not all of them hit. What are some of the things she didn't anticipate?
Washington Commanders Vs. Dallas Cowboys
Will the Cowboys Win by 4 Points or More?
The Dallas Cowboys were going into the match against the Washington Commanders without quarterback Dak Prescott. So, Nicki would have known there were doubts about Cooper Rush filling in, and incorrectly guessed they wouldn't win by four points or more. But Rush came through, completing 15 of 27 pass attempts for 233 yards and two scores. The Cowboys won 25-10.
Seattle Seahawks Vs. Detroit Lions
How Many Receiving Yards will DK Metcalf get?
The Seattle Seahawks beat the Detroit Lions, but it was DK Metcalf that made the news. Nicki predicted incorrectly that he'd get under 59.5 receiving yards. Maybe she was looking in a crystal ball and saw him being carted off the field in the fourth quarter. Maybe that vision told her he wouldn't make the yardage due to an injury. Well, he was carted off in the fourth… but it was for an emergency bathroom break. Metcalf still finished the game with eight catches for 149 yards.
Did you play Nicki's Picks last week? How did you fare against Nicki's own predictions? Don't forget to play every week for your chance at winning a $1,000,000* jackpot. It's fun, easy and completely free to play!
*Terms & Conditions apply, see site for details. 21+ Only. Gamble responsibly. If you or someone you know has a gambling problem? CALL 1-800-522-4700