Nicki's Picks: NFL Week 6 Results
Find out how Nicki Minaj fared in MaximBet's $1,000,000 NFL Week 6 contest.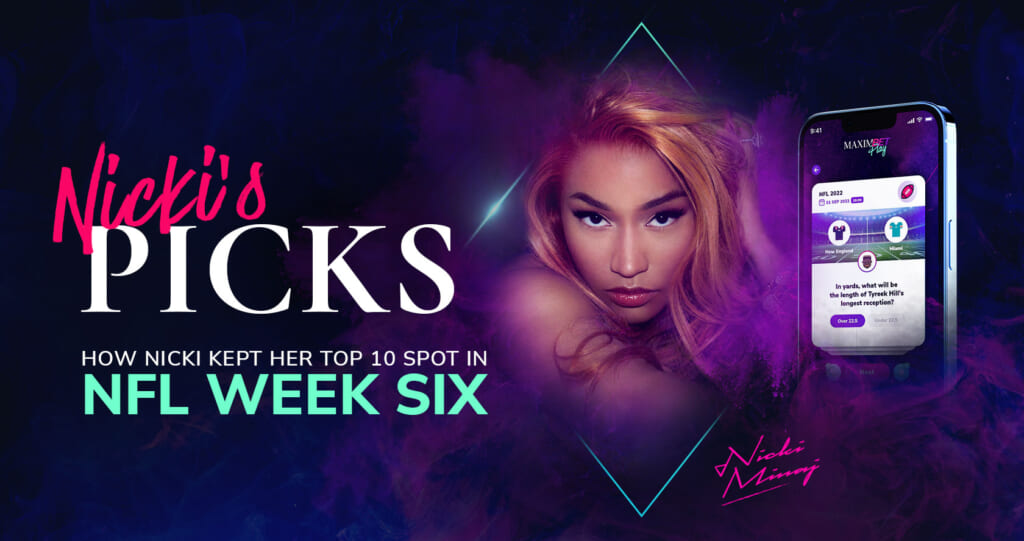 Another week of NFL means another week of the Nicki's Picks $1,000,000 contest*. In Week 6, Nicki correctly guessed 12 of the 24 questions, placing her 8th on the leaderboard. That's yet another week that the Queen of Rap has cracked the top 10. Let's take a peek at some of her predictions.
What Did Nicki Get Right?
As Nicki hits the top 10 every week, she's definitely relying on her love and knowledge of NFL to make some shrewd predictions. Here are a couple that she nailed.
How Many Passing Yards Will Joe Burrow Throw For?
Nicki guessed correctly that the Cincinnati Bengals' Joe Burrow would throw for over 266.5 yards. She likely made the guess because the game was a bit of a homecoming for Burrow as he played college ball at LSU. So, there was a lot of excitement and buzz. Burrow had an awesome day and threw for 300 yards.
Will the Bills Win By 3 Points Or More?
The Buffalo Bills/Kansas City Chiefs game was a hard one to call, but Nicki was sure the Bills would win by more than 3 points. Sunday's showdown between the two teams was hyped as a rematch of January's divisional-round playoff featuring two of the best QBs in the NFL. Nicki was surely aware the Bills are arguably the best team in the conference, if not the league. It was a tight game, but the Bills ended up winning by 4 points.
What Did Nicki Get Wrong?
Hey, you can't win 'em all. Here a few of Nicki's Week 5 misses.
Will The Browns Win By 3 Points Or More?
Nicki had the Cleveland Browns beating the New England Patriots. But under the playcalling of Bill Belichick—who coached the Browns for five years—the Patriots buried the Browns 38-15.
Will The Eagles Win By 6 Points Or More?
Again, Nicki was backing the wrong horse in the game between the Philadelphia Eagles and Dallas Cowboys. She was riding for the Cowboys to win by more than 6 points, but the Eagles soared to a 26-17 win on Sunday. Maybe she read last week's edition of MaximBet's Top 5 Week 5 Predictions, which had the Cowboys upsetting the Eagles. Either way, the Eagles went in undefeated and remain the only unbeaten team in the NFL.
Make your own NFL predictions and play Nicki's Picks* every week for your chance to win $1,000,000. Every week, you can see how your guesses stacked up against Nicki's. It's fun, easy and completely free to play!
*Terms & Conditions apply, see site for details. 21+ Only. Gamble responsibly. If you or someone you know has a gambling problem? CALL 1-800-522-4700